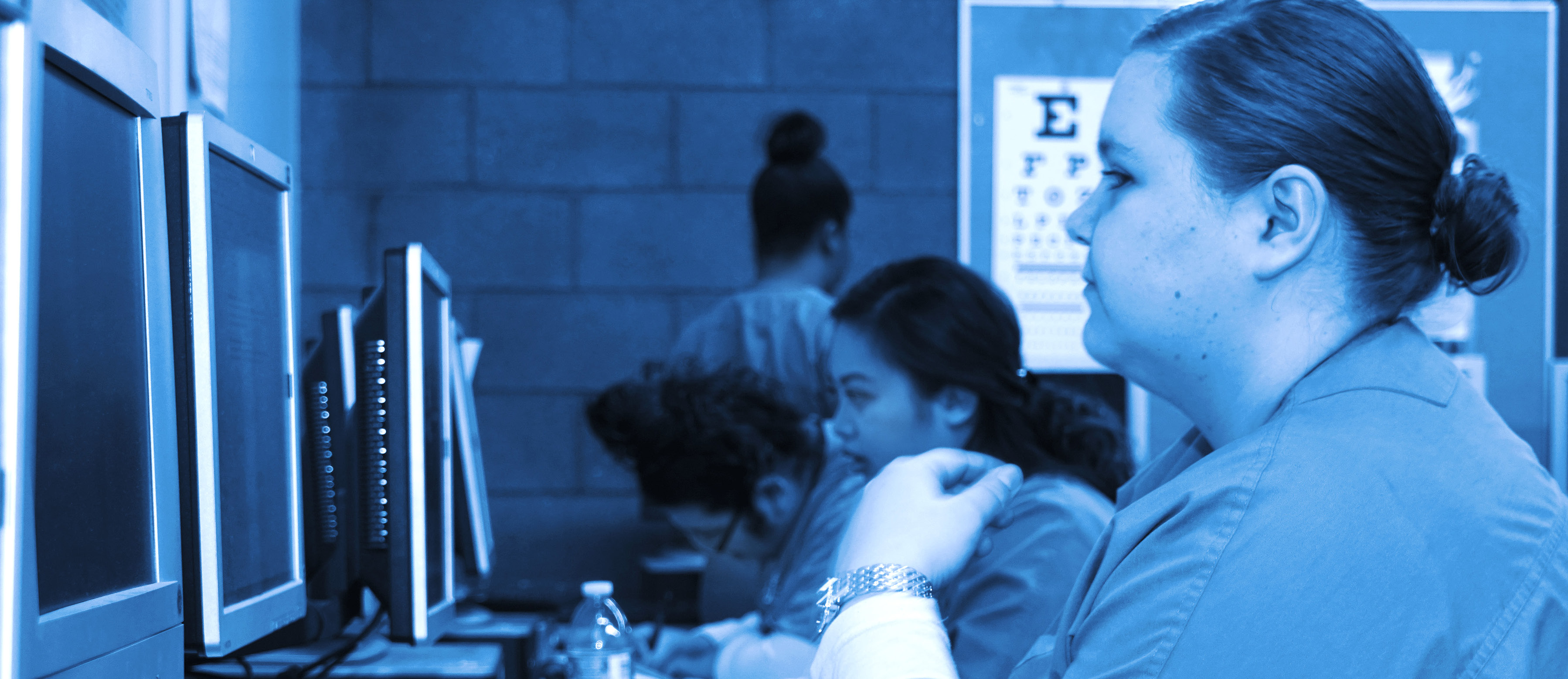 Chapter 6 – Data Driven Instruction and Digital Assessments
This chapter begins by exploring the purposes of assessments and how digital assessments inform instruction and enhance teaching and learning. Then, various assessments are considered—standardized assessments and remote testing, and also digital skills assessments and other informal assessments. Finally, this chapter explores various digital assessment tools.
Purposes of Assessment
The primary purpose of assessment is to inform instruction and improve learning outcomes. Educators can use routine assessment and data collection to measure learner progress over time. Measuring learner progress encourages regular self-reflection and helps educators determine mastery of competencies and skills. A major benefit of digital learning tools for assessment purposes is the rich data collection that happens within various digital tools. Educators can use digital tools, both assessments and nonassessment data sources, to inform instruction and better meet learners' needs.
Assessments also empower learners to better understand their own strengths and areas of potential growth. Assessment data helps learners to focus their attention and efforts on areas of need and ensure their efforts align with personal learning goals.
Advantages of Digital Assessments
There are several advantages to using computer-based assessments over paper tests:
Increased accessibility, differentiation, and flexibility: Digital assessments provide increased accessibility options for learners with disabilities; offer multiple, diverse item formats; and increase flexibility for learners to complete assessments.
Streamlined test administration, scoring, and reporting: Digital assessments eliminate the time-consuming tasks associated with paper testing such as managing and securing paper test materials, manual scoring, and manual data entry and reporting.
Immediate feedback and results: Instant feedback and results allow learners to better understand their areas of need and recognize their accomplishments. Educators can also more easily use assessment data to inform instruction and target competencies and skills where learners need the most support.
Analyzing Data from Digital Assessments
Data from digital assessments provides a wealth of information. Often, programs provide instant feedback and reporting options that provide educators insight into individual and group learner strengths and needs. Educators can then use this data to inform instruction moving forward, providing additional scaffolding and support for areas of need. Educators and learners can also use assessment data to predict readiness for formal certification tests, such as the GED or the HiSET, and readiness for transition into postsecondary education and workforce preparation programs.
When analyzing assessment data, educators should consider timing of assessment in relation to instruction, learner attendance, and external influences to construct a more accurate reflection of learner outcomes.
Classified staff often support classroom teachers and learners in the testing process through multiple supports, such as:
entering demographic and testing data into CASAS;
entering testing results into data management systems, including data from pre- and post-tests;
running reports for administrators and classroom teachers (benchmarks, competencies, student gains, etc.); and
proctoring parking-lot and remote testing.
Standardized Assessments
There are numerous reasons for educators and program providers to use standardized assessments in the adult education classroom. Standardized assessments:
measure learner progress at the individual and group level;
indicate learner readiness for progression into more advanced educational opportunities or workforce education programs;
provide a common metric for measuring learner outcomes across all instructional levels and programs and comparing learner outcomes at their institution with other program providers in the same region or state;
provide consistent, longitudinal data to identify performance trends across all instructional levels and programs within an institution; and
establish a common language across learners, program providers, employers, and states.
Assessments for placement purposes place learners into the appropriate instructional course, level, or program depending on the learner's skill level. The most accurate placement for learners involves multiple measures—standardized test results, but also education/work experience, short- and long-term goals, oral interviews, and writing samples. For CTE program placement, there is a particular interest in job-specific skills, previous work experience, and training certifications.
Diagnostic assessments help learners establish an individual learning plan based on existing competencies and skills, along with desired competencies and skills within an instructional course or level.
Formative and summative assessments monitor learner progress over a specific time period. Formative assessments are ongoing and assess a learner's progress after a specific lesson or module within an instructional course or level. Summative assessments occur at the end of an instructional course or level and demonstrate a learner's mastery of competencies needed to progress to the next course, level, or for certification. Common types of formal, summative assessments include the following categories:
Certificates: Formal certificates indicate completion of an educational or training program in a specific area. K–12 adult schools award in-house certificates that are then validated through employer and industry recognition. Community college certificates are approved by the California Community Colleges Chancellor's Office. Adult education CTE certificates may also be approved by the California Department of Rehabilitation, the California Veterans Administrator, CalWORKs, and WIOA.
Credentials: Credentials indicate successful completion of an advanced level examination delivered through a third-party testing service. Adult education program providers may offer these in place of or in addition to their own certificates.
CTE assessments: Usually competency-based, CTE assessments measure learners' proficiency in a technical field, along with relevant literacy and mathematics skills.
Standardized Assessments
The following list includes the primary NRS-approved standardized assessments for use in California:
ABE/ASE

CASAS Reading GOALS (8 forms)
CASAS Math GOALS (4 forms)

ESL

CASAS Life and Work Reading (8 forms)
CASAS Life and Work Listening (6 forms)
CASAS Reading for Citizenship (4 forms)
CASAS Adult Secondary Reading

AWD

CASAS Providing Options for the Workplace, Education, and Rehabilitation (CASAS Levels 2A to 4A)
CASAS Adult Life Skills Assessment (CASAS Levels 2A to 5A)
CASAS Braille Reading Assessment (CASAS Levels A/B using form 837 to test reading abilities in braille format)
High School Diploma/High School Equivalency
Learners who pass a high school equivalency test earn a state-issued HSE credential, which is an alternative to a high school diploma. California has two state-approved high school equivalency tests: GED and HiSET. The GED includes four separate exams: mathematical reasoning, reasoning through language arts, social studies, and science. The HiSET, governed by ETS, includes five separate sections: language arts—reading; language arts—writing; mathematics; science; and social studies.
Adult learners may also earn a high school diploma, awarded by their board of education, by earning credits in traditional high school courses including English, math, science, social studies, and more. Alternatively, the National External Diploma Program (NEDP) is a competency-based and performance-based assessment that allows California adult learners to earn a regular high school diploma through their board of education.[162] NEDP participants build an electronic portfolio to demonstrate their academic and digital skills through a series of life and work tasks. NEDP tasks require learners to demonstrate—among other things—digital literacy skills such as basic keyboarding and internet search, conducting research, organizing data, communicating information, creating original works, and practicing responsible use of information and communication technology.
Performance-Based Assessments
Since the mid-1980s, California has utilized a competency-based approach to delivering adult education, focusing on the application of basic language and literacy skills in context. Along with standardized assessments, programs began to use performance-based assessments to document learner progress and outcomes. Initially, the lack of standardized data and reporting for performance-based assessments was a barrier to widespread implementation. To address this barrier, the California Department of Education (in partnership with CASAS) established the Civic Objectives and Additional Assessment Plans (COAAPs).
The COAAPs augment existing ESL programs with performance-based civic education and assessments. Performance-based assessments include learner demonstration of real-life tasks, such as filling out a job application, and are graded using standardized rubrics.
Citizenship Tests
For adult learners studying for the US citizenship test, CASAS offers several assessments through its citizenship programs. These assessments measure a learner's ability to successfully complete the citizenship interview and knowledge of US government and history. There are in-class and remote testing options available for citizenship tests. These assessments earn payment points and are included in statelevel reports.
Remote Testing
Remote testing is a form of computer-based assessment where learners take the assessment from their homes or somewhere other than an approved testing location.
Remote Testing Policies in California
In 2020, the CDE received authorization from the Office of Career, Technical, and Adult Education to allow WIOA, Title II agencies to implement remote testing.[163] Requirements for remote testing include: proper learner identification, proper security measures for any NRS-approved assessments, and adequate training for remote testing proctors.
In addition, WIOA, Title II agencies must follow the guidelines listed below:
CASAS assessments are the only remote tests approved at this time.
Administrators of California WIOA, Title II agencies must complete and submit the test publisher's Remote Testing Authorization Form (see Attachment 1 below—CASAS Agency Remote Testing Agreement) to CDE Education Programs Consultants and CASAS Program Specialists before conducting remote testing.
Testing administrators or proctors of California WIOA, Title II must have a certificate of completion for CASAS eTests Proctor training before commencing remote testing. There is no specific extra training required for remote testing, but anyone administering it must have completed the regular training.
The testing credentials or training records of each administrator or proctor must be available to the CDE upon request for monitoring purposes.
California WIOA, Title II-funded agencies must incorporate a written, standard operating procedure for remote testing into the current Local Assessment Policy which addresses:

test security;
test integrity;
the protection of personally identifying information (PII);
the specification of certification or trainings required for staff before conducting assessment tests;
the process for prescreening students to verify identity;
the orientation of students in remote, online testing environment;
the list technology tools used to test, per publisher guidance; and
a plan to respond to video or technical glitches and communicate clearly with students.
Proctors in Remote Testing
Proctors play a critical role in providing successful remote testing experiences for learners. Administrators, classroom educators, instructional aides, and office staff often all serve as remote testing proctors to ensure proper learner support.
Remote testing proctors:
ensure environmental and technology requirements are met by the learner;
ensure learner understands remote testing policies and procedures;
conduct a pretest orientation session, including step-by-step instructions;
monitor the learner(s) during the remote testing session; and
follow all remote testing administration policies and procedures.
Benefits and Challenges of Remote Testing
A major benefit of distance learning is that it provides increased access and greater flexibility for adult learners who experience challenges with scheduling or transportation. However, many challenges exist within the current model of remote testing. First, remote testing requires access to a digital device that can run testing software, connectivity to the internet, and sufficient digital literacy skills for successfully navigating remote testing platforms. Proctors need training to adequately prepare for remote testing administration, including technical support. Program providers must allot adequate time for proctors to administer additional remote tests and must consider the cost of training and administering remote tests.
Digital Skills Assessments
Several adult education programs and assessment tools focus specifically on measuring the digital literacy skills of adult learners.
Northstar Digital Literacy Assessment measures basic digital literacy skills in three areas: Essential Computer Skills, Essential Software Skills, and Using Technology to Accomplish Tasks. The assessments include online self-guided modules with practical performance tasks. Learners can earn certificates and digital badges for passing assessments in a proctored setting, either in-person or remote. Northstar also offers curricula with interactive, learner-centered lesson plans for classroom use, as well as online content for individual learners.
ISTE's SkillRise has partnered with the Northstar team to develop an assessment and credential aligned with the SkillRise Profile of a Lifelong Learner. The assessment is designed to build on top of the foundational skills used in the Northstar assessment by exploring the intersection of digital and lifelong learning skills. The related microcredential can be used to signal that job seekers understand how to use technology to create, collaborate, communicate, and think critically in the 21st century economy.
The NEDP includes the following standards related to computer and information technology use:
3.1 Demonstrate computer skills including keyboarding, software applications, and the internet (e.g., word processing, spreadsheets)
3.2 Demonstrate the use of technology to conduct research, organize data, communicate information, create original work, and solve problems
3.3 Identify and practice responsible and informed use of information and communication technology
The EL Civics program includes internet safety and online communication as covered topics. Additionally, most COAAPs have integrated digital literacy components, such as using the internet to search or apply for a job.
VOICES FROM THE FIELD
Francisco Pinedo | Lead Instructor | Soledad Adult School
How do you assess digital literacy skills?
In the past, our consortium paid for the membership to use the Northstar Digital Literacy Assessment. With some of the CASAS competencies, the competencies are related to digital literacy skills. For example, the competency might be to write a cover letter for a job, and we'll do it in a digital format with our students. We must use a specific rubric to meet the competencies requirements, but the digital literacy skills are embedded in projects within the course.
VOICES FROM THE FIELD
Pete Gonzalez | Transition Counselor | San Bernardino Valley College
How do you assess digital literacy skills?
It happens from the beginning—if a student can't use my Calendly link to make an appointment or struggles using Zoom during a counseling session—then I'll refer them to the tutoring center for additional technology support. I won't sign those students up for online courses until they feel comfortable using the tech. But, if a student can schedule a meeting, navigate Zoom, share their screen— those are students that I'll refer to our online courses, because they already have the digital literacy skills to be successful in an online course.
Informal Assessments
Beyond formal standardized or performance-based assessments, educators can use informal assessments within the classroom learning environment (whether in-person, hybrid, or remote) for a variety of educational purposes. Informal assessments help educators to know which concepts to review or where learners need additional support. Learners also benefit from informal assessments—recognizing what they have learned, advocating for more practice or review, and gaining confidence in their skills.
Often, informal assessments are designed by the educators and support staff working directly with learners. How can educators ensure they are developing effective informal assessments? First, think about the purpose of the assessment. Consider the following questions in designing assessments:
What is being measured?
How will assessment data be used to inform instruction?
What should learners be able to do?
How will learners demonstrate their knowledge or skills?
What are short-term and long-term goals?
Digital Badging
One form of informal assessment is digital badging. These programs can assist learners in representing personal learning achievements. Digital badges use validated metadata from a program provider to document a learner's successful completion of work. Program providers can offer multiple levels of digital badges that culminate in a program completion badge. Digital badges can then be shared with other educational institutions or potential employers in a digital portfolio format. Digital badges are awarded to learners upon successful completion of a course, demonstration of a particular skill, or upon achievement of a specific learning objective. Digital badges can empower individual learners to maintain a comprehensive, validated portfolio of their learning achievements.
An example of digital badges in adult education is the ABOUT Students digital badges program, developed using CASAS assessment results. The ABOUT Students system developed digital badges aligned with literacy levels. Learners earn digital badges based on their assessment scores and culminate in a program completion badge. The system includes an ABE program to demonstrate basic literacy skills, an ASE program to indicate completion of high school equivalency requirements, and an ESL program to demonstrate language acquisition in reading.
Benefits go beyond the ease of efficiency of implementing a digital badging system. Additional benefits include acknowledging learner achievements, increasing credibility, and recognition of skills. Including validated metadata provides formal recognition and legitimacy to the learner's accomplishments. As learners collect digital badges in an individual portfolio, learners receive recognition and reinforcement of all their hard work and progress toward personal learning goals and outcomes. Thus, digital badges serve as a visual reminder of learner progress and achievement.
Digital Assessment Tools
Many different types of digital tools can be used for assessment purposes. Before choosing a particular tool, educators should think first about the purpose of the assessment, what existing resources are available to them, and their learners' familiarity with the tool. As a starting point, below are some examples of digital assessment tools:
Discussion: Learners can demonstrate their understanding of a topic through participating in group discussions.
Gamification: The "use of game design elements in nongame contexts." Gamified learning is gamification with intent to increase learner engagement, motivation, and retention. Popular gamification elements include badges, competitions, or point systems. Tools like Kahoot and Quizizz allow educators to create or modify quizzes that incorporate gamification elements.
Polling: Polling tools (e.g., Mentimeter, Poll Everywhere) allow educators to do a quick check for understanding before, during, or after instruction. Digital polling tools offer a variety of question types including multiple choice, openended responses, word clouds, and more.
Quizzes: Educators can use quiz creation tools (e.g., Google Forms, Microsoft Forms, Quizizz) to create custom assessments or adapt existing assessments shared by other educators. Most quiz tools include a variety of question types, allow users to embed multimedia content or link to external sites, and some have the option for auto-grading (depending on the question type).
Portfolios: Digital portfolios allow learners to collect, document, and reflect on their growth throughout the learning process. Learners choose which assignments, projects, and other learning artifacts to include in their portfolios. LMS often include a built-in portfolio feature. Otherwise, educators and learners can use presentation software (e.g., Google Slides, Microsoft PowerPoint) to create digital portfolios and embed or link to learning artifacts. Digital portfolios often include some type of reflection, whether text-based or audio-visual.
VOICES FROM THE FIELD
Archana Nekkar | HSE Instructor | Campbell Adult School
How do you use digital tools to assess learners?
I'm an HSE instructor, so I teach a class where students work on getting their high school equivalency. This is a test prep class, so I give a lot of assessments in the classroom. After an initial assessment on the first day of class, I decide the course of plan for that student. Then, I continually assess to see what level students are at with each of the tests—if students understand the material or have something they need to be working on. Assessment is a daily process—I'm constantly checking in.
We have test prep software that is specific to the five tests they need to take for getting their high school equivalency—language arts, reading; language arts, writing; social studies; science; and math. In the software, I can masquerade as a student and see exactly how they've done on a particular assessment. The students take pre- and post-tests and quizzes throughout while they are learning the material.
I have a drawing board that connects to my laptop, and we do math problems together on Zoom. I ask the students to put their answers in the chat. It's difficult for some students because they don't want to get the answer wrong, but it's helpful for me to see what they know and what they need to review. I also use Newsela, a reading platform, which gives me data on how long students take to read an article and has quizzes for each article. The tangible data and results are helpful in supporting students.
VOICES FROM THE FIELD
Suzy Kelly | CTE Instructor | Berkeley Adult School
How has technology impacted the way that you assess students?
I had so much more data once we went online! I could assess students daily— their participation in the chat, daily assignments with pictures and videos of what they are working on, and written reflection questions. Some of them really like to make videos.
For my quizzes, I use Quizizz to assess students. It's a fun game. Before, I would do quizzes verbally or individually written. With Quizizz now, the nice thing is it gives me the data. I can look back and see what they struggled with. Also, because it's a game, there's no "pass-fail." They can always go back and retake the quiz or look at their answers to review. Some of my students are also high school students, so they must get a grade, but for my adult learners I try to create a really comfortable, supportive learning environment. For them, the assessment is less about a grade and more about a review and helping them to be prepared for jobs.