Top Story...
New Additions to USA Learn Citizenship Course
Posted on 09/26/2023
Written by Andrea Willis, Retired Director of USA Learns and Jenni Currie Santamaria, USA Learns Lead Curriculum Developer
Since 2017, adult learners across the nation have been using the free USA Learns Citizenship course to prepare to successfully pass their naturalization interview. The course has always included comprehensive information about the naturalization process and preparation for the N-400 interview, civics, and reading and writing tests. Now, thanks to a generous grant from the United States Citizenship and Immigration Services (USCIS), new instruction has been added to the USA Learns Citizenship course, including:
how to create a USCIS account and complete the N-400 online
digital literacy skills (for example, keeping data secure and evaluating online information)
more mock interview listening practice
immigrant integration opportunities and activities to make the content more locally relevant
more speaking practice
40+ new or updated videos
more varied listening practice
In addition, new resources for instructors are being added, including a detailed scope & sequence, interview practice scripts, and annotated links and teacher tips.
Samples of New Activities
N-400 Application for Naturalization Online
One major addition to the course is instruction about how to complete the N-400 online. In unit 1 (Steps to Becoming a U.S. Citizen), we have added new lessons that teach how to create an email account and how to set up an account on the USCIS website. These are both critical skills that learners need in order to submit the N-400 online. Included in these lessons are user-friendly and appropriately-paced instructional videos, vocabulary instruction, and comprehension checks. Below are a few examples of the new activities:
This new video covers where and how to create a free email account, how to navigate an email account (sent, in-box, junk), how to write an email, security topics, and more.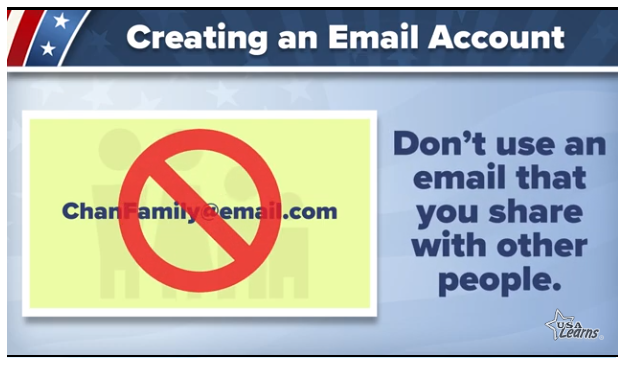 The above activity is followed by the new lesson called Setting Up Your USCIS Account, which teaches key vocabulary, how to use that vocabulary in context, a new animated video, and a comprehension check.