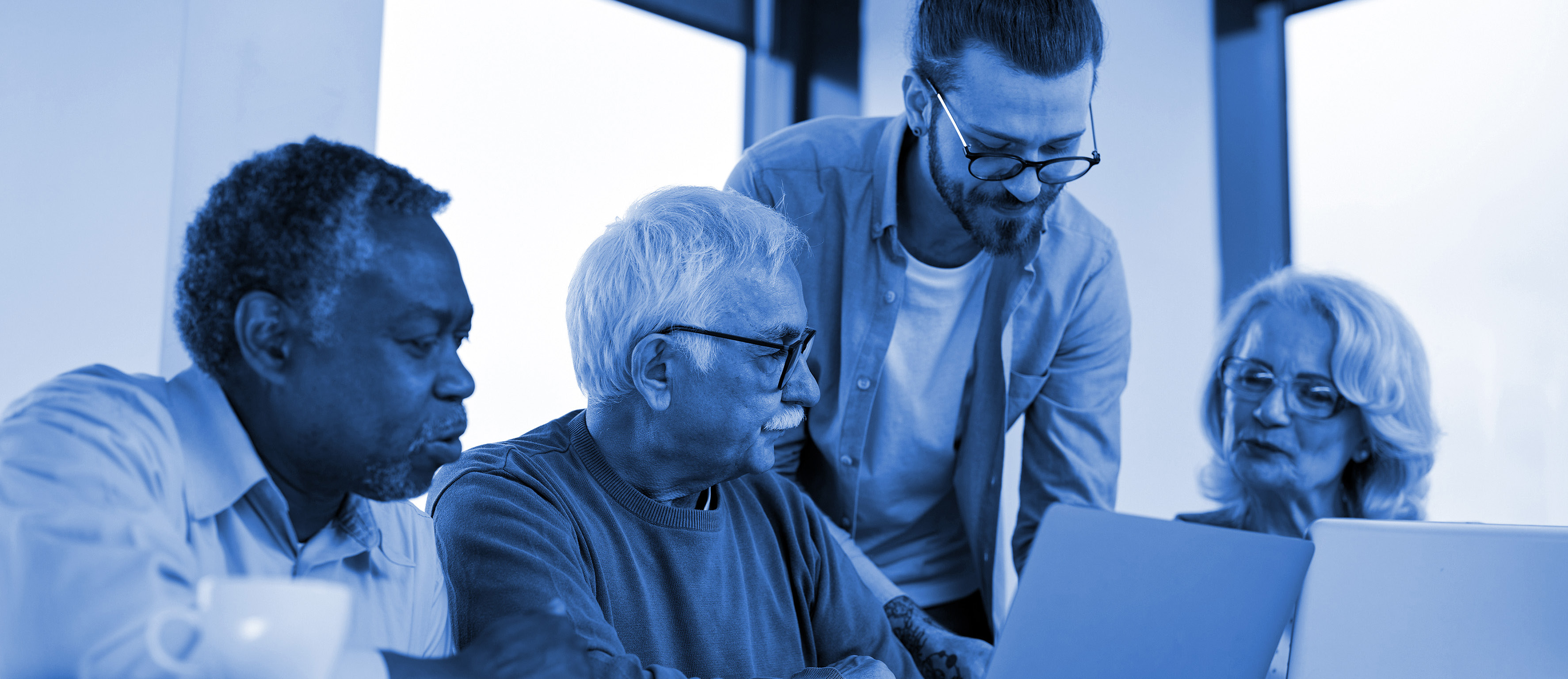 Chapter 5 – Adopting Models that Work
This chapter introduces the most widely used digital learning models used in adult education—distance education, blended learning, hybrid learning, and the HyFlex model. While multiple digital learning models are presented, each program provider should think carefully about which models work best for their unique context. This chapter also addresses the challenges of implementation, including reporting considerations for federal and state funding.
Digital Learning Models
Distance Education
Distance education is a broad term that encompasses any learning that occurs away from a physical classroom. This includes courses at satellite campuses, correspondence courses, and online learning.[135] In turn, online learning includes asynchronous and synchronous learning experiences that occur online, either in fully online courses or through other digital learning models such as blended learning.
Blended Learning
Blended learning is any time a student learns at least in part at a supervised brickand-mortar location away from home and at least in part through online delivery with some element of student control over time, place, path, and/or pace.[136]
The key elements of blended learning include learning experiences that combine in-person and online spaces, along with an element of learner control. Blended learning aligns well with the adult learner characteristics of autonomous, self-directed learning.[137] Blended learning also facilitates competency-based models of learning, especially when learners control the pace and path of the learning experience.
Blended learning is a powerful way to differentiate and personalize instruction, as well as to help move away from time-based models of achievement toward competency-based ones. Blending is a strategy for helping teachers achieve what they strive to do every day—deeply understand and enable each student they work with to reach the very highest levels of educational mastery.[138]
Multiple models exist for implementing blended learning in the classroom:[139]
Flipped classroom: Learners interact with content and online learning activities at home and participate in teacher-guided practice or project-based learning in the classroom. A flipped classroom allows educators to focus on application, extension, and personalized support rather than delivering lectures. Educators can use existing content (e.g., electronic textbook, online videos) or create their own content (e.g., interactive presentations, screencasts).
Station rotation: All learners rotate through collaborative activities, online learning, and teacher-led instruction. Station rotation is a popular blended learning model for K–12 schools.
Lab rotation: Learners rotate through activities like station rotation, but direct instruction and online learning occur in a dedicated computer lab. This allows schools to maximize the use of existing resources and support staff.
Individual rotation: Learners rotate through stations, but on a personalized learning plan. The learner has an individualized schedule, created with the guidance of their instructor or adaptive software. Unlike in a station or lab rotation model, individual learners do not always participate in all activities. Instead, learners only complete the learning activities that are most beneficial to them and their individual learning goals.
Flex: Online learning is the foundation of the flex model. Educators provide instruction and support on a flexible, as-needed basis while individual learners move through learning activities at their own pace according to their individual needs. The flex model provides a high degree of learner control and can be implemented in both physical and virtual classrooms.
HyFlex Models
Most blended learning models require learners to participate in both in-person and online modalities.[140] The HyFlex model provides greater learner choice and flexibility by offering multiple modalities for participation. A HyFlex course includes class sessions that allow students to choose whether to attend classes face-to-face or online, synchronously or asynchronously.[141]
The fundamental principles and values underlying the HyFlex model include:[142]
Learner choice: Learners can choose between alternative participation modes on a regular basis either by schedule or topic.
Equivalency: Activities in all participation modes are equivalent and lead to equivalent outcomes.
Reusability: Learning materials are shared between participation modes (e.g., a handout for in-person class is also provided in a digital format).
Accessibility: Learners possess (or develop) basic digital literacy skills; "equitable access to all participation modes."
There are several benefits to various stakeholders using the HyFlex model:[143]
Students: increased course access; increased flexibility in participation; more robust instructional materials; increased opportunities for learning
Faculty: develop online instructional skills without losing in-person instructional skills; provide a built-in alternative to classroom instruction; serve more learners with the same resources
Program providers: increase enrollment; increase individual course offerings; support innovative instructional approaches.
VOICES FROM THE FIELD
Suzy Kelly | CTE Instructor | Berkeley Adult School
What are some of the challenges and opportunities that you see in different digital learning models?
It was extremely challenging to transition culinary to online, but going forward, I want to do a hybrid or HyFlex class. With culinary, there are things that I want them to have hands-on experience with—say, knife skills, or tasting food, if we're talking about seasoning. But there's been so much opportunity with the online teaching that I really want to blend those. I don't want to go away from online, because it's provided so many opportunities and access for people. Whether people have children at home, or a disability, or whatever prevents them from coming in full-time—I don't want to lose that population. It makes it more enjoyable for me as a teacher to be able to reach them, and I feel like I can give them so much more of this class than I ever did before. Technology, surprisingly, has created more access to learning. Before, it was all me teaching, and now I've been able to go out into the world and use all these other people, which is really fantastic. They get me, plus more.
Planning and Implementation
Regardless of delivery method, adult education programs need to comply with federal and state policies. Additionally, program providers need to consider which models will work within different program areas or specific course levels. Whether offering blended, hybrid, HyFlex, or online learning models—adult education programs must first address potential barriers to learner participation and successful implementation.
Addressing Challenges to Implementation
Potential challenges to successful digital learning experiences for adult learners include:[144,145,146,147,148]
Access (devices, hardware, software) and connectivity (high-speed internet access)—addressed in chapter 2
Insufficient digital literacy skills, or a lack of experience using digital tools for learning—addressed in chapter 2
Competing demands for attention and time—adult learners navigate multiple roles and responsibilities, and adult education programs need to accommodate competing learner demands through learner choice, flexible programming, and support services
Inadequate communication with educators (e.g., ambiguous instructions, inadequate feedback, insufficient advising and support services)—see chapter 3 for more information on how to prepare educators for digital learning
Potential challenges to successful digital learning experiences for educators:[149,150,151,152,153]
A lack of effective and meaningful professional development, including basic digital literacy skills and technology integration—see chapter 3 for more information on how to prepare educators for digital learning
Insufficient time for curriculum design, instruction in multiple modalities, communicating with learners, providing learner feedback, technical support, and more
To adequately address the numerous challenges for learners and educators, programs must be deliberate and thoughtful in all aspects and steps of the planning and implementation process.[154,155,156] A strong infrastructure that includes appropriate levels of funding, professional development, technical support, time, and learner support addresses many of the challenges and concerns. A collaborative approach to curriculum development and implementation can help to integrate a broad range of perspectives. Finally, any new program will take time to fully implement, so programs need to both address short-term challenges while also establishing a long-term vision for sustainable program maintenance and growth.[157]
Interoperability
Interoperability is the controlled, seamless, and secure exchange of data across applications.[158] The goal of interoperability is to help learners focus on the learning experience and meeting goals and objectives, rather than spending time on digital literacy, navigation, and technical support issues.
Some questions to consider related to interoperability include:
When using multiple tools, will they "speak" to each other? For example, if learners have a Google or Microsoft account, can they use that account to log in to a chosen digital curriculum or LMS?
Will learners need digital support to use each tool?
How can we remain mindful of learners' digital identities when using multiple accounts (e.g., Canvas, Padlet)?
Reporting Considerations
With most funding for adult education programs coming from federal and state levels, accountability is an important consideration not only for adult education program providers but for individual educators within each program. Everyone is responsible for demonstrating program effectiveness through mandated reporting requirements. In the state of California, program providers must provide annual reports on data integrity; payment point summaries; fiscal reports; professional development, technology and distance learning plans; and assessment plans.
NRS Reporting
NRS uses specific definitions related to distance education programs:[159]
Distance education: A formal learning experience where educators and learners are separated by geography, time, or both for most of the learning experience
Participants: Learners with at least 12 contact hours with an adult education program provider
Proxy contact hours: Accrue after the initial 12 contact hours. For distance education, proxy contact hours mainly come from the following methods:

Clock time model: : Hours are based on learner participation data within online learning tools (e.g., how long a learner is logged in and active on a specific platform)
Teacher verification model: Educators determine hours based on learner participation in activities or learner completion of an assignment
Learner mastery model: A fixed number of hours is awarded based on earning a minimum score on a formal assessment
NRS requires adult education courses to align with NRS definitions. However, within online learning environments, determining participation is more complex than a simple recording of "seat time." In addition to the three models listed above, data collection for contact hours might come from attendance logs in synchronous sessions, digital assignments, discussion board participation, and even tool-specific participation data.
Program providers need to establish clear guidelines for determining proxy contact hours and recording learner participation. It is important for educators to design effective learning activities but meeting federal and state requirements also needs to be a consideration, as those requirements drive funding. While bureaucratic demands can force content use and limit innovation, a benefit of alignment is an increased clarity for learners in the course selection and scheduling processes.
Workforce Innovation and Opportunity Act (WIOA) Requirements
In addition to NRS requirements, the Workforce Innovation and Opportunity Act (WIOA) requires states to align workforce education programs with performance goals focused on accountability, transparency, and improved workforce development. Under WIOA, programs evaluate effectiveness using the measurable skill gains indicator. For adult education programs, participants can demonstrate measurable skill gains by completing an educational level through pre- and posttesting, credit completion, or entering a postsecondary education program; or by earning a secondary school diploma.[160] Program providers can administer pre- and post-testing in person at a proctored and secured program site or through virtual proctoring. Virtual proctoring requires use of NRS-approved tests and includes procedures for administration such as learner identification, technology requirements, test security, and training proctors.
States use WIOA in making funding decisions for adult education programs, including funds for digital learning programming, professional development, and technical support. WIOA lists three considerations related to digital learning. Program providers must demonstrate:[161]
effective use of technology to increase high-quality learning and improved learning outcomes;
digital learning activities are delivered by high-quality, well-trained administrators, counselors, and educators who have access to high-quality professional development opportunities; and
use of a high-quality information management system.