Web Activities for February Holidays
by Kristi Reyes, Mira Costa College, Oceanside, CA
Posted February 2008, Updated September 2017
This short month is chock-full of holidays, occasions for both romantic and serious lesson themes and accompanying Web activities.
Valentine's Day: February 14
Students can compose online greetings for spouses, significant others, friends or family members, love interests, or classmates with these easy-to-use, fun Web sites. Email accounts, however, are needed to send and receive the greetings.
Online Greeting Cards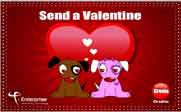 Perhaps you have sent or received free online greeting cards from sites such as Blue Mountain , 123 Greetings.com , or American Greetings (which offers a free 7-day trial). Students will enjoy composing and sending online greeting cards while practicing writing skills and staying connected with loved ones. Many of the online greeting cards of these sites include music, animation, customization, and create-and-print options.
Candy Hearts
What other candy besides chocolate is more closely associated with Valentine's Day than candy hearts? With Candy Hearts , users can type in any message, choose a candy color, and right-click and save the candy heart creation as a .jpg image, which can be emailed as an attachment or inserted into documents.
Poetry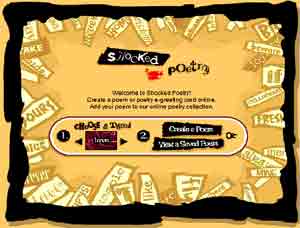 What's more romantic than an original poem? If you have ever seen refrigerator poetry magnets, Shocked Poetry will look familiar. The site provides an excellent way for students to practice parts of speech or subject-verb agreement, use a vocabulary builder (for lower-levels), and to be creative with language.
To get started, choose a theme and then select "Create a Poem" (see their Help file for a visual of the steps). A random sample of words will appear. Click and drag the words to arrange them into a poem. Delete words by dragging them to the garbage can. Select "a noun," (which includes pronouns) "a verb," "an adjective," "an adverb" or "a little word" (articles, inflections, prefixes, suffixes, some punctuation marks, and the like) to have new words appear. Select "All New Words" for all the words to disappear and receive a new random sampling of words. Poems can be sent as e-greetings or saved to the online gallery (without background theme).

What about long-distance relationships? With Blabberize , users can send greetings with their faces and voices without having to pay for a long-distance call or an airplane flight. Blabberize animates uploaded photos, making them appear to talk. The first step is to upload a photo. To create a "Blabber" (talking head), register, upload a photo (.jpg, .gif, or .bmp images under 500K), select the mouth points, record (computer microphone required) a two-minute message, give your creation a title, summary, and tags. Be sure to Save. The "Blabber" can be emailed or embedded on a Web site or blog.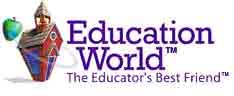 Not interested in romantic fluff? Than check out Education World's interactive tour of the human heart, heart facts, and more.
President's Day: February 18
February is the month during which some of America's most famous presidents were born and on President's Day we celebrate their lives, the impact they have had on the history of the U.S.A., and their accomplishments.
The Library of Congress: America's Story has brief, easy-to-read information about 14 U.S. presidents (and some First Ladies). The site includes biographical information, timelines, visuals, and anecdotes about the presidents.
The White House: The Presidents of the United States has full bios, presidential history, headlines, video highlights, historical photos, and a 360-degree tour of the Oval Office.
C-Span's American Presidents: Life Portraits has a teachers' companion site , with links to lesson plans, timeline poster activities, some audio files, and online streaming video. You will need to create an account to use some of it's features, but it's free.