21Things4Students-Digital Literacy and Citizenship
Details
Tech Product/Equipment:
Computer and projector, Mobile devices for students, Computer
Activity Description
In this activity, you will teach your students the basics of computer literacy including navigation, image capture, shortcuts, browsers, safe and secure online, email, and email etiquette. 21Things 4 Students use videos, key vocabulary, tutorials, checklists, quizzes, certificates and even badging to motivate the students.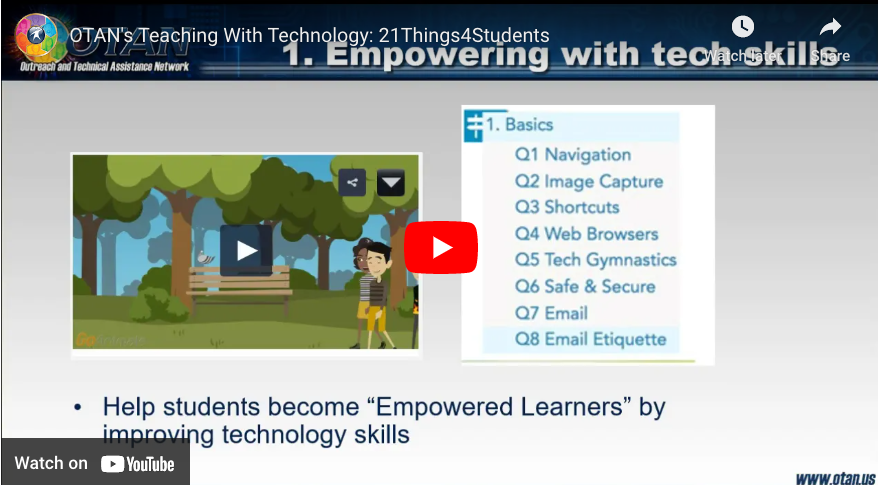 (License:
Protected by Copyright (c) [i.e. screenshot]
)
Video
Preparation
To see how the site works, begin with the

Orientation to 21things4students

. Watch the video. After you watch the video go to the Quizlet learning quiz and take

Quiz 1

on Video controls. Here is a

pdf of the icons

. As you can see, materials are well prepared and make it easy to start using the site immediately.
For this quest, 1. Basics, there are 8 Quests or mini-lessons including Navigation, Image Capture, Shortcuts, Web Browsers, Tech Gymnastics, Safe and Secure, Email, and Email Etiquette.
Go through the material and select the quest you want to use. For a suggested plan see document, 21Things4Students Quest Basics.
How-To
Demonstrate the site.
Go through the introduction video in 1. Basics
Give each student the handout, 21Things4Students Assigned Activities #1 (see Example Document 1)
Go through the different sections of the Thing, 1. Basics: Scroll through Introduction, Learning Objectives, and Quests,(the ones you have decided to use) and Proceed to the graduation page for this Thing.
Assign students to work in pairs or small groups to complete the quests.
Gather students to report back on what they have learned.
Teacher Tips
This site is huge. There is so much wonderful material; take time to see what you would like your students to learn.
More Ways
A second topic, Search Strategies, addresses a current concern, Fake or Real News. See the Teaching with Technology resource, Identifying 'Fake News'.
Program Areas
ASE: High School Diploma
ABE: Adult Basic Education
ASE: High School Equivalency Preparation
ESL: English as a Second Language
CTE: Career Technical Education
Levels
Intermediate
Intermediate High
Advanced
Lesson Plan
Some people say we live in the age of technology. What do you think they mean? What types of technology do you use?
In pairs, learners discuss technology in their lives. Gather in a full group and share what each group discussed. Make a list. (be sure the internet is on the list)
What is literacy? Learners discuss in pairs and then share ideas with the class. What is digital literacy? Turn and discuss then gather with the class. Make a second list of digital literacy topics.
Look over the list created by the class. Here are some terms that might be included when people discuss Digital Literacy: email, Google, Firefox, Internet, Search Strategies, Digital Footprint, Social Networking, Cyber Safety, Keyboarding, and Keyboard Shortcuts. Screenshot, Chrome, Digital Citizenship, etc. Learners turn to their neighbor and discuss any terms that are interesting to them.
It is important to be literate to communicate and have a job. Why is it important to be Digitally Literate? Learners first share their ideas with their neighbor and then share them with the class.
Which topics are you most interested in? Which ones do you think you need to learn/practice the most? As a class make a list of topics learners want to learn in class.
On the website 21Things4Students, many of the skills you mentioned are addressed. Demonstrate the site. Show the list of quests/topics on the right. Discuss some of the skills that might be addressed. This lesson introduces Quest Basics.
Demonstrate navigation at the site. Select Begin Here. Go over the Orientation page. Point out Expanding Content Boxes, Playing Videos, and Closed Captioning (why is this useful?) Controlling Volume, How to Play Audio Files, Student Showcase Portfolio Templates (if this is how you want the learners to display their work), and Quizlet Learning Quizzes.
Hand out 21Things4Students Quest Basics. (found in the Documents) Be sure all learners have a Google Account. In pairs have learners each create a folder to share with the teacher. (The instructions are on the document, under Getting Started) In pairs, learners show their partner their Google Drive and the folder they have created. Share the folder with each other and with the teacher.
Today's topic will be Basics. Now that learners can navigate through the site, have them go to The Basics link. Scroll down and show the Quest you have selected Quest 1 Navigation, Quest 2 Image Capture, and Quest 3 Shortcuts. (you can include any other quests you want to address) Demonstrate the Things 1 Basics VocabularyGame that uses Quizlet. If Quizlet is new to the learners have them practice with their partner.
Demonstrate Quest 1 Navigation, 2 Image Capture, and 3 Shortcuts.
The assignment is as follows
For Quest 1: Read through the introduction. Watch the videos in Part One Basics and Part Q1 Navigation. These appear at the top of the screen
For Quest 2: Create a screenshot. Follow the Steps. Save it in your Google Doc
For Quest 3: Try the shortcuts for the device you are using. Work with a partner to learn different shortcuts.
Write a summary of what you learned.
The Word Document, Quest Basics outlines the tasks to be done. Students use Googe Drive to create a folder and Google Docs to create a document inside of the folder. If you do not use Google Docs, you can modify the document to reflect the applications you use.
In pairs, learners go to 1. Basics. On the right is a list of the Quests under Basics. Select Navigation. As a class scroll down the content page. As a class show 3. Short Technology Skills Survey. Go through K-2 and 3-5. Are there skills on these lists that need to be included on the Class Digital Literacy list?
In pairs, select the button you want to answer. Go through the questions. At the end they allow students to print or send the survey to the teacher. Demonstrate how to do it. If you want to keep it general, have learners select 5 skills they want to learn and add that to the Google Doc Reflection on 21Things4Students.
Regroup as a class and discuss what skills learners need to learn. Compare the class list created of digital literacy topics. As a group, select topics they want to learn using 21Things4Students.
In pairs, learners open Google Drive and create a folder named 21thngs. Share the folder with each other. Inside the folder create a Google Doc named Basics/students names. This is where the assignment will be created. When completed, share the document with the teacher. (Each quest has many sections. On this assignment the learners will only do sections of Navigation, Image Capture, and Shortcuts)
As pairs, learners work through
For Quest 1: Read through the introduction (Basic 1). Watch the videos in 1 Basics and Q1 Navigation
For Quest 2: Create a screenshot. Save it in your Google Doc
For Quest 3: Try the shortcuts.

Follow the instructions for the device you are using.

Work with a partner to learn different shortcuts. On your Google doc, include a list of the shortcuts you like.
Together write a summary on the Google Doc of what you learned.
As a class discuss what you learned.
In class discuss navigation, image capture, and shortcuts you have learned. Have learners come up to the class computer and show different tasks. If learners are online, have them share their screens.
Ask the question, What are some of the other skills you would like to learn? How will you use them? In Google Drive, a shared folder, learners write three paragraphs. In the first paragraph identify the Digital Literacy skills you want to learn/improve. In paragraph two explain what you plan to do to accomplish it. Paragraph three is for Reflections. What have you learned?
Share your paragraphs with your partner. Together peer review questions to help improve learner writing. Edit the writing. Share the finished assignment with your teacher.
Application
Engagement
Enhancement
Extension
Using the internet is a skill that will be necessary at home, in school, and in the workplace. Discuss this topic with people outside the class. What skills do they think are necessary for success? Bring the list back to class and discuss it. Make a plan for learning more of these skills.
On a later day have learners get in pairs. After working in 21 Things for Students discuss other lessons/quests that you would like to go through. Make a list in your shared folder. Gather as a class and discuss what you have learned. What was difficult, what did you enjoy, and what are the next steps? For a possible follow-up lesson that also uses 21Things4Students, see the Teaching with Technology resource for Identifying 'Fake News.'
Documents
Subjects
Electives
Reading

Consumer Skills
Employability
Learning to Learn
CTE Sectors
Information and Communication Technologies
CTE Anchor Standards
Anchor Standard 4: Technology - Writing Standard: Use technology, including the Internet, to produce, publish, and update individual or shared writing products in response to ongoing feedback, including new arguments and information.
Standards
Reading

CCR Anchor 1 - Read closely to determine what the text says explicitly and to make logical inferences from it; cite specific textual evidence when writing or speaking to support conclusions drawn from the text.
Tags
shortcuts, online etiquette, 21things4students, browsers, email, image capture, navigation, security
Creative Commons License

CC BY-NC-SA:
This license allows reusers to distribute, remix, adapt, and build upon the material in any medium or format for noncommercial purposes only, and only so long as attribution is given to the creator. If you remix, adapt, or build upon the material, you must license the modified material under identical terms.