Using Symbaloo in the Classroom
By Debbie Jensen, Baldwin Park Adult and Community Education
Posted Novmember 2017
What is Symbaloo? Originally I would have answered it is a bookmarking app— a place to gather all your web addresses and videos to make navigating online easier for your students. Symbaloo does it in a visually inviting way with easy to read tiles on a screen called a webmix. If that was all it did, it would be a wonderful addition to your class—but it does more. Symbaloo allows you to create learning paths or lessons for your students which can include assessment questions. The lessons are more fun than usual because they are presented as a game. Talk about formative assessment! And it is free!
Think about which Internet sites you use every day. What apps do you send your students to use? Symbaloo allows them to go to one place and find the links to all others. After introducing Symbaloo to my class, my students comments included, "It is so easy," and, "Now I don't get lost."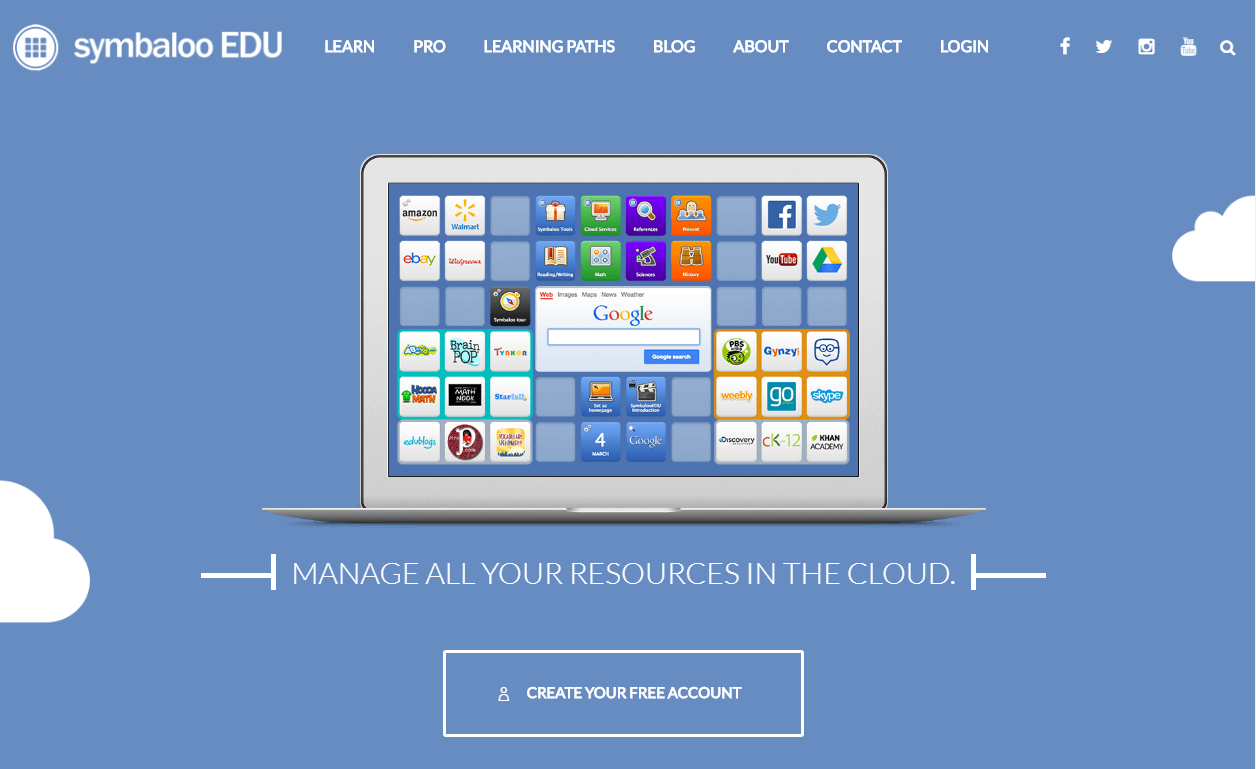 CAPTION: This is the homepage for sybmaloo EDU. It has an example of a webmix. If you scroll down you get more information on ways to organize and share your webmixes, how to create personal learning environments, lesson plans and more. Scrolling further down you see their newest feature Symbaloo Learning Paths--game-style lessons students will enjoy.
Webmixes
Here's a quick look at a webmix at Symbaloo.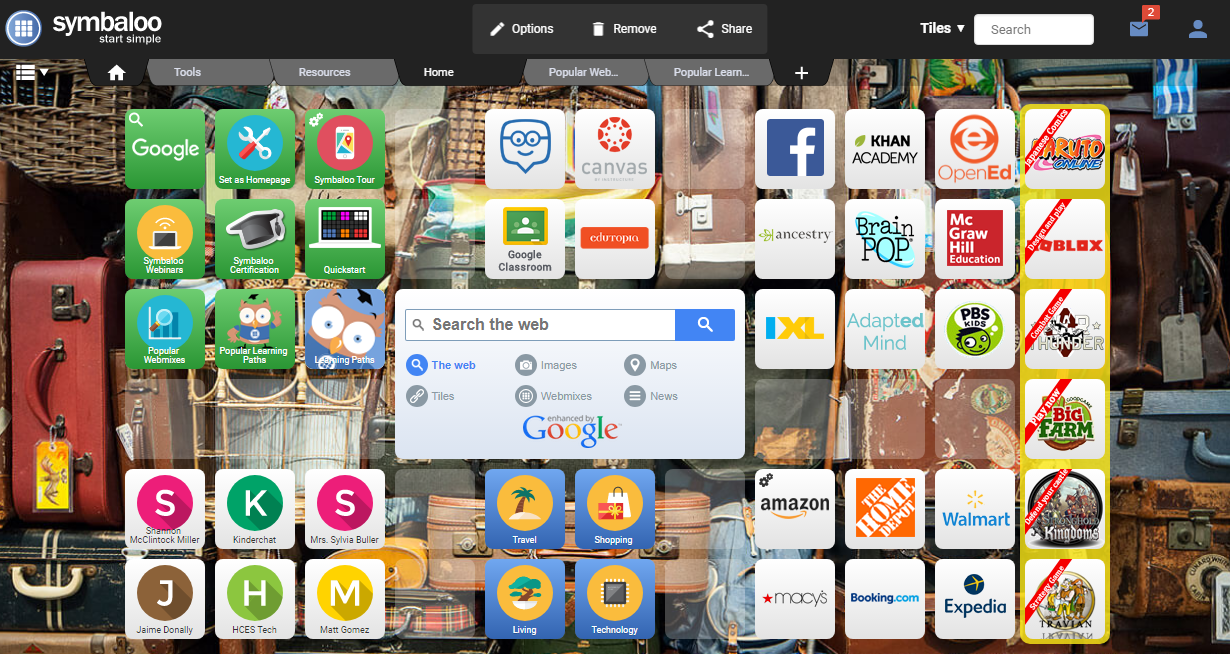 CAPTION This is the Symbaloo home page. It is an image of colorful tiles with various websites linked to each one. Tiles can be organized by location, titles or colors. The tiles shown include links to example webmixes made by teachers, links to learn more about Symbaloo (including Quickstart, Symbaloo Tour, Symbaloo Webinars, Popular Webmixes, and Learning Paths). Other tiles link to useful teacher sites such as Canvas, Google Classroom, Edutopia, Khan Academy, and Edmodo. Moving from educational links there are links to popular sites such as Ancestry, Best Buy, The Home Depot, Walmart, Amazon, and Expedia. In the center of the screen is a Google Search icon and more colorful tiles linked to Travel, Shopping, Living and Technology.
If you open the three horizontal bars (sometimes referred to as the hamburger or navigation bar) you will see the same commands that appear across the top: Home, Home Webmix, Tools, Resources, Home, Popular Webmixes, Popular Learning Paths, and a + sign. This is where your own webmixes will reside once you have created them.
Below is the webmix I created for my ABE class. It links to our Weebly webpage, student profile, Google classroom, and Moodle courses. In the middle I added links to the online assessment tools I use regularly: Kahoot, Nearpod, Quizizz, and Quizlet. I included links to my favorite math sites, reading sites, writing sites, and employment aids. With a click of a button students can get to all the sites we use.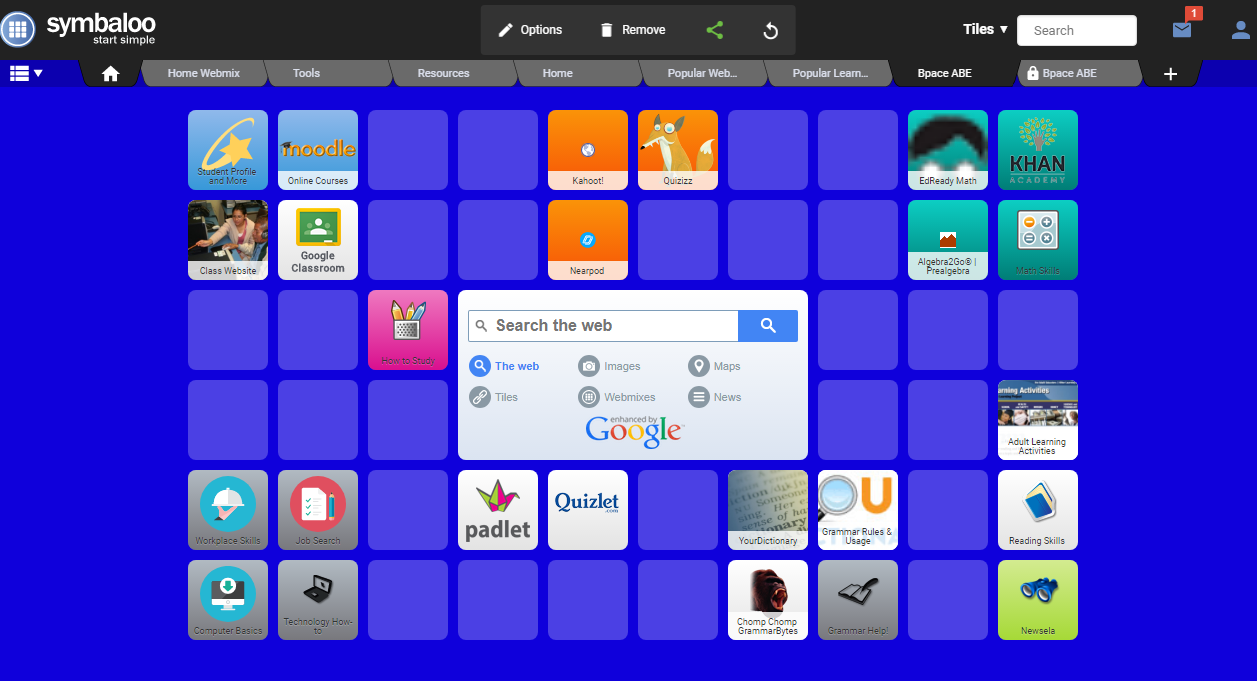 CAPTION To find your webmix, click on the three horizontal lines at the top left of the page. This opens a menu including My webmixes, Home, Online, Resources, Demo, Add a webmix, and Gallery. The Lesson Gallery allows you to see lessons created by other teachers and add them to your account.
If you click on an empty space on the main screen, you will get a menu that allows you to edit the tile, including create a tile, search a tile, or browse tiles by categories. As you drill down you can find commands to color the tiles, choose icons or images, change the text style and text, and add links to the sites you select.
Tiles can be organized by grouping the tiles together, with borders called markers that surround a related group by color. Other groups of tiles are in proximity to each other to create a group.
OTAN produced a series of short videos to make the process of creating your own webmix easier. Use this link to access the playlist: https://www.youtube.com/playlist?list=PLanOvdxbZVxup0uBfn_YroohBF612B_yz
Organizing Your Online Resources—Introduction (4:15)
Organizing Your Online Resources—Getting a Symbaloo Account (2:33)
Organizing Your Online Resources—Getting Started with Symbaloo (3:07)
Organizing Your Online Resources—Creating Webmixes (2:47)
Organizing Your Online Resources—Creating Tiles (3:37)
Organizing Your Online Resources—Working with Tiles (1:49)
Organizing Your Online Resources—Adding Tiles and Webmixes Using the Search Feature (2:27)
Organizing Your Online Resources—Creating and Working With Marked and Grouped Tiles (3:27)
Organizing Your Online Resources—Strategies for Organizing in Symbaloo (2:42)
Organizing Your Online Resources—Embedding a Webmix (3:34)
Learning Paths
Another way to use Symbaloo is to create a gaming-style learning path. It is an online lesson including educational resources embedded on the tiles. You can begin with the objectives for the lesson, then add videos, documents, worksheets, questions or interactive games.
Learning paths allow you to check to see if the student is understanding the material. If a student does not answer the question correctly, you can include an explanation for them to read before he or she makes a second attempt. Learning paths allow students to work at their own pace. The real-time statistics help you see how long they have been working on each step and if they need help. Built in grading helps you evaluate their growth. Also available is the marketplace which allows you to find and use Learning Paths published by other teachers. You can use a path as it is or modify it for your class needs.
Learning Paths are simple to use. The student just enters a 5-digit code on the Learning Path homepage to join and begin. To learn more about Learning Paths go to this website. https://learningpaths.symbaloo.com/
To find your learning path from the Symbaloo home page, first select the Popular Learning Paths tab at the top, then click on Learning Path Manuals. Select Start a Learning Path to get started.
As you create your learning paths they are gathered here.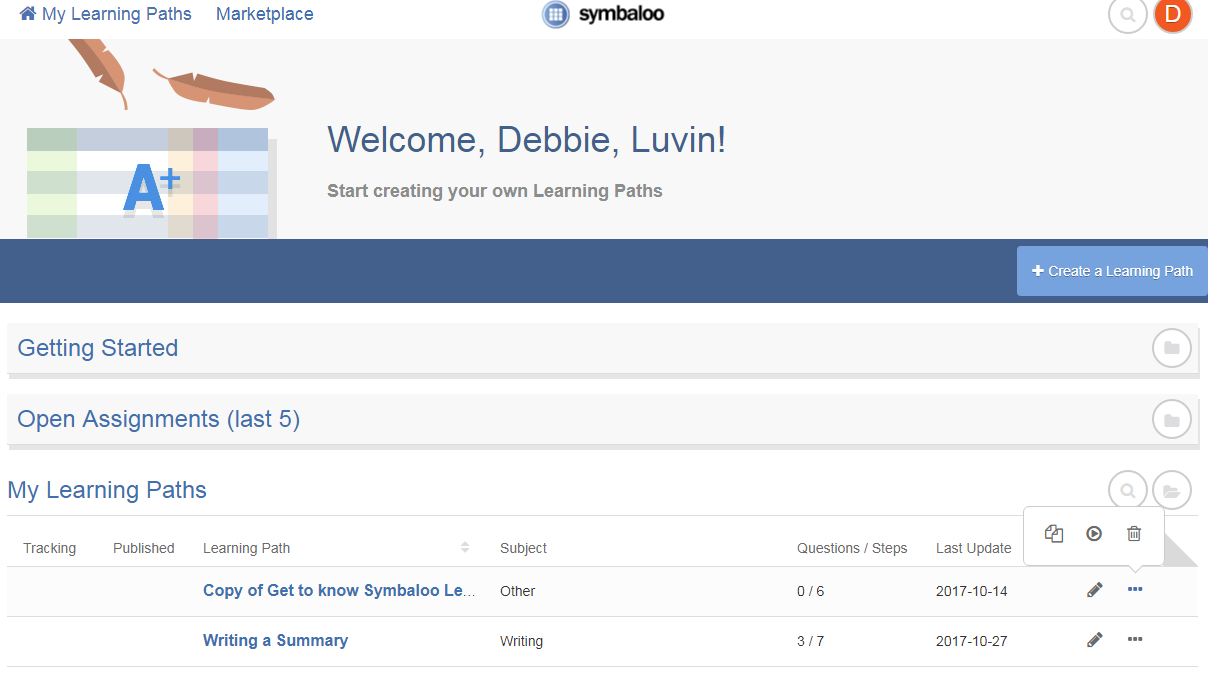 CAPTION: This is the listing of My Learning Paths including Writing a Summary.
Here is an example of a simple Learning Path I created to teach how to write a summary. The student begins the 'game' by clicking on Start at the bottom of the page.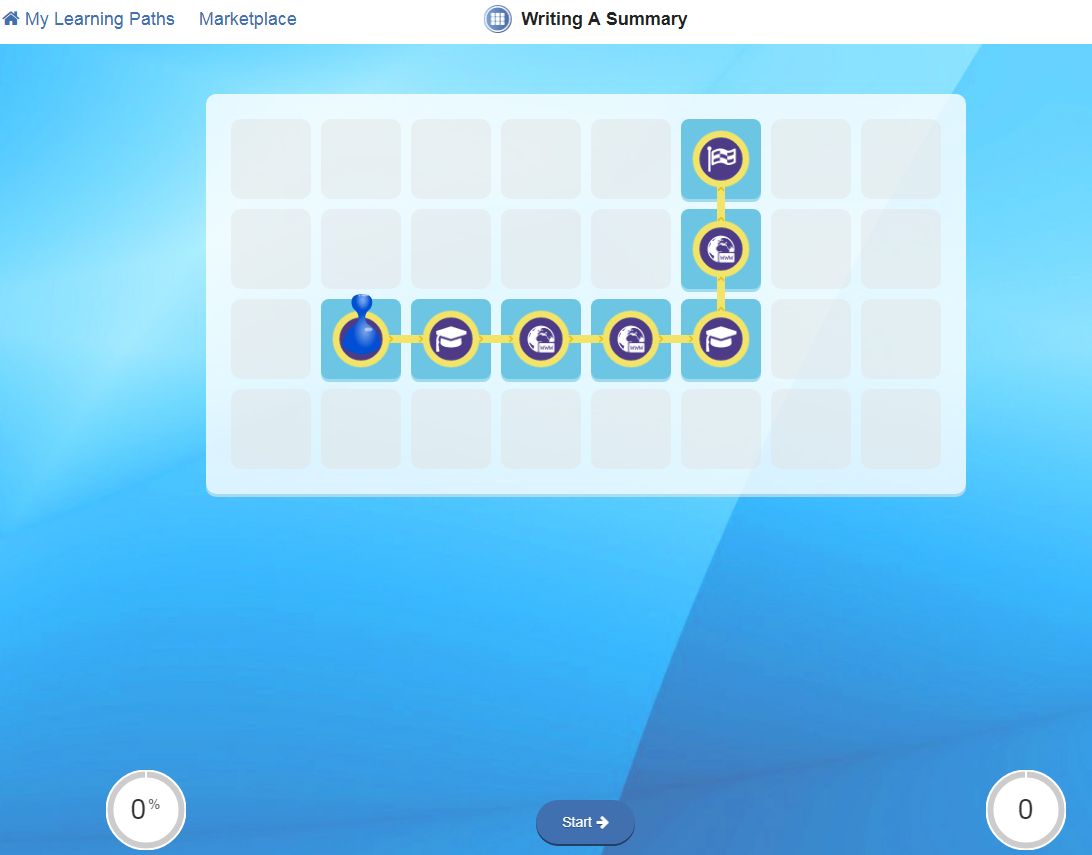 CAPTION: The webmix has been transformed into a gameboard. The student moves through the links as a game piece. Game squares include the assignment, powerpoint, video, and questions.
The student works through the learning path viewing assignments, videos, and questions. Following are examples of tiles (used as game squares) from my lesson on Writing a Summary. They include the introduction to the assignment, a PowerPoint, questions to check understanding and a video explaining the summary writing process.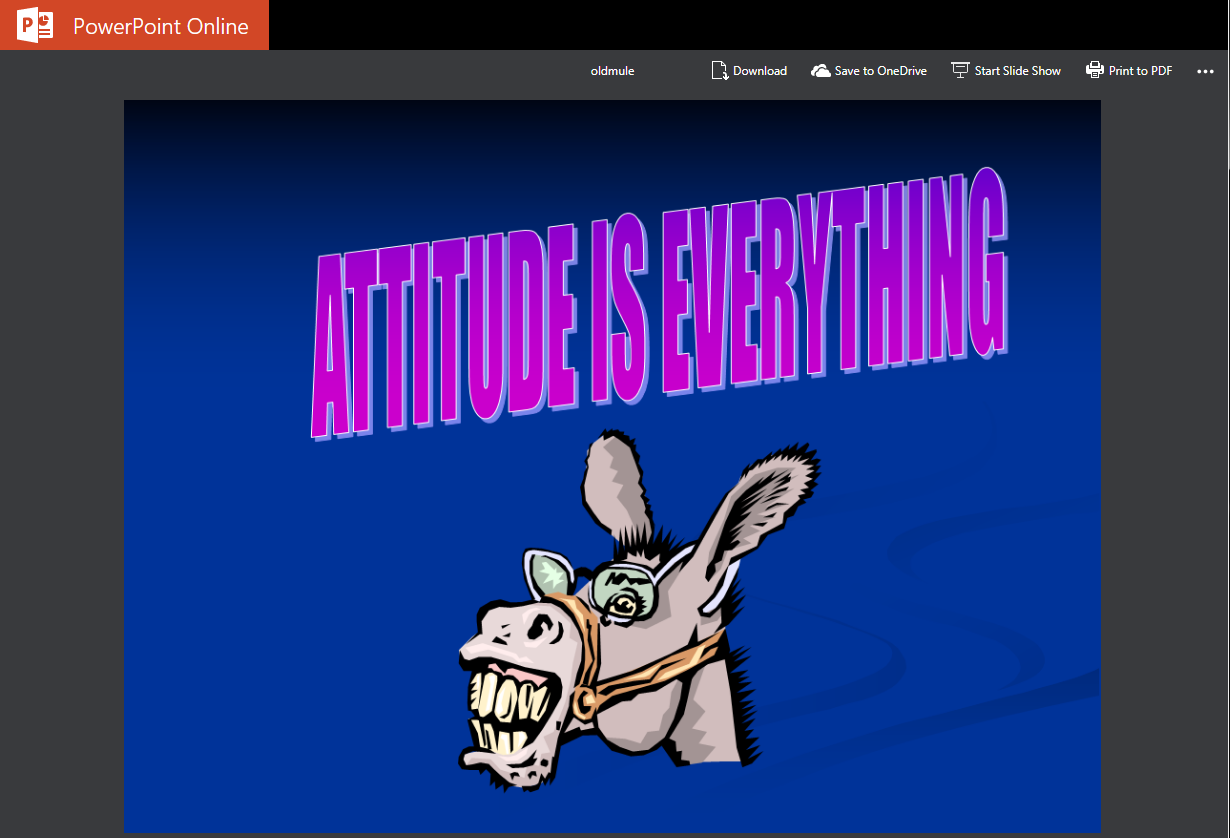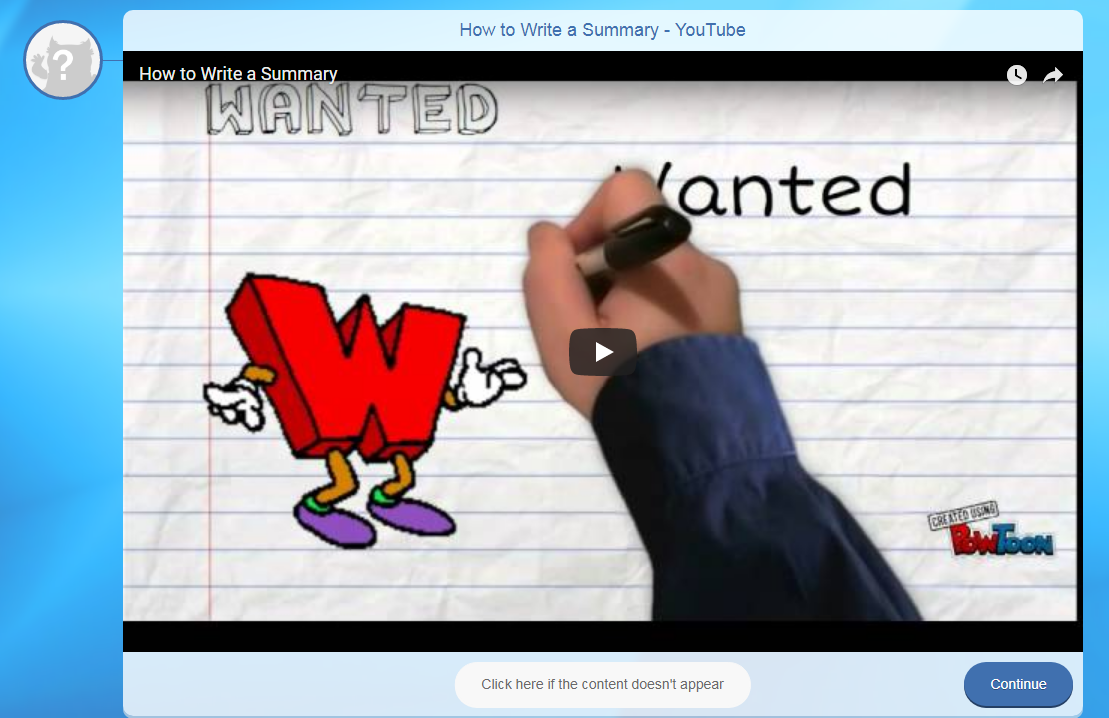 When you select Assign and Start Tracking, you receive a 5-digit code and a link to give your students so they can participate in the Learning Path.http://lessonplans.symbaloo.com/start?accessCode=15064
A final note: As the year goes on, my Symbaloo page grows. Just today, I included a link to the student survey students are required to fill out, then I wanted them to do job searches using the Occupational Outlook Handbook. My webmix expands as the quarters pass. I think I will soon need a link to move onto another webmix—maybe a different webmix-- one for each quarter. Oh the possibilities!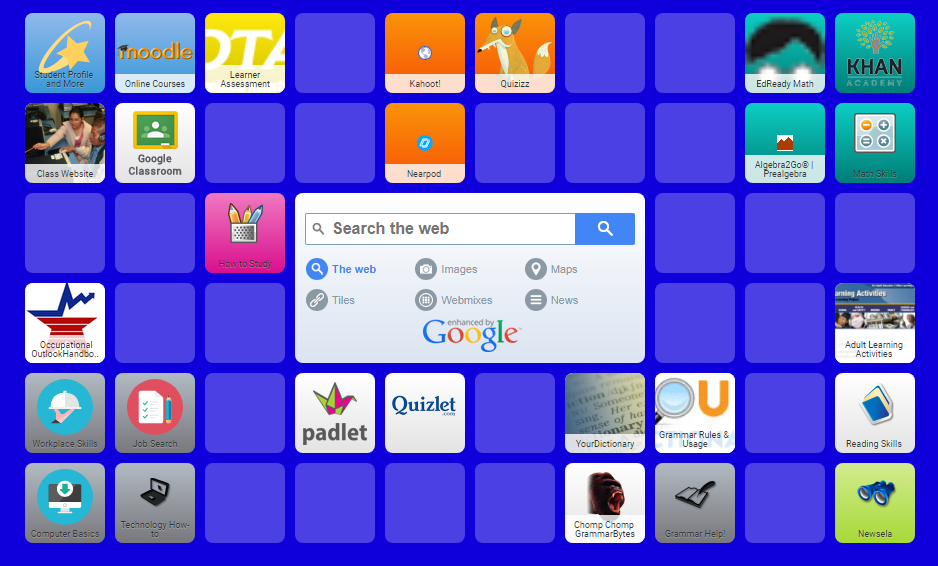 CAPTION: Another look at my webmix. This time I have included the new links to the student survey and Occupational Outlook Handbook.
Lesson Plan Analytics
With analytics you can track your students' progress as they complete lessons. (it shows time spent, scores and completion) Lessons include the opportunity to chat live with your students as you watch them work through the lessons giving you the chance to correct, encourage, or redirect.
Symbaloo offers you the chance to gather all your links in one place. It offers your students the simplicity of finding everything they need for class one a single page. Can it get any easier?