Resources for Election 2020
by Kristi Reyes, Mira Costa College, Oceanside, CA
Posted October 2020
The 2020 Election, both presidential and legislative, is being called one of the most important in recent history. Whether or not our adult students follow the news or are politically aware, we should encourage those eligible to exercise their right to vote because the outcomes will affect everyone. There are several non-partisan websites that will help students understand about the significance of participating in elections and choose candidates whose political ideologies align with their own.
Important Dates from RegisterToVote.ca.gov:
Election Day is Tuesday, November 3, 2020.

The deadline to register online to vote is Monday, October 19, 2020.

The deadline for registering by mail to vote is (postmarked by) Monday, October 19, 2020.

The deadline to register in person to vote is Tuesday, November 3, 2020. Conditional voter registration is a safety net for Californians who miss the deadline to register to vote or update their voter registration information. Voters can use the conditional voter registration process from the day after the deadline all the way through Election Day. Eligible citizens can go to their county election office, polling place, or vote center to register and vote conditionally. These ballots will be processed once the county elections office has completed the voter registration verification process.

All registered voters will automatically be mailed a vote-by-mail ballot for the November 3, 2020, General Election.

The early voting period runs from Monday, October 5, 2020 to Monday, November 2, 2020, but dates and hours may vary based on where you live.

You can also register and vote on Election Day.
For History and Government classes, relevant discussions to conduct in class to help students gain a solid foundation of understanding about the political system can be about the electoral process, including the Electoral College, political parties in the United States, congressional elections, and campaigns. The following videos are brief and informative, and can be shared with students in any class to help them build their knowledge: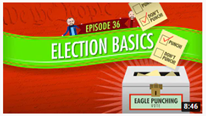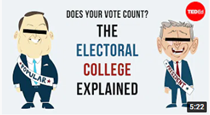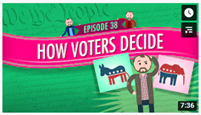 Students could be assigned to watch one video and write a summary or present the information individually or in small groups to the rest of the class. You could also use a tool like EDpuzzle (see 2017 article EDpuzzle - A Fast and Easy Video Quiz Creator) or TED-Ed (see 2017 article TED-Ed for Interactive Video Lessons) to create interactive video quizzes.
Khan Academy has full lessons in the U.S. Government and Civics section on Political Participation, which include sections on voting rights and models of voter behavior, voter turnout, political parties, how and why political parties change and adapt, third-party politics, interest groups influencing policy making, groups influencing policy outcomes, electing a president, congressional elections, modern campaigns, campaign finance, the media, and changing media.
There is an opening quiz (with annotation tools) for students to find out what they do and do not already know: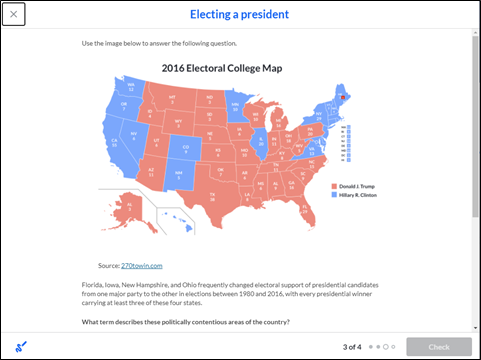 Vote by Design offers a free digital curriculum with the aim of helping "new voters find clarity on what leadership qualities are most important to them in a U.S. President -- and why." The Educator Field Guide and Lesson Plan is aligned with California Common Core and can be run in a variety of formats: fully digitally, in person, or a hybrid of both. It can also be run in a single session (45-60 minutes) or over multiple sessions or class periods. The lesson materials include video, Nearpod integration, and follow-up resources and can easily be used with Zoom if you are teaching remotely. The learning outcomes follow:
Encourage learning from different perspectives about the role of the President and how we take in evidence and evaluate useful inputs as voters.
Create stronger awareness of potential biases regarding high stakes decision-making processes, like voting.
Explore possible future scenarios requiring presidential leadership to examine what we desire and what is required of a leader responding to crisis.
A resource for students to determine where their beliefs and values lie on the political American political party spectrum is ISideWith.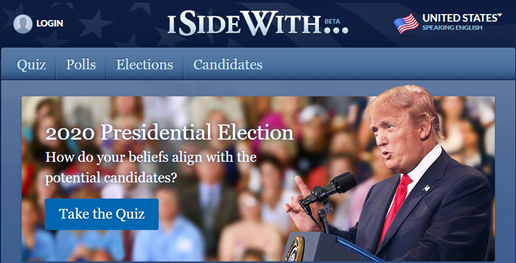 You can take a quiz that asks questions about your views on criminal, domestic policy, education, science, healthcare, transportation, environment, social, foreign policy, immigration, national security, economic, electoral, and local issues. Select yes, no, or "other stances" for a list of limitations concerning your answer.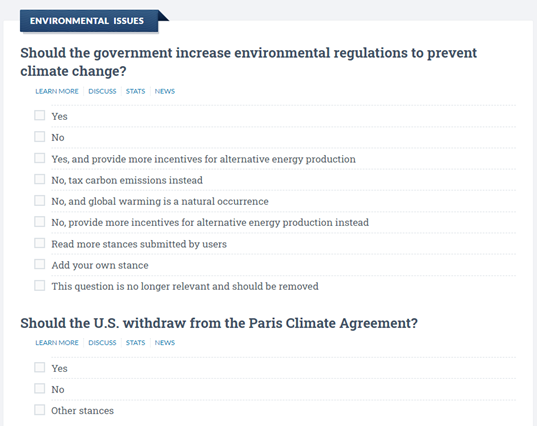 Select Learn More to see a brief explanation of the issue.

Select Discuss to read other users' comments or provide your own on an online discussion forum. Select Stats to see percentages of how others who have taken the quiz have responded in California, your county, your party, your ethnicity, and your income bracket.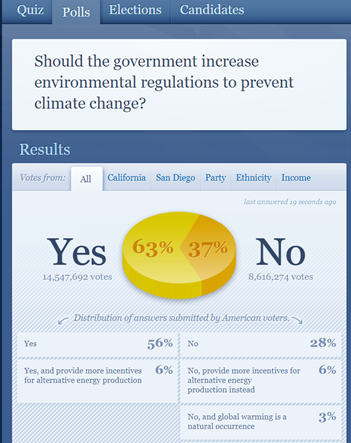 Teachers can have students take the quiz and then write about whether they agree with their results and why.
For a more international perspective, The Political Compass has a test that shows you where your political beliefs lie on a global spectrum.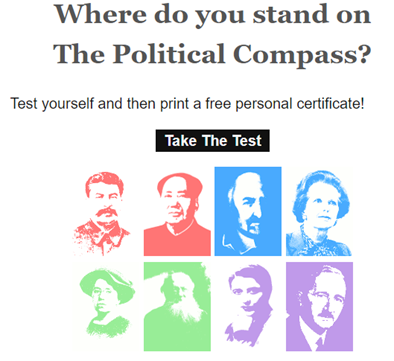 The site has six pages of statements for which you select strongly agree, disagree, agree, or strongly agree. The end result is a personalized chart that shows you where you lie on the Authoritarian – Libertarian, Left – Right spectrum.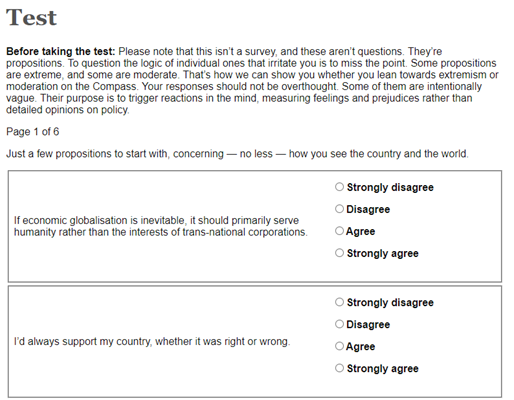 You can then select from the reading list to find out what each of these means.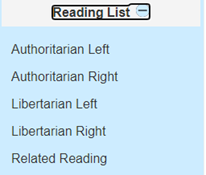 The test if offered in many languages besides English, and the organization also hosts podcasts. A recent podcast title is How Fascism Works – The Politics of Us and Them. See all recent episodes.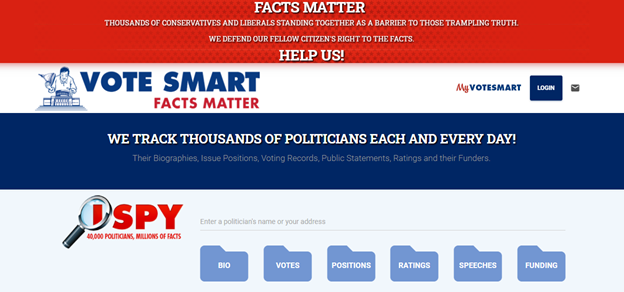 Votesmart is a comprehensive political site that provides "free, unbiased, in-depth information about current officials, candidates, issues, legislation, and voting." In the "I Spy" sections of the website, enter a politician's name or your address to see biographical information, voting histories, positions, ratings, speeches, and funding information about local, state, and federal politicians. For instance, I entered the name of a politician representing my voting district, and I was able to see everything I need to know to help me make a wise decision about voting for him, including where he stands on big national issues and how he voted on state bills.
To track a politician in order to receive updates, you will need to create an account and log in. There are also four interactive tools: Political Galaxy, Vote Easy, On Point, and That's Bull.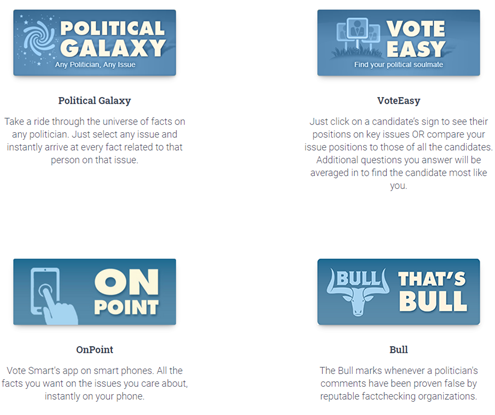 In Political Galaxy, enter a politician's name or your zip code.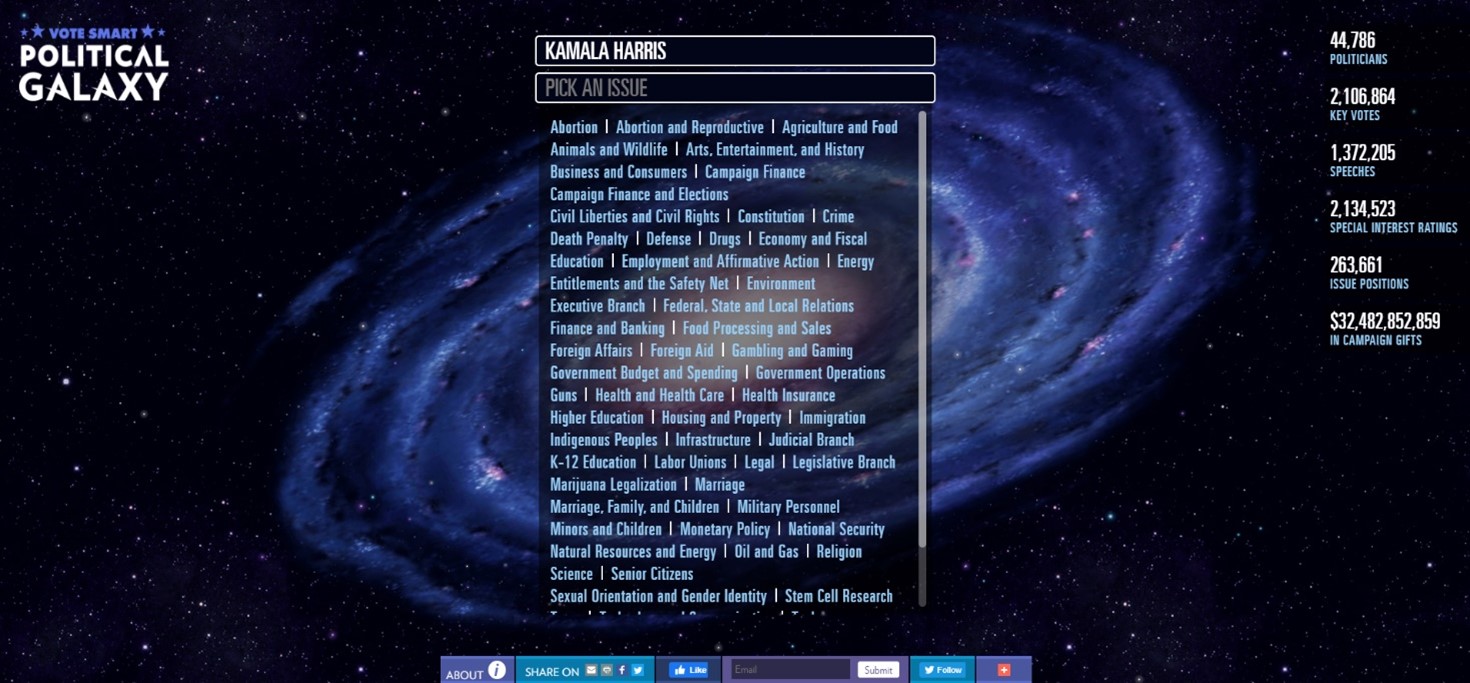 From there, pick an issue. In this case, I selected Kamala Harris and the issue of guns: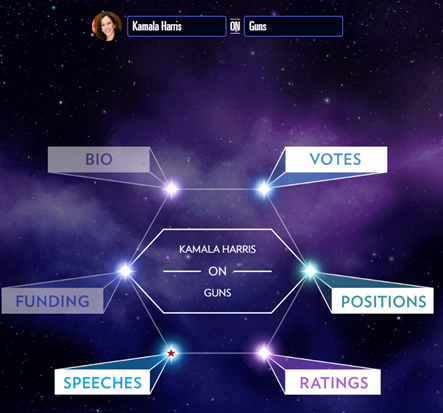 I could then view how she has voted on the issue of guns and see if her position on guns align with mine, as well as see comments she has made about guns in speeches, in the media, or on social media.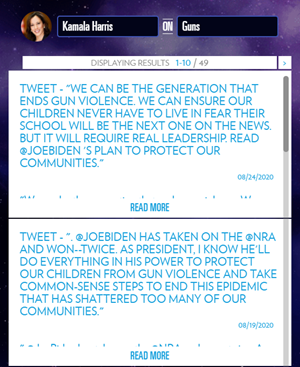 Vote Easy can help you pick your "political soulmate" by similarly reading the provided politicians' stances on key issues OR by comparing your issue positions to those of all the candidates to help you decide for whom to vote. Start by choosing Presidential or Congressional.

I chose Presidential: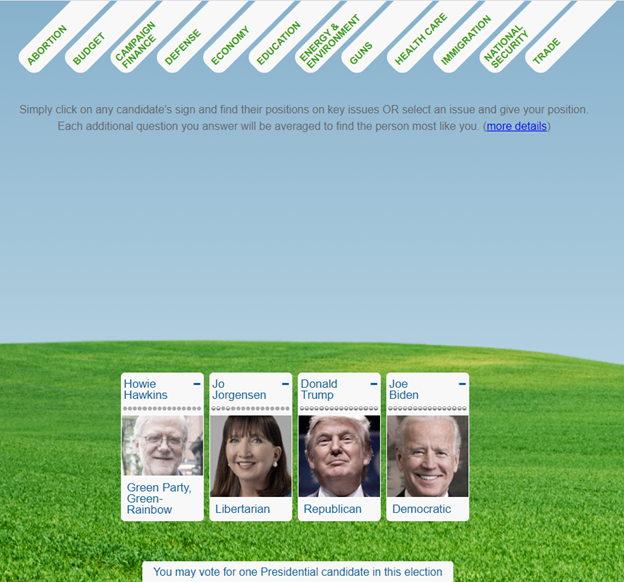 You can select a candidate and get biographical information, a summary about the candidate's political/work experience, interest group ratings and endorsements, campaign finances, voting record, and positions on the top national issues.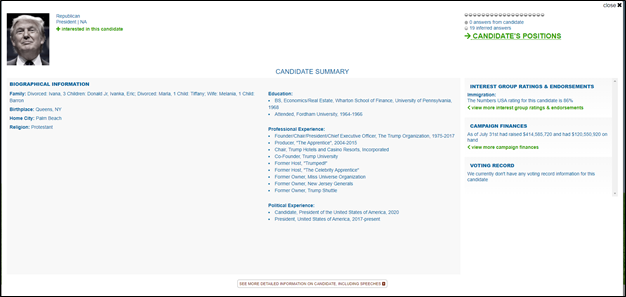 Or you can select each issue and give answers to questions about the key issues. Each additional question you answer will be averaged to find the candidate having views most like yours. Here is the first question you answer if you choose Education:

The subsequent questions ask you to rate the importance of the issue for you, while candidates whose stand on the issue are different from yours are eliminated: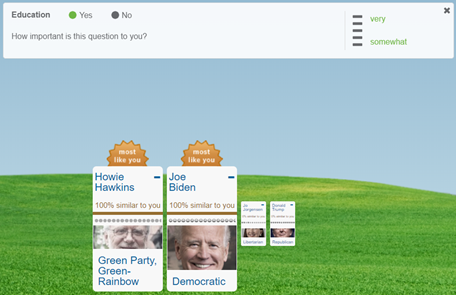 OnPoint is the site's mobile app, available for Apple and Android devices.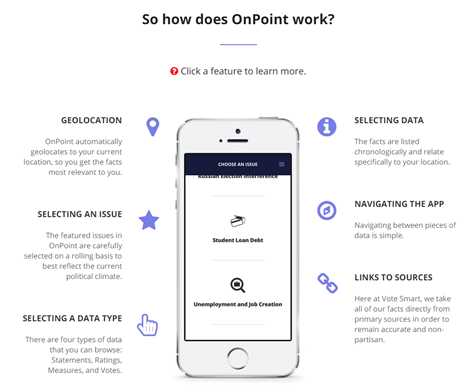 Finally, That's Bull is a useful fact-checker.

You can look up a politician's public statements and the site will show you if, how many, and where those statements were made and found to be false.
Finally, on the topic of media, these three resources have been featured in previous Web-based Class Activities and may be useful in helping students decipher truth in reporting and campaigning versus propaganda: