New! Improved! Teaching with Technology (TwT) Database Updated for Usefulness and with a Focus on High-Quality Instruction
by Kristi Reyes, MiraCosta College of Continuing Education
posted September 2021
More than 10 years ago, a feature of the OTAN website, Teaching with Technology (TwT), was added. It included a database of handy technology tools for use in adult education courses, instructions on how to use the tools, and sample activities. Now, after more than 1,300 entries, TwT is being transformed into a more user-friendly resource. Making its debut in October, TwT will house entries that will be complete lesson plans focused on instructional objectives you can use in class tomorrow! One of the features of this new, improved resource is enhanced search options:
Visitors to the site will be able to search by standard (College and Career Readiness Standard), keyword, tools, and program areas.

When searching by CCRS standard, you will have the following options: Reading Foundational Skills, Reading, Writing, Speaking and Listening, Language, and Mathematics.

Within each skill area, you can search for a CCRS anchor standard, thereby having better results in your search for lessons that meet your course objectives.

Within the Mathematics standard, you can search by math level.
For this and other projects, OTAN has adopted the Triple E Framework, developed by Dr. Liz Kolb in 2011. The framework was originally intended for K-12, but its focus on learning first and technology as a means to support instruction makes it a great fit with adult education, and it has been easily adapted. "Triple E" refers to what students do with technology rather than what the instructor does. The three E's are Engagement, Enhancement, and Extension (Kolb, 2017). This column will provide a greater overview of the framework next month, followed by articles focused on each of the three E's in the subsequent months.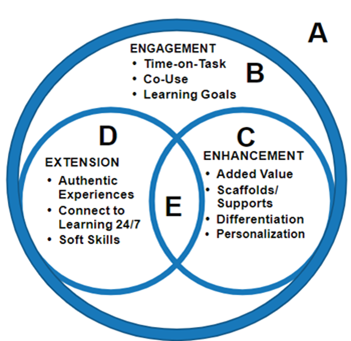 The Triple E framework model (Kolb, 2017, p. 32)
In keeping with a focus on high-quality, standards-based instruction rather than just tech tools, the new TwT site's lesson plans were created with backward design (starting with the instructional goal first and building up activities to support the attainment of the end objective) and WIPPEA (Wiggins & McTighe, 1998). With WIPPEA, there are logically sequenced steps of a lesson that support students' learning through scaffolding of content and gradual release of control. If you are unfamiliar with WIPPEA, this is what the acronym describing lesson plan stages means:
Warm-up – In this stage, the teacher gauges what students do and do not already know about the content to be taught. This may also be a review of previously taught and practiced class content if a lesson spans more than one class meeting. The purpose is to focus the students' attention.
Introduction – In this stage, the teacher provides a general overview of what will be taught. Typically, the objectives of the lesson (or the day) are provided to students, such as, "By the end of today's lesson, you will be able to…" It is valuable in this stage to relate the content to students' lives and goals.
Presentation – This is when the "teaching" occurs. As teachers present new content through a variety of methods, means, and modalities, they include active learning techniques so that students do not merely sit and listen, and they regularly use formative assessment techniques – "check in" – to ensure that students comprehend the presentation and adjust the presentation as needed if they are not.
Practice – Students are given multiple opportunities to use the newly-learned content. The teacher models through an "I do, we do, you do" approach. Students may work independently, in pairs, or in small groups. This is when technology is put into the hands of students, and when possible, students are engaged with technology through "co-use," as endorsed by the Triple E Framework. Teachers continue to monitor students' learning and re-teach content, as needed, using a different approach if necessary.
Evaluation – At this point in the lesson, teachers use a summative assessment, of which there are a wide variety of choices, from a quiz or test, to a paragraph, or – when integrating technology – some sort of end product such as a project in which students demonstrate their learning. The purpose is to find whether the student attained the lesson's objective. A rubric or a checklist can be a convenient tool for evaluating students' work in this stage of a lesson. Students can also self-assess through "I can…" statements or checklists.
Application – This is "Extension" in the Triple E framework, and it is essential in adult education because we want to ensure that what we are teaching and the technology tools we have students use in our classes will be relevant to their lives as students, parents, employees, and community members. Our goal in integrating technology is that the tools are a good fit with our objectives and that through the lesson activities we plan, students are so engaged and their learning so enhanced that there is a natural transfer of newly gained knowledge and skills (both of course content and tech tools) into students' everyday lives.
A Sneak Preview of TwT Lesson Plans
To provide you with a sneak preview of the lessons you will be able to find in the new TwT database, we have included TwT lesson plans, some that suit the beginning of a school year. Note that the lesson plans often incorporate more than one technology tool and that they include support documents such as handouts, note-taking guides, and assignment prompts.
Creating Community through Icebreakers
Google Slides: Introductions Ice-Breaker (ESL)
Beginning-level ESL students will complete sentence frames about themselves and will write the sentences on their assigned slide on a shared Google Slideshow with the purpose of breaking the ice and creating community in the first week of class.
Google Slides or Padlet Introductions Using Gerunds and Infinitives (ESL)
Use this introduction activity to create community in class. Students will learn and apply grammar (gerunds and infinitives) by introducing themselves through sentences and images posted on a Padlet wall or on a shared Google Slideshow.
Student Goal Setting
Goal Setting and Documentation with FutureMe (ESL, ABE, HSE, HSD)
Students learn about goal setting by watching a video and taking notes and set some goals for themselves for the future. They then use the FutureMe website to send an email to themselves at a selected future date as documentation and follow-up on their goals.
Why is student goal setting important? It helps promote student persistence. Here is some information from the research on goal setting in adult education:
Adult learners who have specific goals in mind are more likely to persist in their studies. (Comings et al., 1999)

The primary incentive to learner retention is the learner's being able to set a goal and realize some progress in reaching that goal. (Comings et al., 1999)

Personal best goal-setting results in better initial and continued engagement, as well as having a positive impact on student engagement over time. (Burns, E. C., Martin, A. J., & Collie, R. J. (2018, July 9)

Setting specific and difficult goals is effective at increasing behavior change, and goal setting is optimally effective when it is set face-to-face, it is set publicly, it is a group goal, and it is coupled with monitoring of the behavior or outcome by another person. The other person doesn't have any judgment about the goal or the progress. Their only role is to help their partner stay on track. (Epton, Currie, Armitage, 2017)
Another interesting assignment with FutureMe would be to have students document this time in their lives, living through a pandemic. This article from the Make Use Of Web site details this idea: How to Send a Letter to Your Future Self About the Pandemic.
Getting to Know Students and Obtaining Diagnostic Information on Writing through Thematic Lesson Plans
A Valuable Lesson: Using NPR and a TED Talk as a Springboard for Writing (ABE, HSD, ESL, HSE)
Students listen to an NPR's "This I Believe" essay, "Do Talk to Strangers," and answer questions about the essay/recording, and then watch a TED Talk and answer questions, followed by an assignment in which they write their own personal narratives about a valuable life lesson.
Personal Logo: Learn, Create, Write about, and Present about Logos (ESL, HSE, ABE, HSD)
In this lesson, students learn about logo types and some background behind logos of well-known companies through videos and the Famous Logos website, select one to research and briefly present about using a shared Google Slides slideshow, create a personal logo using their choice of a variety of tools, and write and present about their personal logo to the class.
Digital Film about a Holiday or Celebration Using Adobe Spark Video (ESL)
Students work alone or with a classmate or small group of students to create a digital film about a holiday or celebration in their native country.
Opportunities for Building and Exercising Students' Critical Thinking Skills
Snopes: Discovering the Truth Behind Urban Legends (HSD, ABE)
While learning about urban legends, students practice reading skills, summarizing and paragraphing in speaking and writing, and hone their abilities to view media critically. Students use Snopes, a site dedicated to fact-checking news stories, past events, and urban legends, to read and take notes on an urban legend.
Read Write Think: Consumerism-Persuasive Techniques in Advertising (ABE, ESL, HSD)
In this lesson on consumerism, students watch a video that explains advertising strategies. Then, using a note-taking chart, they will practice identifying advertising strategies while watching various commercials. They can also use the form at home while watching TV commercials for further practice. Then as a final activity, students can make a team presentation using PowerPoint or Google Slides.
We hope you and your students enjoy these lessons! Be on the lookout for many more to be published on the TwT website in the coming school year for different program areas and for meeting a wide range of instructional objectives.
Visit this column in the coming months to learn more about the Triple E Framework and how you can apply it toward your technology integration goals.
References and More Reading
Burns, E. C., Martin, A. J., & Collie, R. J. (2018). Understanding the role of personal best (PB) goal setting in students' declining engagement: A latent growth model. Journal of Educational Psychology, 111(4), 557-572.
Burton, D. D. (1983). Evaluation of Goal Setting Training on Selected Cognitions and Performance of Collegiate Swimmers (Doctoral dissertation, University of Illinois at Urbana-Champaign). (UMI No. AAI8409878)
College and Career Readiness Standards for Adult Education
Comings, J., Parrella, A., & Soricone, L. (1999). Persistence among adult basic education students in pre-GED classes (NCSALL Rep. No. 12). Cambridge, MA: NCSALL.
Gaer, S., and Reyes, K. (2019, November 04). The Triple E Framework for More Effective Technology Integration in Adult Education. EdTech Center @ World Education.
Kolb, L. (2017). Learning First, Technology Second: An Educator's Guide to Designing Authentic Lessons. International Society for Technology in Education.
TEAL Center Fact Sheet No. 8: Effective Lesson Planning
Wiggins, G., & McTighe, J. (1998). Understanding by design. Alexandria, VA: Association for Supervision and Curriculum Development.