Instant Grammar Checker!
by Susan Coulter, Baldwin Park Adult & Community Education, Baldwin Park, CA
Posted February 2017


The Grammarly (grammarly.com) application is a great way to help your students with their grammar and writing skills. As they type, Grammarly underlines grammar errors and spelling mistakes and allows them to correct their mistakes as they work. Students can also upload their essays to Grammarly and then receive immediate feedback on spelling, grammar, punctuation, sentence structure and style. When you are finished making any corrections, you can download the document to your desktop. The application is available on your Web browser so that online responses, such as Facebook, Twitter, and Gmail, can be easily checked for grammar errors.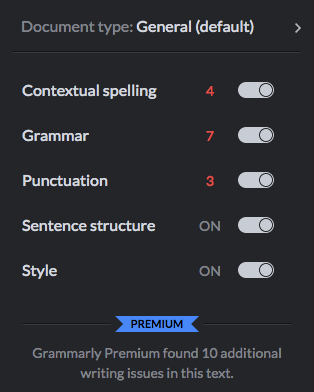 There is both a free and premium version. The free version checks five different writing issues and each one can be turned on or off at the user's discretion. The Contextual Spelling checker identifies correctly spelled words that are used in the wrong context such as affect and effect. The Grammar checker can spot and fix hundreds of complex grammatical errors, including article use, modifier placement, and subject-verb agreement, just to name a few; whereas, Punctuation highlights errors in missing or misused punctuation. Sentence Structure looks at the whole sentence and offers suggestions for improvement, while Style looks at variations in writing style. Grammarly does not correct capitalization errors.
Many authors use Grammarly Premium, which checks for additional writing issues such as Word Choice, Faulty Tense Sequence, Wordy Sentences, Punctuation in Compound/Complex Sentences and more. The premium version can also check for Plagiarism and will not only identify the Web site but will give the correct citation in different formats, so you can give credit where credit is due. The premium version also gives you Vocabulary suggestions and access to a Professional Proofreader. The premium version is for the professional writer and is a little pricey; however, the free version is great for students wanting to improve their writing skills.
Creating an Account
You will want your students to create their own account, which will allow them access to their account and their documents from any computer without having to download the application again.
Open your Web browser of choice and go to https://www.grammarly.com/ . Grammarly will automatically identify your browser and ask you to Add to Chrome, Add to Firefox, Add to Safari, or Add to unidentified browser.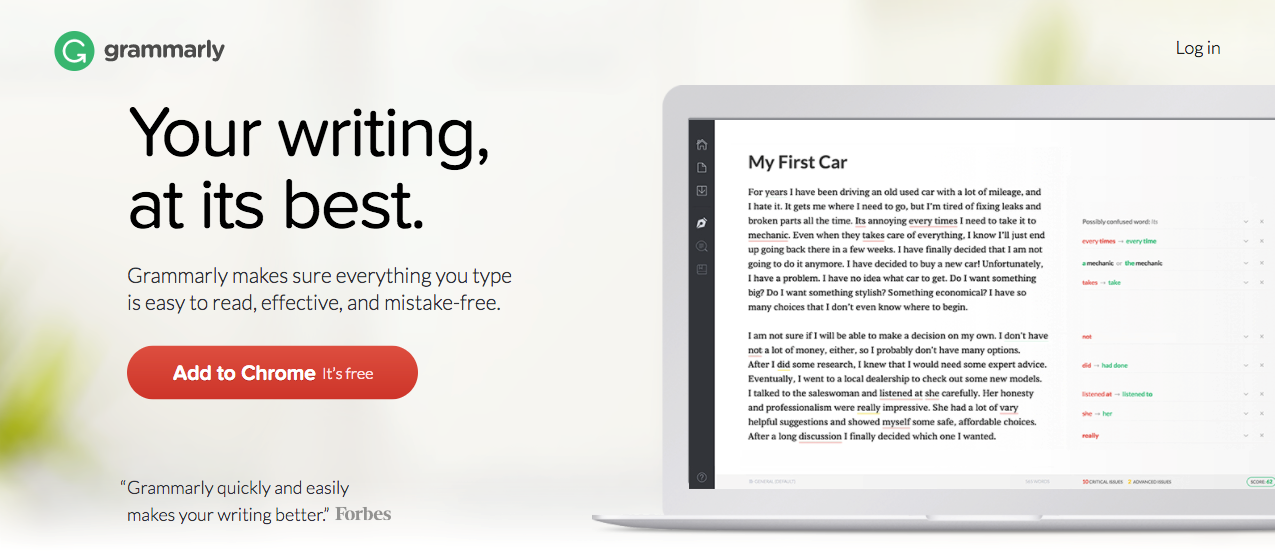 In the next screen, select

Add extension

.
Enter your account information or Sign Up with Facebook. Select

Sign Up

Select

Continue to your account

.
There is a short tour with some information on what Grammarly can do for you. You can now use Grammarly on any computer by simply going to https://www.grammarly.com/
and logging into your account.
The Grammarly Interface
Making Corrections
The Demo document is a great place to begin. You can practice making corrections and viewing suggestions in collapsed and expanded form. The 25 stands for the number of errors found in the document. You will want to consider all critical errors and decide to correct or ignore each one.
Selecting a red-underlined word will open a new pop-up window.
Selecting MORE at the bottom of window will give you detailed description of the highlighted mistake. You will want to encourage students to read the explanation instead of just correcting the mistake.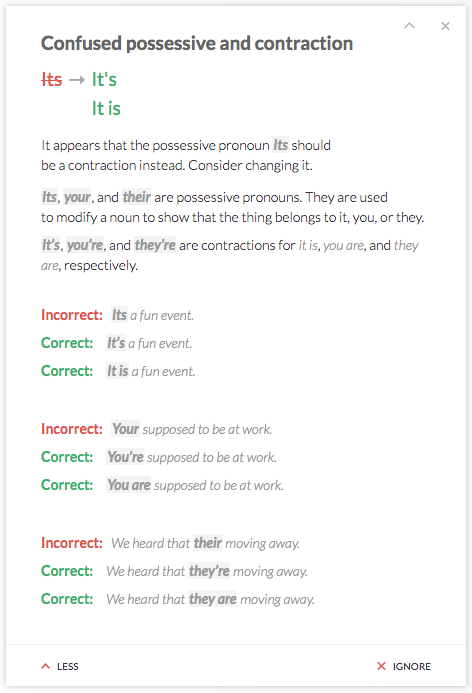 To accept a correction, simply click on the suggested correction.
You can also select IGNORE to keep the text as written.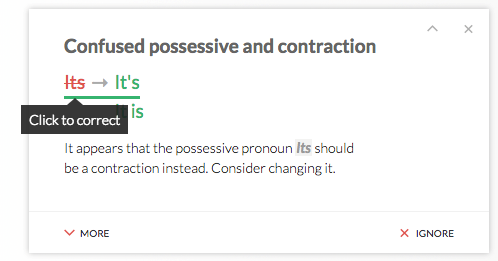 Copy or Download Corrected Document
Select the download icon in the navigation bar to the left of your document. You can copy and then paste your document into another file format or download the document.
The document is downloaded as a .txt file. I find the easiest way is to copy and paste.
New Document
You can choose to upload a document, paste your text, or create your document in Grammarly. Documents are saved until you delete them and can be accessed from any computer. When you create your document in Grammarly, you receive immediate feedback and can make corrections as you type. This is a great feature for students.
Assessment
Grammarly allows you to turn on or off the kinds of mistakes it will highlight in your document and will tell you how many mistakes in each category you made in an uncorrected document.
One of my favorite features about Grammarly is is the weekly reports I receive in my email called Grammarly Insights.
In Activity, I learn how many words I used and how I compare with other users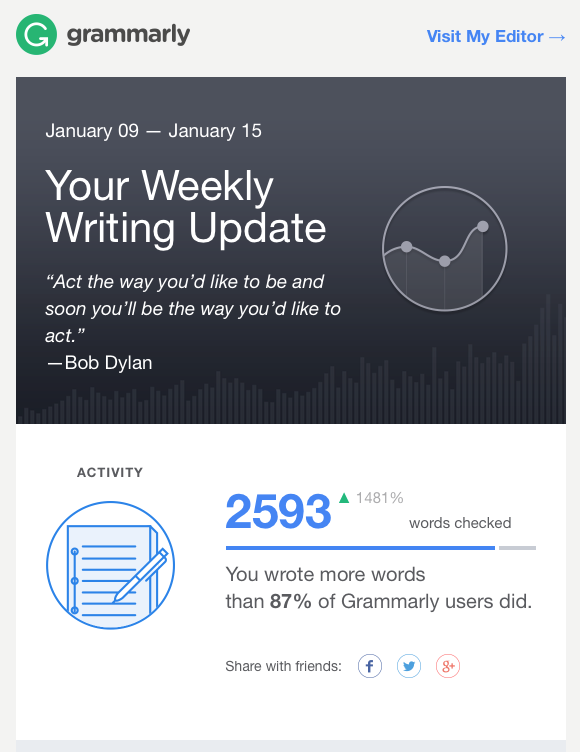 In Mastery, I learn how many corrections I made.
Vocabulary looks at my vocabulary and the number of unique words I used and how I rate among other users.
I think the most important part of this report is my Top 3 Grammar Mistakes. The other reports encourage me to write more and make better vocabulary choices, but this report tells me what I specifically need to work on. What a resource for the classroom teacher! If I know what my students need to work on, I can focus my instruction on those specific topics.
Students can also select Learn more to review that topic in the Grammar Handbook (https://www.grammarly.com/blog/category/handbook/ ).
Grammarly is a great resource for both students and teachers.
Web-based Activity
In this activity, students set up their own Grammarly account and learn to use the interface. Students are then given a writing prompt and asked to write their essay directly in Grammarly. The writing prompt and length of essay can be varied to meet the needs of ESL students to the most advanced high school students.
Preparation
Check with your IT department about downloading the application. You can always have students set up accounts using your laptop or desk computer. You need to remind students to log out so the next student can sign up for a new account.
Spend time using Grammarly so you can show your students.
Decide on the writing prompt and expected length of student essay.
Be sure to schedule time in the computer lab.
How-To
Introduce Grammarly and demonstrate how to use the correction tool and resources.
Give students time to correct the Demo document and experience the Grammarly interface.
Give students the writing prompt, expected length of essay, and due date. Allow students time to work on their essays in the lab.
When complete, have students print their essays and turn them in for review.
The following week ask students to turn in a list of their Top 3 Grammar Mistakes from their Grammarly Insights email.
Focus instruction on the area of greatest need.
More Ways
If you are not able to use Grammarly in class or in the lab, have students write their essays at home using the application and then turn in their assignments.
Have students first complete the assignment without using the application and turn in their work. Then let students upload the same essay to Grammarly and let them see and correct their errors.