Formative Assessments
by Susan Coulter, Baldwin Park Adult & Community Education, Baldwin Park, CA
Posted May 2017
In this activity, students practice their skills using an online assessment tool (see some suggestions below). The teacher uses the formative assessment to guide the instruction and address gaps in learning.
Preparation:
Decide on a standards-based learning goal. What do you want students to be able to do as a result of this lesson? Prepare your lesson.
Determine the number of devices and equipment available.
Create a short formative assessment/practice that will measure students' understanding of the competency or skill and decide on the best application to use with your class. Check that the site is not blocked by your school.
Determine how you will address the needs of students who do not do well on the first assessment. This could be a small group activity, one-on-one instruction or one student teaching another.
Create another short formative assessment/practice to reinforce learning and again check for understanding.
Think of a way you can celebrate student success. This can be as simple as verbal praise or a notation on a competency chart.
Steps:
Introduce the lesson and the importance of learning this competency or skill.
Engage your students as you present your lesson.
Choose a formative assessment for students to take and then review the results.
Focus on the gaps in student understanding, by using a small group, one-on-one instruction or using student teachers, and then reteach, if necessary.
Give another short online formative assessment/practice to reinforce learning and again check for understanding. Once again, address any gaps in understanding.
Celebrate student success.
Gamify your Lesson with Online Formative Assessments
How many of us have spent hours creating an assessment test to accurately measure student learning at the end of a chapter or unit? I think we all have, but those are summative assessments and they only tell you what the student knows after everything is completed. There is usually no option to go back. On the other hand, formative assessments are a quick snapshot of student learning, which then allows you to change the course of the lesson to address those gaps in understanding. Formative assessments are used to differentiate learning and guide instruction. In this article, we will look at three different assessment tools, how they differ and how you can use them effectively in your classroom.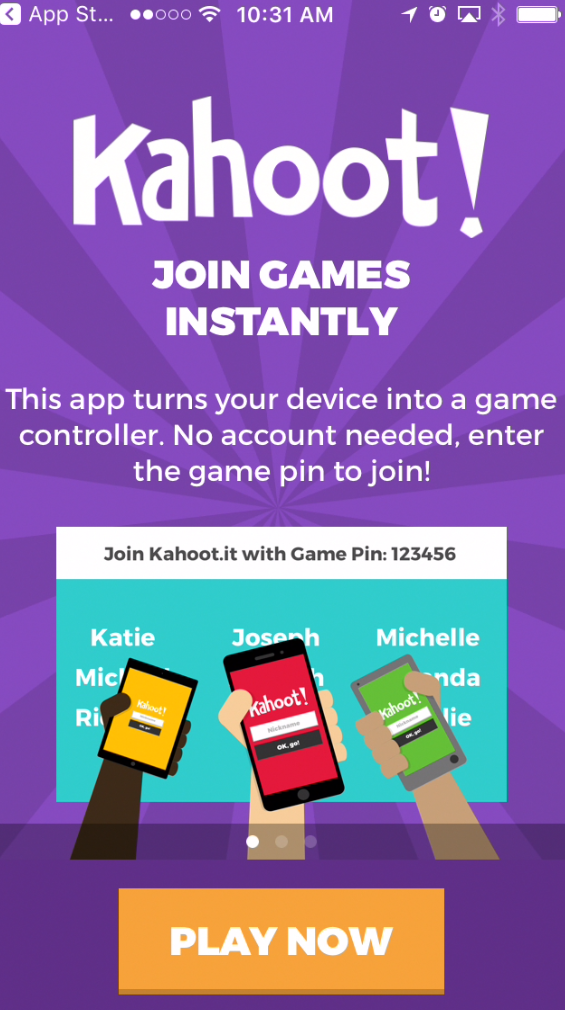 Kahoot is free, quick paced, competitive, and will keep your learners engaged. It is a student-response tool that allows teachers to give game-like multiple-choice quizzes in real time. It can liven up any classroom and students will ask to play it again and again.
Since Kahoot is played live in the classroom, students will need to open a browser on an Internet-enabled device or download the Kahoot app on their phone or other device. Games can be played player-against-player or team-against-team with shared devices.
You will need to project your browser on a screen so students can see the questions and possible answers.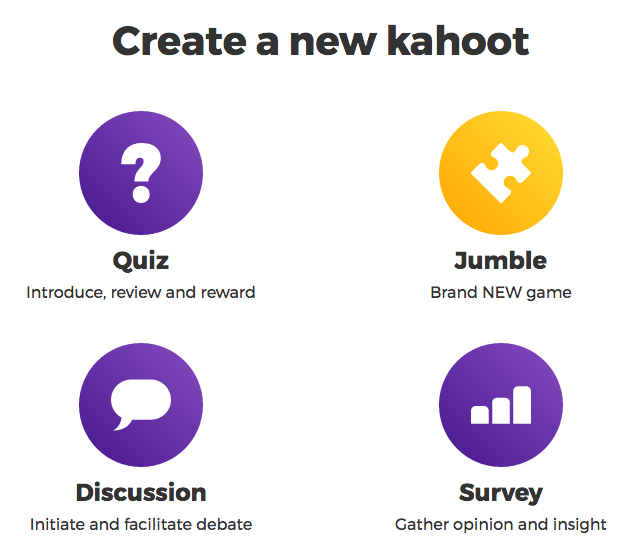 Kahoot now has four different types of games:
Quiz

is a multiple-choice game. Each question is timed and you can give players up to two minutes to select their answers. Players that rapidly answer are awarded more points for a correct answer. The top three players are highlighted after each question, which adds to the competitive nature of the game. You can also add an introductory online video for students to watch before the quiz begins.

Jumble

is a relatively new game from Kahoot. Players are asked to put items in order. This is great for sequencing events, values, dates, or items. I've seen ESL teachers use it for word order in a sentence.


Discussion

is a question or questions that are used to start a discussion; however, any quiz can be paused to allow for discussion and instruction. You cannot link to an introductory video in a Discussion game.

Survey

is very similar to Quiz and Discussion; however you can link to an introductory video that plays while students are signing in.
Once students have taken a quiz, they have the option to play again in Ghost mode to see if they can beat their previous score. You can also give them a link so they can play at home, but they will need two devices in order to play. The link can be accessed by selecting New K! at the top of your screen and View all of your results.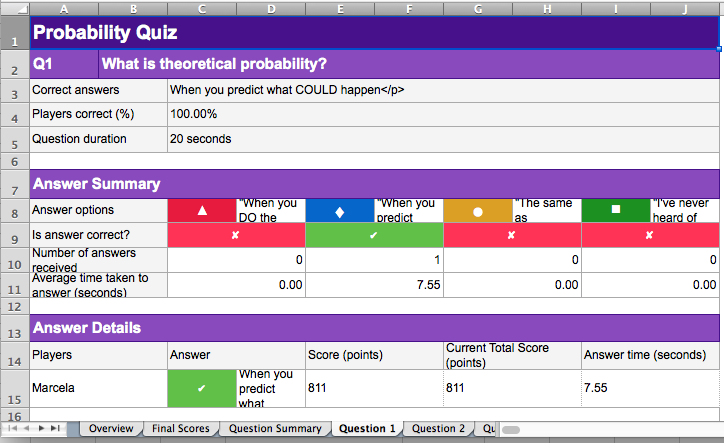 Results for your class can be downloaded in an Excel file and you can see how each student answered. You now have a tool to differentiate learning and guide instruction so that all students can succeed. Analyze the results and address any gaps in learning.
Kahoots are great for a quick check for understanding. You can search public Kahoots by keyword and then adapt one to meet the needs of your class.
Quizizz

Quizizz is similar to Kahoot, but does not require a classroom projector. Learners see the questions on their device and can work at their own pace. There is even a homework mode where learners can take your quiz outside the classroom.
Formative quizzes are not normally given for a grade, but they are given to inform the instructor where help is needed so every learner can be successful. Quizizz is limited to multiple-choice questions, but memes make feedback fun. There is a free app for iOS devices but currently not for Android; however, players can access the game through any Web browser.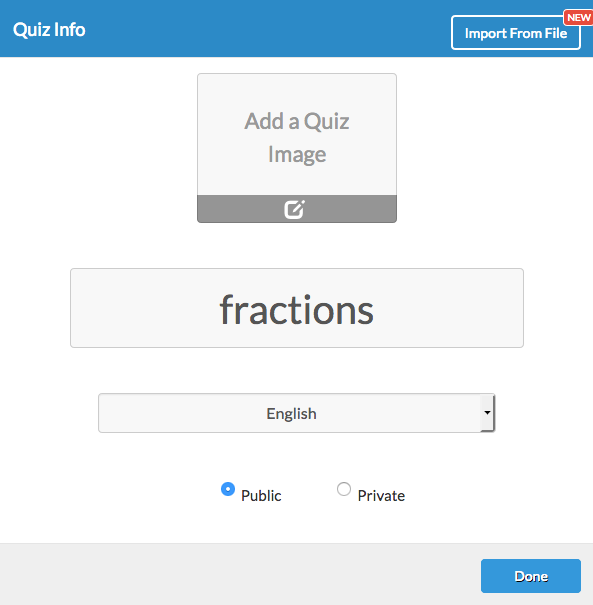 Public quizzes can be searched by keyword and grade level. You can also create your own quiz to match your course content. Creating a new quiz is quick and easy.
Give your quiz a name and add an image for your quiz. You can even import questions saved in Excel/CSV files. The feature I really like is the ability to add questions from other public quizzes.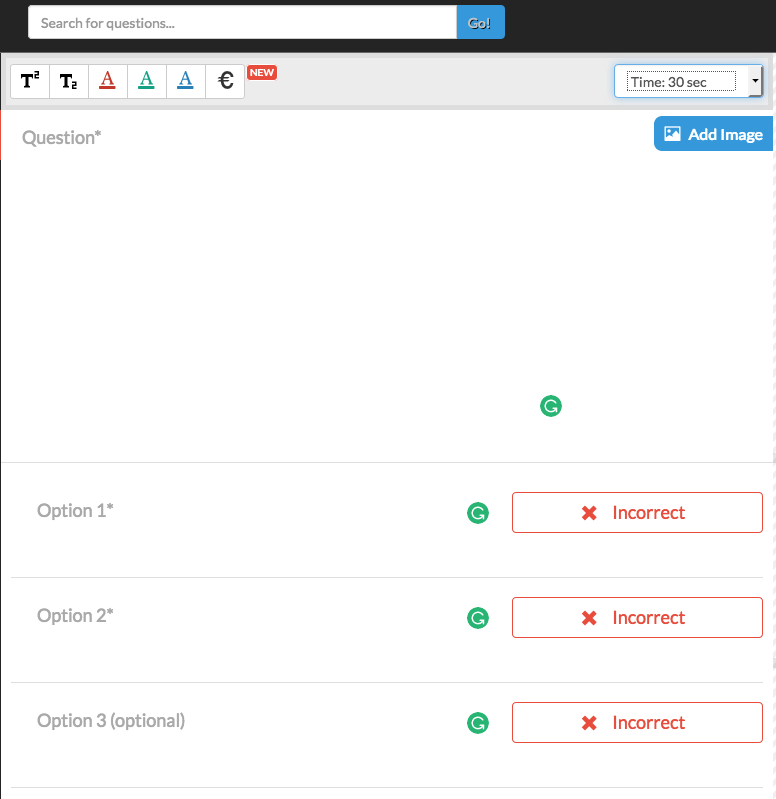 Type in a keyword and select Go!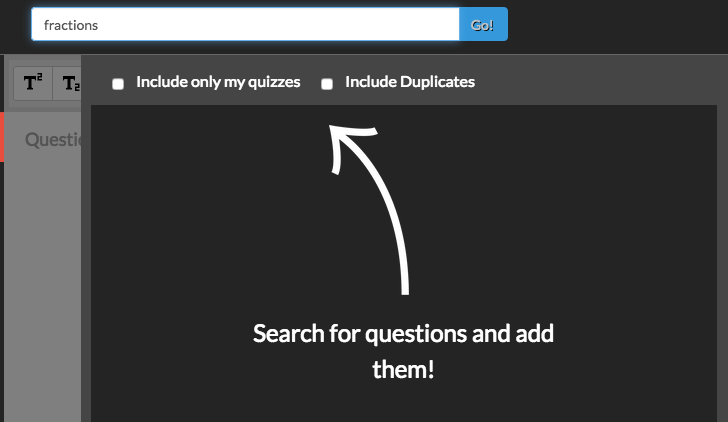 Select a quiz and review the questions listed. If you like a question, simply select the plus sign to add it to your quiz.

Once you are finished, be sure to select the green Finish button in the upper right-hand corner. Next, select the Grade Range, Subject, and Tags so others can readily find your quiz. Now your quiz is ready to play live or assign for homework by sharing a link to the quiz.
By playing it live, you are able to see which questions students are struggling with and then step in to help. You are able to see on your device who answered the question correctly and who missed it. Learners just need the Code to play.
You can also see which questions your students missed most by scrolling down to see the question and how many students got it correct and how many missed that question. Results can be exported and saved.

Players select their own avatar when they play. At the end of the game, players receive a report on their ranking and how they did on each question.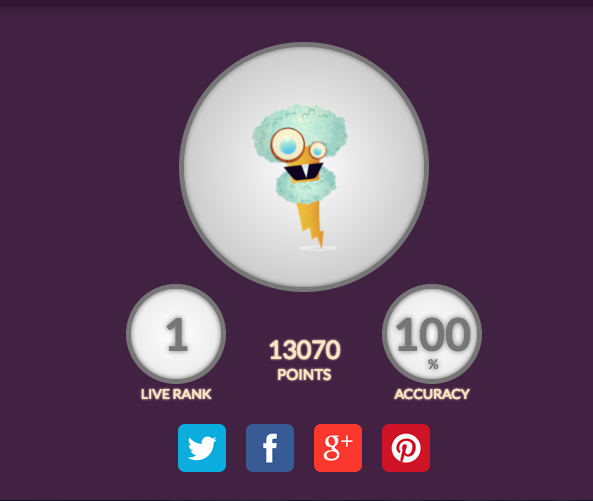 In the quiz setup, you can choose to use memes. Quizizz offers three different meme sets: Classic Quizizz Default, Heroes & Villains, and Turnbull ESL Animal Memes. You can even create your own memes by uploading pictures and designating them for correct or incorrect responses.
Quizizz has a lot to offer classroom teachers. Seeing how your students answered in real time, is a big plus. Also, I like being able to grab individual questions from different public Quizizz.
Socrative

Socrative is similar to Kahoot and Quizizz; however, Socrative also allows for graded short answer and open-ended short responses. Activities can be teacher-paced or student-paced. Teachers can ask a verbal Quick question and have students reply on their device. The teacher can see student responses in real time. There is also a gaming element in which teams compete to be the first to launch their rocket into space.

This is the teacher's dashboard for the classroom. Students only need the class code to participate in an activity.
To create a quiz, select Quizzes in the top left-hand corner.
Select +ADD QUIZ and give your quiz a name.
Next, select the type of question you want to add.
A picture can be easily added and you have the option to include an explanation to the student. Be sure to indicate the correct answer.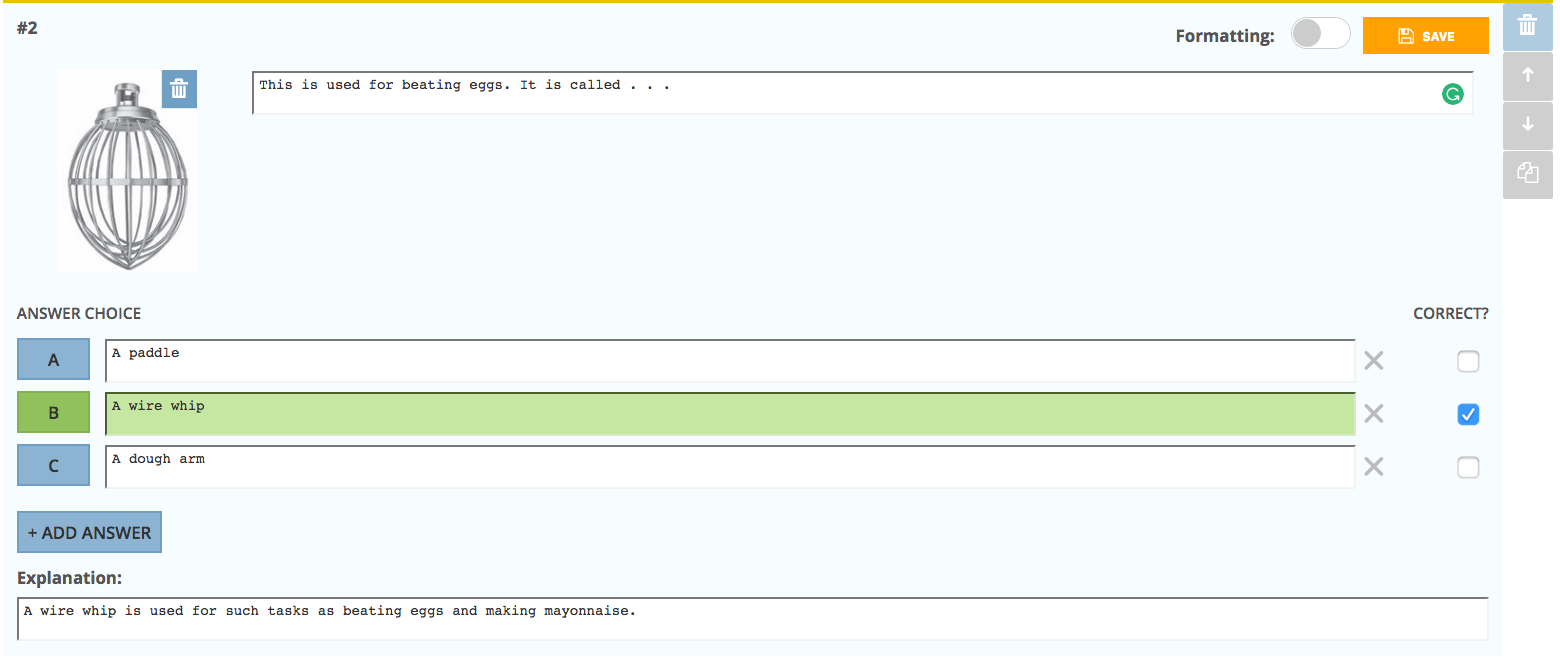 A short answer question allows the student to give an answer in his or her own words. You can also indicate correct answers for short answer responses.

When you are finished, be sure to select SAVE & EXIT at the top of the page.
Now you are ready to launch your quiz. Select the LAUNCH tab and then Quiz.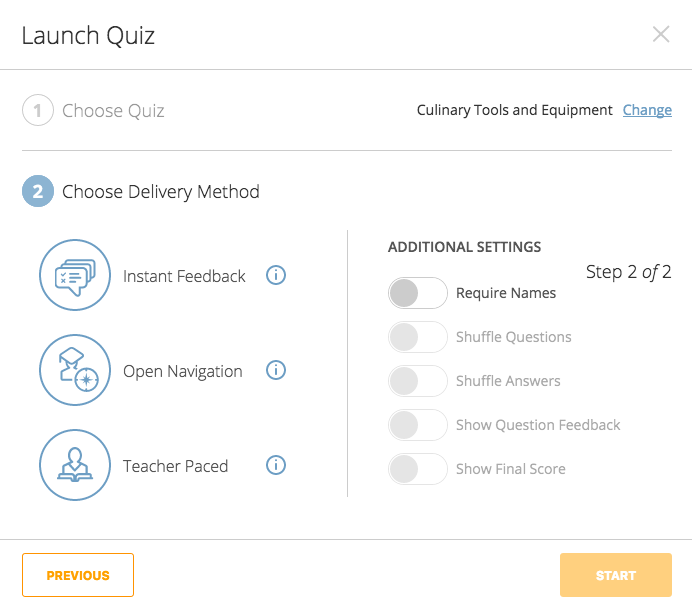 Choose the Quiz you want to give and then the Delivery Method and any additional settings you want.
Once you select START, your activity is open and students can start logging in.
Students need to go to https://socrative.com/ and use the student login. They will need your classroom code. The activity is open until you close it, so you can use it outside of the classroom.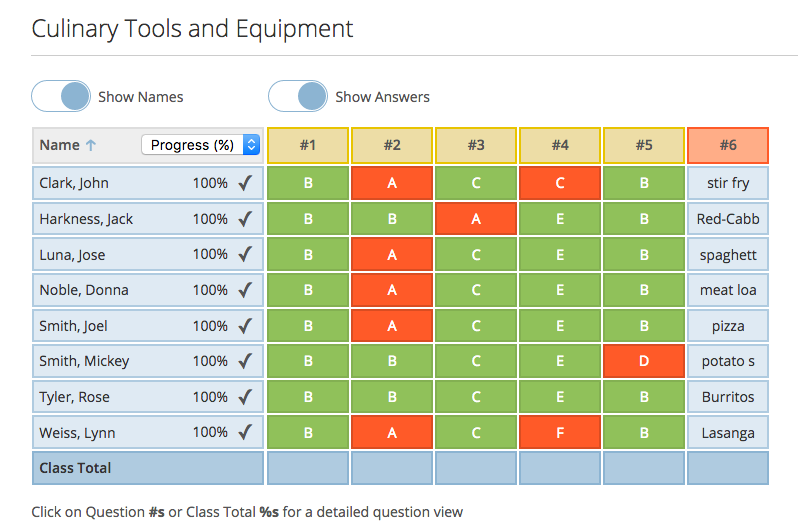 The results indicate that students had some difficulty with #2. If you select a question number at the top of the column, you can see the question given.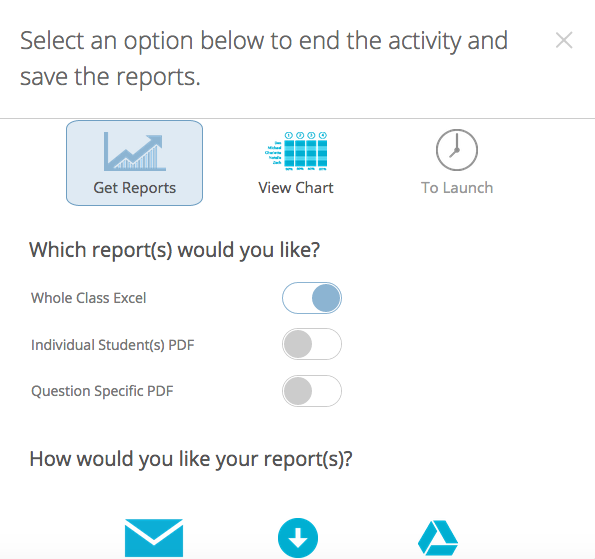 When you end the activity, you have the option to download an Excel file showing how each student responded.
Space Race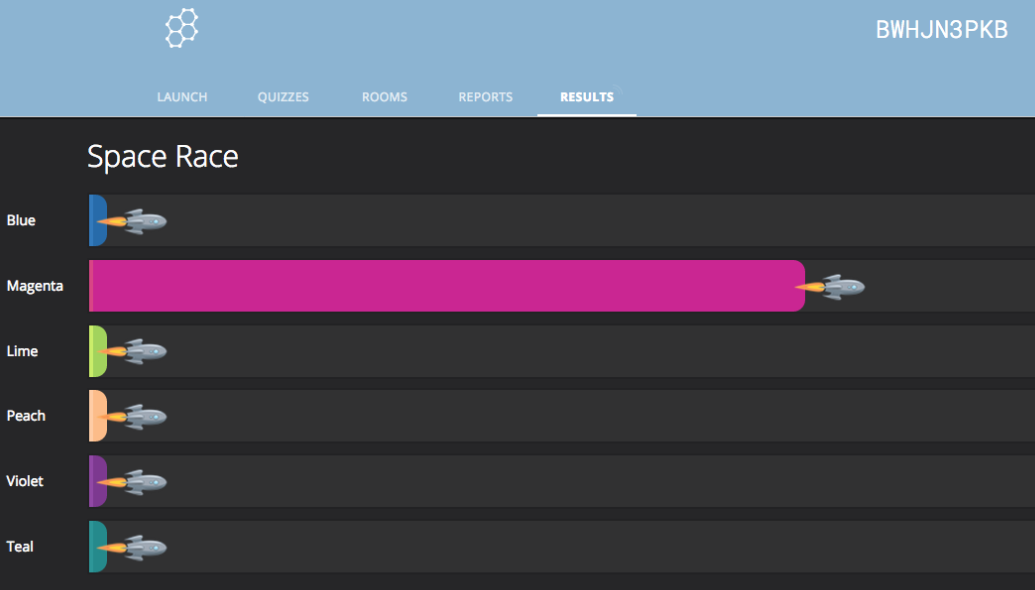 Space Race turns a quiz into a game. It is very easy to set up. You just need to determine the number of teams you want to compete. You can have teams randomly assigned or students can select their own team.
Public Quizzes
There is a Socrative Shared Quiz List where you will find over 3,000 public quizzes. These can be filtered by topic or searched by keyword. The only thing you need to add an activity is the Socrative (SOC) Code; however, you cannot see the questions until after you have added the activity.
If you are looking for short answer questions, Socrative is a good choice.