Finding and Evaluating Online Information: Information Fluency
by Debbie Jensen,
Posted September 2017
Today, more than ever before, our students must know how to find information online, evaluate its validity, and cite sources correctly. One excellent site to help us with these tasks is Information Fluency (previously 21st Century Information Fluency)
In their own words, "A proliferation of fake news graphically demonstrates the need for information fluency in everyday life. How are people getting their news? How are they evaluating what they read? On its face, the Internet is not considered a trustworthy resource. The need for investigative searching has never been greater. The tools and resources on the Information Fluency site equip researchers, both amateur and professional, with skills to evaluate digital information before consuming it unawares." (From the About Us Section at Information Fluency)
Recently this site added an annual license of $249 for use of ALL their resources, but there is still a tremendous amount of free content, helpful resources and ideas for improving the many 21st Century Skills called Information Fluency or Literacy.
We will begin by showing the many free resources available. At the end of this article we will list activities you can share with your students using this site.
Begin the topic of 21st Century Skills with a discussion of what Information Fluency means. Use the Digital Information Fluency Model to show how each element relates to the others.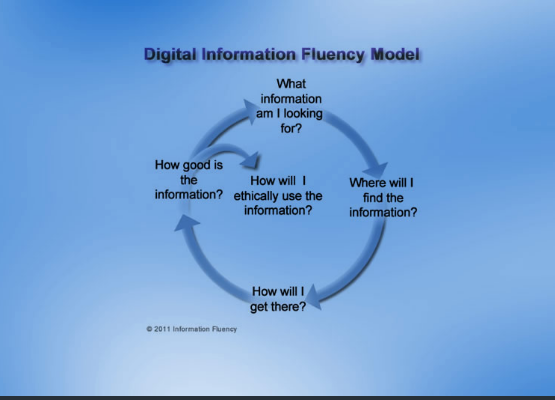 CAPTION: This diagram shows the circular Digital Information Fluency Model. Moving from the top to the right ask yourself these questions: What information am I looking for? Where will I find the information? How will I get there? and How good is the information? In the center of the circle is the final question, How will I ethically use the information? The source is 2011 Information Fluency
Free Resources:
Activities to use with your class:
Students read the article, Finding My Way: How GPS and Internet Navigation Intersect . There is an audio feature that allows the article to be read to the student. Have students write a summary of the article.
Break students into groups and have them do the Search Challenges . Discuss what was learned.
Create a class slide presentation on terminology using the glossary . Each student contributes one slide with a term and definition from the glossary.
Students fill in the Study Guide as they read about Ethical Use and the Web .

After students fill out their study guides, guide a class discussion of their answers to the questions.

After reading Tip #1: when can you use copyrighted works?
After reading Tip #4: How can an annotated list of sites help you organize your citations?
After reading Tip #5: How can you make sure you cite Internet documents correctly?
After reading Tip #6: What is the sure way to avoid plagiarism?