OTAN News
AI and the Future of Learning: Expert Panel Report Summary
Posted on 12/21/2022
Center for Integrative Research in Computing and Learning Sciences (CIRCLS)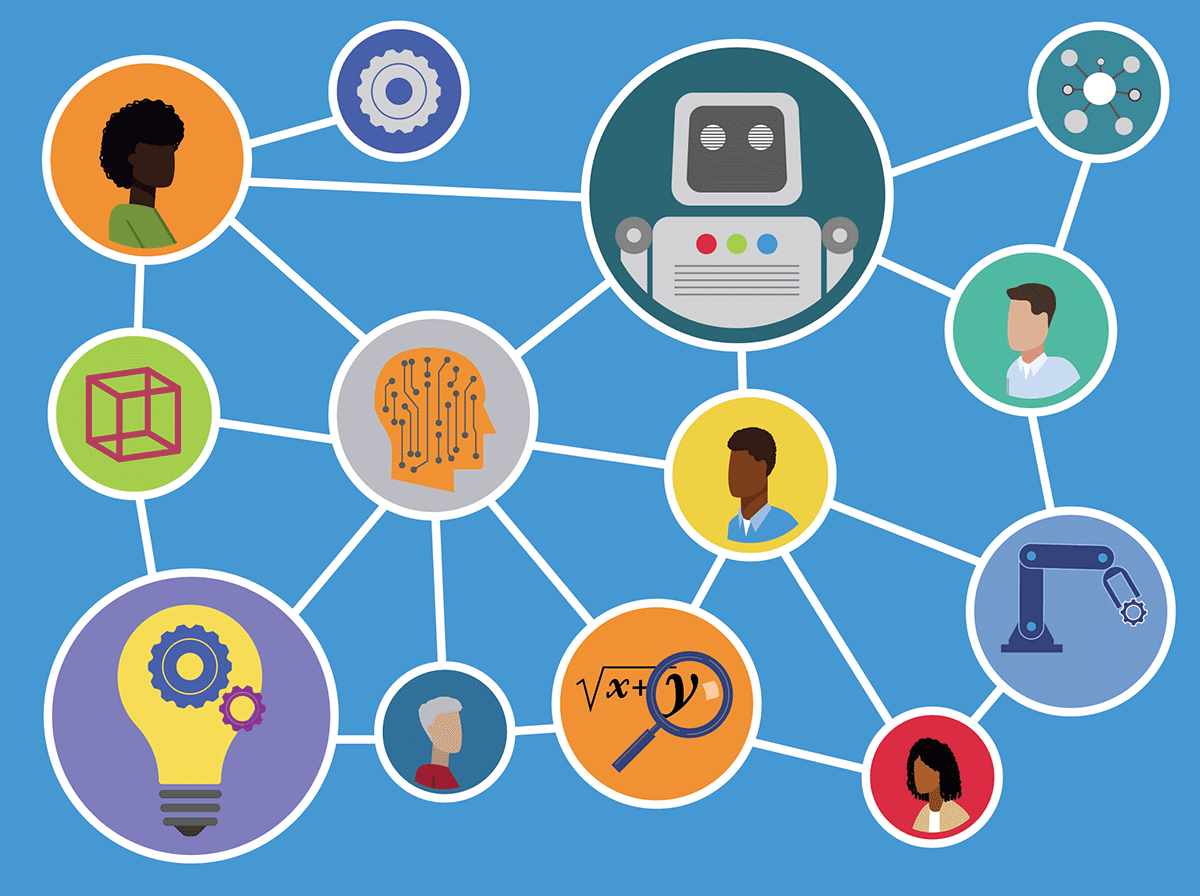 A panel of 22 experts in AI and in technology integration in learning met to address the amplified pace of integration in technology in learning environments. These impacts, whether positive or negative, will have consequences for students. The purpose of the panel was to plan how to "best develop and use AI in education in ways that are equitable, ethical, and effective and to mitigate weaknesses, risks, and potential harm." These experts considered two broad questions:
What will educational leaders need to know about AI in support of student learning in order to have a stronger voice in the future of learning, to plan for the future, and to make informed decisions?
What do researchers need to tackle beyond the ordinary to generate the knowledge and information necessary for shaping AI in learning for the good?
The report introduces three layers which frame meaning for AI for educators.
AI can be seen as "computational intelligence" and can be resourceful to an educator's abilities and strengths.
AI brings exciting new capabilities to computing supporting diverse capabilities for all learners and ages.
AI can be used as a toolkit to imagine, study, and discuss futures for learning that don't exist today.
Experts emphasized the opinion that "...the most impactful uses of AI in education have not yet been invented." The future thought is AI will go beyond "familiar design concepts for individualized, personalized or adaptive learning." The report suggested two broad scenarios that could connect within a few years.
The first featured social learning. In this scenario, AI "supports the orchestration of the multiple types of activities, learning partners, and interaction patterns that can enrich a classroom." This would be different from our traditional 1:1 thought about AI. In a future scenario, an AI "agent" could provide support "to a group of students as they work on a project or assignment together." This technology would assist with organizing, managing, and connecting student contributions to an overall group goal.
The second scenario centered on going beyond "what today's assessments can measure." In future, AI could support an educator with building a portrait of a student's competencies. For example, "AI can assess their writing including strudents' strengths and weaknesses and provide suggestions for improvement that considers the contexts in which the student does the writing." This offers the teacher more time to highlight other aspects of writing experiences and build upon the instruction.
The report also considered risks related to privacy, security, bias, transparency, and fairness for learners. In addition, experts considered design risks and "how poor design practices could unintentionally harm classes of users." Another important consideration for experts is involving educational policy makers and practitioners early and deeply enough.
The panel made seven recommendations for research priorities included here:
Investigate AI Designs for an Expanded Range of Learning Scenarios
Develop AI Systems that Assist Teachers and Improve Teaching
Intensify and Expand Research on AI for Assessment of Learning
Accelerate Development of Human-Centered or Responsible AI
Develop Stronger Policies for Ethics and Equity
Inform and Involve Educational Policy Makers and Practitioners
Strengthen the Overall AI and Education Ecosystem
Lastly, the panel noted the limited involvement of practitioners, policymakers, innovators and industry and welcome further discussions with a broader set of collaborative partners.
Full Report (PDF): AI and the Future of Learning: Expert Panel Report
Works Cited:
Roschelle, J., Lester, J. & Fusco, J. (Eds.) (2020). AI and the future of learning: Expert panel report [Report].l Promise. https://circls.org/reports/ai-report