OTAN News
Fostering Powerful Use of Technology Through Instructional Coaching
Posted on 12/15/2022
Results from the Pilot Year of the Dynamic Learning Project (DLP)
In 2018, Digital Promise published Fostering Powerful Use of Technology Through Instructional Coaching: Results from the Pilot year of the Dynamic Learning Project. This study authored by Masa Bakhshaei, Angela Hardy, Aubrey Francisco, Sierra Noakes, and Judi Fusco serves to, "...improve educational equity and enhance student learning by supporting teachers with classroom coaching to better leverage technology in powerful and meaningful ways." The findings researched in this pilot serve as a model for leadership teams seeking ways to best empower teachers and technology integration.
Introduction
Within the last fifteen years, the first "digital divide across U.S. public schools has narrowed significantly – more than 90 percent of schools now have access to the Internet (Education Superhighway, 2018). Besides the access to digital tools, a new divide has emerged which is fueled by major differences in how teachers and students use technology."
Providing a bridge for teacher and student knowledge around technology, the DLP recognizes two facts:
Many educators do not have adequate professional development, experiences, and resources to use technology in ways to advance student achievement, "especially in low-income and under-served schools."
According to the U.S. Department of Education, "half of U.S. teachers desire more training than they currently receive in using technology effectively."
The research question for the team was, "how do we set up coaching to help teachers use technology more powerfully?"
DLP Defines 5 Professional Development Key areas
DLP emphasizes "technology alone is not the end game. Technology in the hands of skilled teachers and engaged students in full support of power learning is what matters. " For this pilot, the team determined effective PD address five key areas - Content focus, active learning, sustained duration, collective participation, and coherence.
What is powerful use of technology?
According to the article, powerful use of technology (Figure 1) refers to the degree of success educators engage their learners in using technology to:
Select relevant technology tools and resources for learning
Develop collaborative skills to solve problems, complete tasks, and accomplish common goals
Develop communication skills to share "across borders" and the ability to "connect with experts locally and globally, and share what they have learned orally, in writing, and through a variety of media" (Bakhshaei, Hardy, Francisco, Noakes, & Fusco, 2018).
Develop Creativity and Innovation Skills
Develop Critical Thinking Skills
Develop Agency
About the Dynamic Learning Project
How did this project work? DLP provided grants to support one site-based, full-time instructional technology coach for each school for one year. 50 underserved schools in 20 school districts across five regions Alabama, California, Pennsylvania, South Carolina, and Texas. Districts were provided with a suggested list of qualifications including coaches must have prior teaching experience and most taught within the school where they were hired. The DLP worked with more than 1,110 teachers out of a teacher population of 2,250 for the pilot year. Most teachers participated in one cycle.
DLP Coaches offered individualized support to teachers over the course of "four eight-week coaching cycles." Each cycle coaches encouraged teachers, individually, to select, tackle and then reflect upon classroom challenges. The selected focus challenge would then be tackled by an innovative technology-based strategy.
Teachers selected focus challenges from the following categories in order of popularity. 59.2% selected student engagement, 55.6% Instructional Strategies, 48.7% Technology Skills, 41.9% Differentiation, 38.5% Planning/Preparation, 33.3% Assessment, 31.0% Professional Growth and 22.8% Classroom Management. The coach then facilitated classroom support throughout the entire process via modeling, co-teaching, observations, and reflection. After an eight-week cycle, teachers could decide to continue to work on their focus challenge or select another one. The table below lists the resources provided to coaches and the principal's role within the DLP.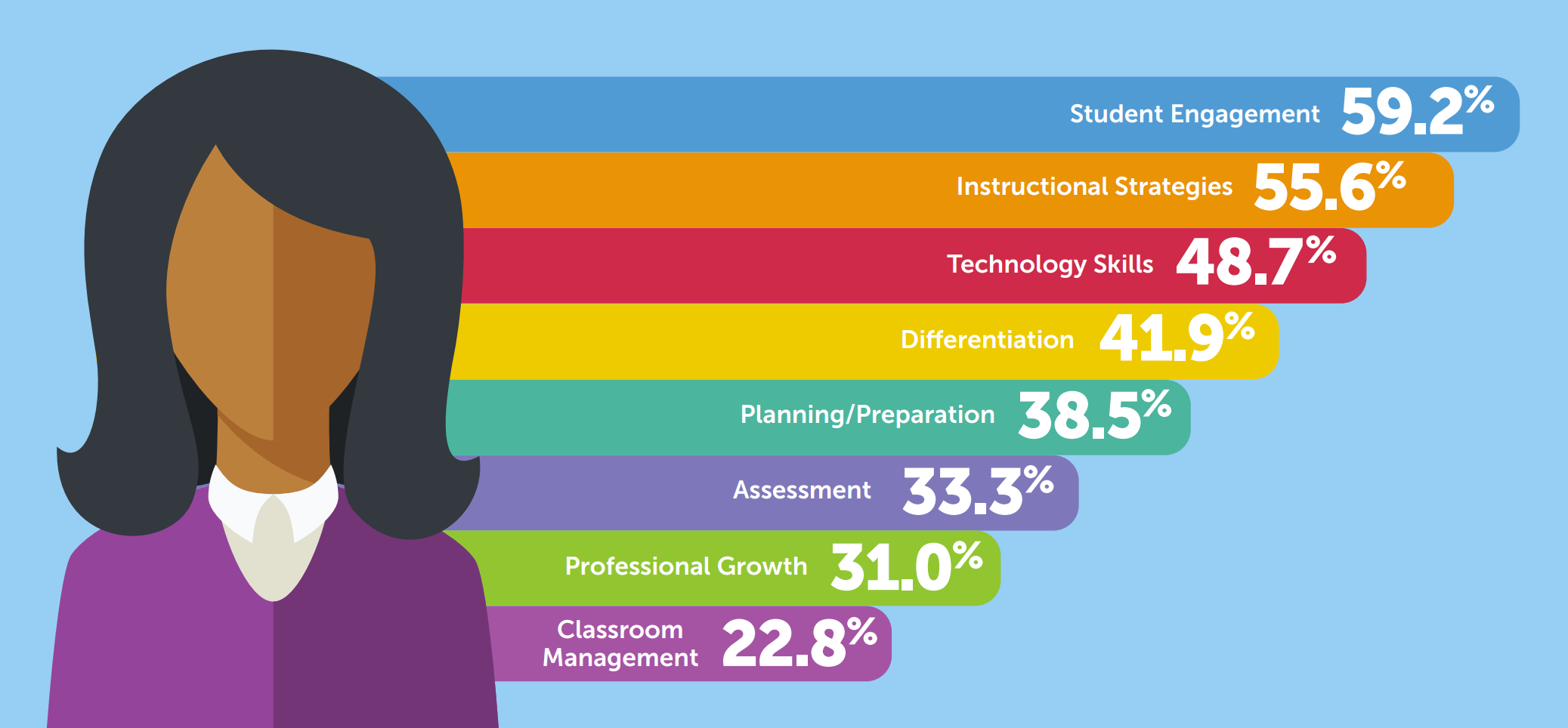 The following table lists resources provided to coaches as well as identifying the principal's role. Each participating district also identified one or more leaders to support coaching in participating schools by removing barriers to success, enacting plans for sustainability, and articulating the project to district stake holders and the greater community. More than 82% of district leads reported the DLP is aligned or strongly aligned with district goals for PD and or technology integration.
Resources provided to coaches
Book study
1-2 live online training sessions/month with mentors
Challenges list and associated strategies and skills
Digital resources to maintain coaching logs of classroom visits, meetings, and progress of coached teachers
Weekly newsletter of coaching tips
Principal's role in the DLP
Buy in for fidelity of program
Support coaching with reassurance of the collaborative and confidentiality between the coach and teacher.
No evaluative role for coach
Protect time of coach from other assignments
Ability to make changes
What data was gathered?
Qualitative and Quantitative data was gathered from all 50 schools including:
Surveys of participating teachers, coaches, principals, and district leaders were completed at the beginning and end of the year. Nearly all (94%) coaches and (90%) principals completed both surveys.

Surveys were conducted by participating and non-participating teachers. Participating teachers were given agree or disagree statements as it related with teacher use of technology, principal-coach-teacher partnership, coach-teacher collaboration and student engagement and learning.

Non-participating teachers completed surveys about their use of technology and student engagement of learning.

District leaders were asked to measure the alignment of the DLP with their district goals

Qualitative data was gathered, primarily, from four volunteer case study schools

Three visits at the beginning, middle and end of the pilot year were made to interview principals, coaches, and between three and seven participating teachers.

Teaching observations with teacher independently teaching first and then with their coach the second time.

Student perspective was collected and analyzed following the first and third visits. The surveys asked to agree to disagree statements about their use of technology and level of engagement with their DLP teachers. 798 students were surveyed across the four case study schools and completed both surveys.
Findings
Authors found several important improvements in three key areas.
Teaching more powerfully
Student engagement grew as powerful technology use increased
Coaches and principals grew in coaching and leadership skills.
Teachers reported greater job satisfaction and a "re-energizing" of their love for teaching. According to the report, at the end of the year, 86% DLP teachers stated their technology use was more frequent than in previous ones. Even the non-participating teachers found their technology use also increased perhaps because of "culture shifts, access to the coach, peer collaboration and principal support" (Bakhshaei, Hardy, Francisco, Noakes, & Fusco, 2018). Teachers also said they made considerable progress in how they use the technology. More than 80 percent of DLP teachers agreed they can use technology in powerful ways when it comes to student selection of tech tools, collaboration, creativity, communication, critical thinking, and agency (Figure 2). With teacher excitement about the experience, student engagement significantly increased. According to the report, "coaches were significantly more confident in their own coaching skills and ability: 89 percent of coaches rated their general coaching skills as high "(Bakhshaei, Hardy, Francisco, Noakes, & Fusco, 2018). Mentor coaches were "indispensable " to both the principal and coach which aided to the learning and significant mark in improvement with technology use and student engagement.

Conclusion
In summary, the DLP's pilot model is worth researching for increased teacher technology use, student engagement, and the significant improvement of student learning.
Link to Article (PDF): Fostering Powerful Use of Technology Through Instructional Coaching
Works Cited
Bakhshaei, M., Hardy, A., Francisco, A., Noakes, S., & Fusco, J. (2018). Fostering Powerful Use of Technology Through Instructional Coaching: Results from the Pilot year of the Dynamic Learning Project. Digital Promise: Accelerating Innovation in Education.