OTAN News
Learn About the EdTech Integration Strategy Toolkit
Posted on 12/02/2021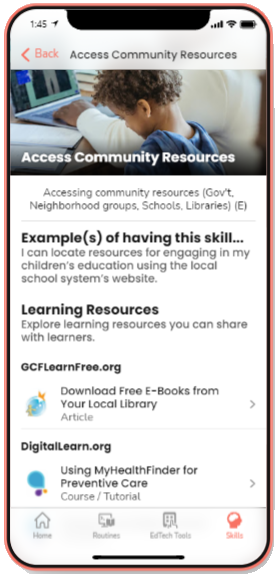 From our partner the EdTech Center at World Education comes a brand-new tool that adult educators can use to explore sustainable edtech routines – general, repeatable edtech activities that can be used regularly regardless of context or content and provide predictable experiences for learners – and understand the underlying evidence-based strategies behind their use. The EdTech Integration Strategy Toolkit also provides guidance on how to develop learners' digital literacy when implementing these routines by providing sample questions teachers can ask that support direct instruction of digital skills. These questions are designed to help make connections between the tasks learners perform by way of the routine to the underlying digital skills being developed.
The Toolkit – currently in mobile-app format only – draws inspiration, content, and expertise from a variety of recent and ongoing EdTech Center projects and is organized so educators can explore by three points of entry: by Routine, EdTech Tool, and Skill.
By Routine allows educators to explore different edtech routines, organized into five categories based on what learners are doing within the routine – engage and question, build knowledge, process and practice, respond and create, and assess and reflect.
By EdTech Tool allows educators to explore various edtech tools, categorized into how they are used, and see if there are currently routines within the toolkit that leverage that tool.
By Skill allows educators to explore based on skills as defined by the Seattle Digital Equity Initiative's Digital Skills Framework.
To learn more about the EdTech Integration Strategy Toolkit, including how to access the Toolkit, please take a look at this EdTech Center article, Digital Skill-building by Design: The EdTech Integration Strategy Toolkit.