OTAN News
USA Learns Now on Phones!
Posted on 08/31/2021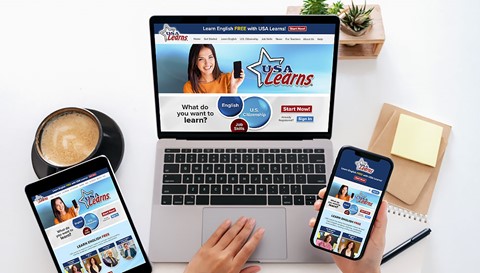 Have you and your learners ever wished that USA Learns worked better on phones? Good news! On August 19, USA Learns launched the new and improved version of the website that utilizes responsive design. That means that now, adult learners across the nation can learn English, prepare to be a US citizen, improve their literacy skills, learn job skills, and more on any device they have - including phones.
According to Andrea Willis, Director of USA Learns at the Sacramento County Office of Education, "This major website rebuild project has been a dream of ours for many years. We know that many adult learners only have a phone to access the internet, so this project is a big leap forward in increasing learners' access to free, high quality online instruction. Now, they can study anytime and anywhere – thanks to a generous grant from the Dollar General Literacy Foundation."
All the reasons that our students love USA Learns on computers can now be reasons they love USA Learns on the go. They can continue studying their favorite USA Learns courses on public transportation, waiting in line, during work breaks, while their children are studying or doing homework on the family computer, and so much more. They won't lose any work they've completed. They just need to sign in using the same account, and all their activities will be saved no matter which device they're on.
Students will notice many exciting upgrades, including:
A more modern look and feel
Activities that automatically re-size, depending on the user's device
More accessibility features, including closed captioning of all videos and alt text
Navigation that is customized for mobile delivery (bigger buttons, larger fonts, etc.)
Ease of use!
USA Learns' staff is continuing to refine the site and add more features weekly. Stay tuned for even more exciting enhancements over the next several months, including some updated activity content, a certificate that students can earn by successfully completing our courses, and more.
If you would like to learn more about USA Learns, visit the OTAN USA Learns Curriculum Offers pages on its ESL and Citizenship courses and its Skills for the Nursing Assistant course.