Do You Speak Emoji?
by Kristi Reyes
by Kristi Reyes, Mira Costa College, Oceanside, CA
October 2019

Are emoji (generally not called "emojis," as the word originates from the Japanese language, which does not have a plural form) just a passing fad? Or are they a scientifically-researched new vehicular language for the digital age?
If you think using emoji — those icons on your keyboard used when you want to express a feeling or idea in a text message — is merely another trend of the day with no importance or relevance in education especially, you may be surprised to know that linguists and data scientists have been examining how we use emoji and have published academic papers, which have been presented at EmojiCon, held since 2016 (see NY Times Secrets of the Emoji World, Now With Its Own Convention and Wired Academics Gathered to Share Emoji Research, and It Was 🔥).
Besides in the disciplines of linguistics, psychology, and neuroscience, studies of the use of emoji by academics have been conducted in arenas including the workplace and in fields such as marketing and product testing, customer service, and gender studies. It's the lingua franca of digital native millennials around the world. More than 6 billion emoji are shared every day, and there are more than 3,000 emoji, with new emoji regularly added, according to Emojipedia. In 2019 over 200 new emoji were introduced. You may not know that July 17 is World Emoji Day, which started in 2014.
However, if you don't count yourself among the millennial generation and don't fully comprehend these 21st Century hieroglyphics, fear not! There is an emoji course you can take through the popular free language learning app, Duolingo. You can also use Emoji Translate, which translates text to emoji in more than 100 languages, when you're not sure how to say something in emoji.
How to use Emoji Translate:
Navigate to https://emojitranslate.com/
Enter text in the top text box.
From the drop-down arrows, select the input language (English) and the output language (Emoji).
The text will be translated to Emoji. Note that many parts of speech cannot be represented by an emoji, so words that don't have an emoji equivalent will remain.
You can then copy and paste the emoji translation into an email, text message, Google Doc or Slide. Note that if you copy into a Word document, colors will be lost. You can also take a screenshot and crop it as needed.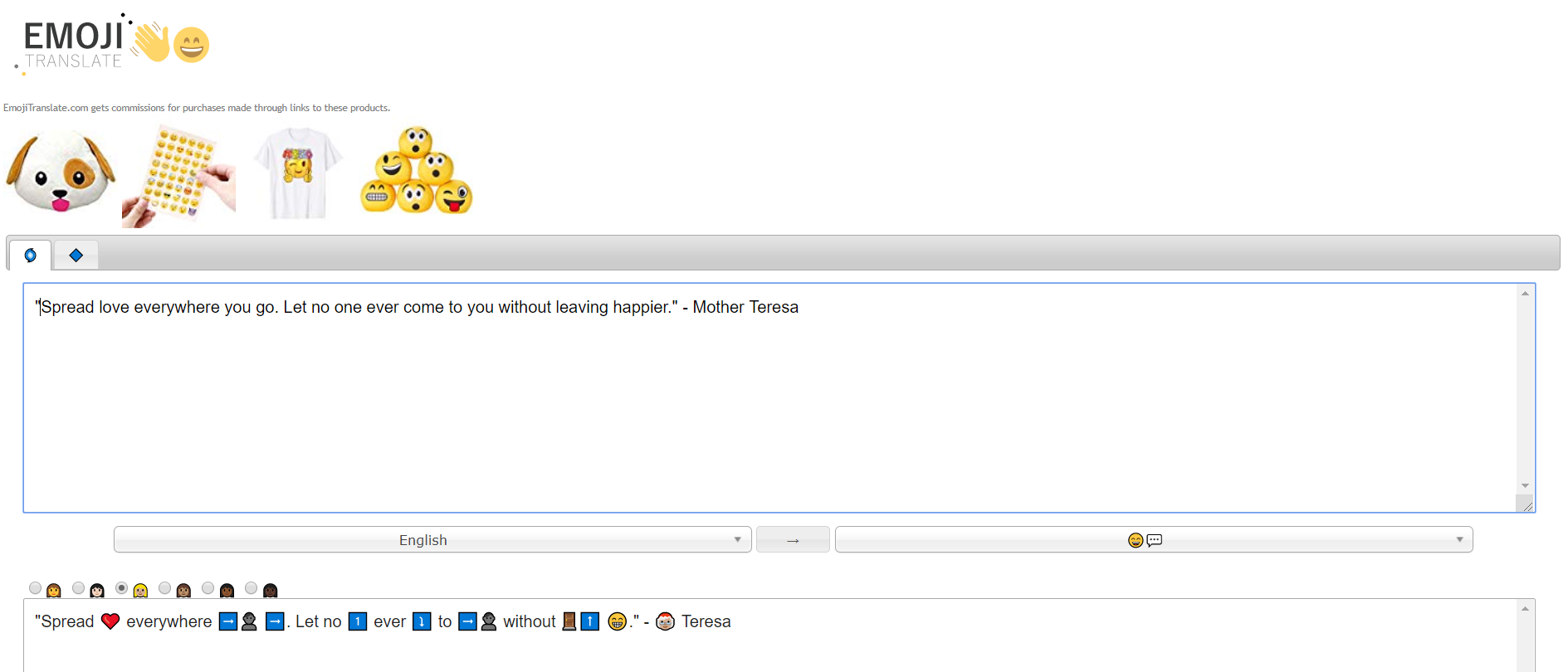 On the flip side, if you see or receive an emoji and don't know what it means, you can use WhatMoji.
Here's how to use WhatMoji:
Navigate to http://whatmoji.com/
Paste in a copied emoji in the box that says, "Enter Emoji Here."
Select "Identify Emoji."
Words and a link to the search result are provided.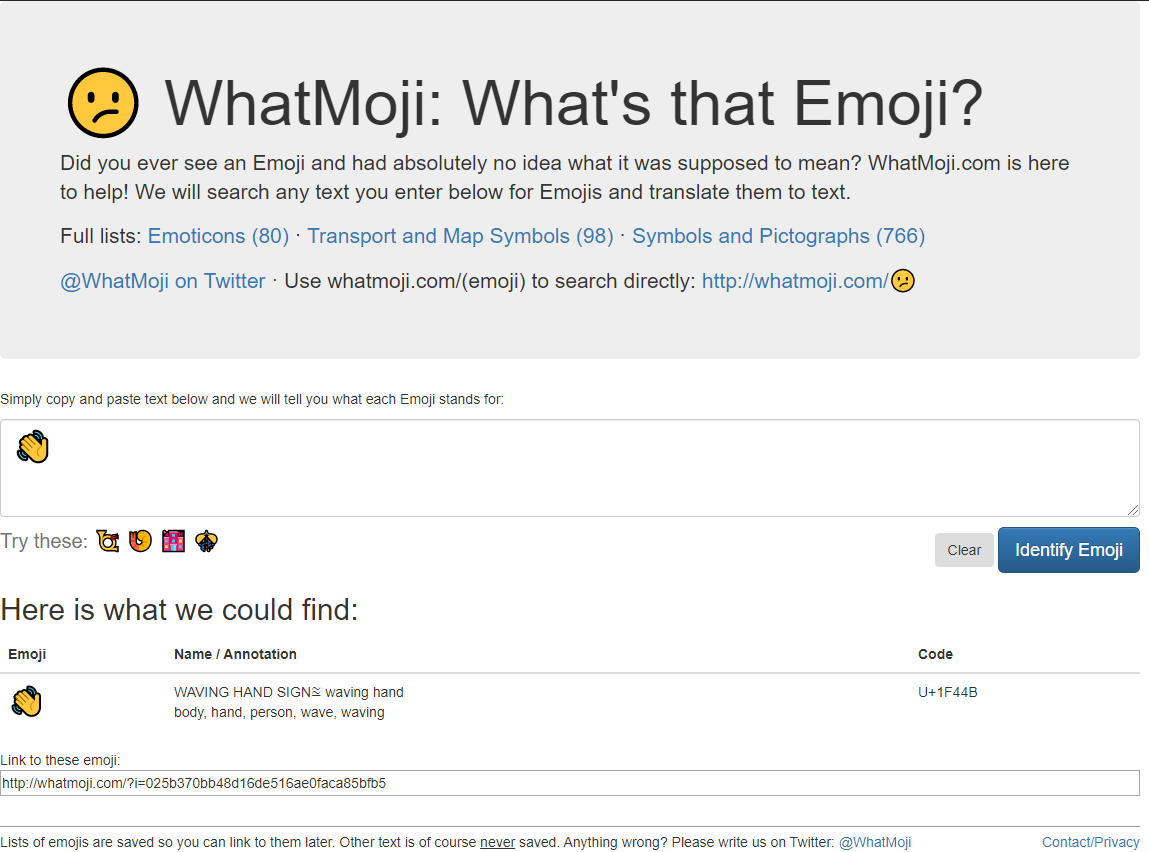 If you're still reading, you must be convinced that emoji are here to stay at least for a while and may be wondering how you could possibly use emoji in your adult education instruction. Here are several ways you can include emoji in your classroom...and have some fun, too!
1 - Teach and Learn About Emoji
The author of The Emoji Code: The Linguistics Behind Smiley Faces and Scaredy Cats, linguist Vyvyan Evans, has numerous articles and videos posted on his site. Students can watch a video and read an article from the site and answer questions on a Google Form such as this Emoji Quiz or other quiz or polling app or site and answer the following questions on an online forum:

Do you use emoji? How often do you use them? Where do you use emoji the most?
Do you have a favorite emoji? What emoji do you use most frequently?
How have emoji changed the way you communicate?
Do you think emoji are just a fashion? Do you think you will be using emoji in a year? In five years?

Use this Emoji Lesson Plan from Cambridge University Press.
2 - Create or Solve an Emoji Message
Penguin books translated popular book titles into Emoji in honor of World Emoji Day. Try to decipher the clues on the Twitter post. Using this idea, you or your students can use the Google Chrome Emoji Keyboard Extension, Emojicopy, Get Emoji, Emoji Engine, or other similar sites and apps that can be found with a search to do the following activities:
Teachers can make emoji clues about upcoming class topics, and students can view the emoji clues to make predictions about lesson topics.
Teachers can make a review with emoji clues or a game. An example for a Citizenship class may be something like this, with emoji copied into a word-processed document or a slideshow.
What are the five freedoms guaranteed by the First Amendment of the U.S. Constitution?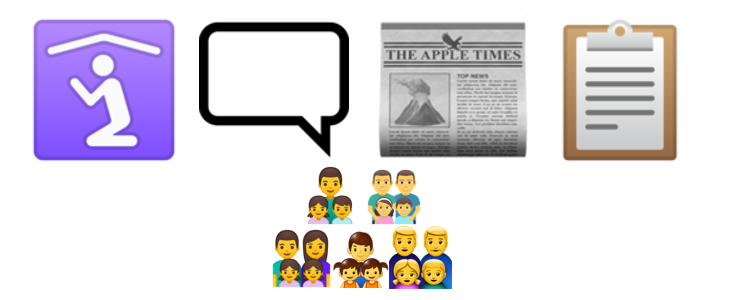 Answer: Freedom of religion, speech, press, petition, and assembly
Teachers and students can introduce themselves to the class with emoji introductions. I have found that students want to write a lot of text on slides with slideshow introductions used as ice-breakers at the beginning of a class. This is a shared Google Slideshow students my recent class added to so that they could introduce themselves with emoji. I set up the slides and the instructions, added my sample, and added slides for students with their names. I shared the slideshow as "can edit" so that students could add emoji from the choices at Emojipedia.
Teachers or students can make puzzles, math story problems, riddles, and brain teasers related to course content. For instance, see the tweet by GCHQ, the UK's intelligence, security and cyber agency, in which the organization used emoji to make a code announcing its second puzzle book. See the Business Insider article "GCHQ teased a new book release with a puzzle made only of emoji — try it out" to see the tweet and the puzzle answer.
Students can make their own stories or create a summary of a reading or story using Emoji Translate.
Students can work in pairs or teams to write a story and then translate it to emoji using Emoji Translate. Then another student or team writes the story in actual words and compares their rendition with the original, non-emoji story. The teacher can help students build their vocabulary by having them use Tesaurus.com to list other words to replace the nouns, verbs, adjectives, and adverbs in the story. The team with the story that uses the "most academic" or "most sophisticated" story is the winner.
Students can create a survey with questions about a course topic, conduct interviews to find out how people feel about the issues, make an infographic with Canva or Piktochart documenting results with emoji. Teachers can introduce infographics and emoji with this infographic on Emoji Facts.
ESL students can learn about idioms and create emoji stories to teach them to the class.
3 - Teach and Practice Vocabulary For beginning ESL
Teachers or students can create emoji flashcards on topics such as appearance, emotions, food, clothing, nonverbal communication (hand gestures), sports, transportation, tools, and analog clock time by using the tools listed in #2 above. The emoji can be copied and pasted into tables on Word, PowerPoint, Google Docs, or Google Slides.
Students can use people emoji to say or write physical descriptions. This can be a game in which students select a person emoji on their phones' emoji keyboard, describe the appearance to a partner, and the partner responds by texting the emoji being described to the partner.
Teachers can assess students' comprehension of newly-taught vocabulary by asking students to text appropriate emoji when prompted with spoken or written words or sentences.
4 - Use a Random Emoji Generator for vocabulary development, spontaneous speaking activities, and writing prompts
Teachers can project the random emoji generator and add an emoji one by one as individuals, pairs, or teams of students write a story adding a new twist with each new emoji. The same process could be used for impromptu storytelling.
Students can work collaboratively to write a descriptive story. I recently tried a team writing exercise intended for students to add details to their writing. Each team was provided five emoji generated randomly. Teams could also work together to generate the emoji and then copy them into a word-processing or slideshow file. The teams had to write a brief story using the words represented by all five emoji. When time was up, teams traded stories. In round 2, teams had to build on the previous teams' writing. We finished with a final round and then read the first and final stories to see how they became more descriptive. Here is a sample Emoji Story from my class:
Emoji Story

Team 1:
I was going to cross the street when I saw the "no crossing" sign, and there was a chicken in my way. I was late for fishing with my friends because I was eating a plate of pasta and a delicious donut.
Team 2:
I was going to cross the wide street when I saw the warning sign "no crossing" because a white chicken was in my way. I was late for fishing with my close friends because I was eating a plate of delicious past and a delicious round donut.
Team 3:
I was going to cross the wide, wet street in Oceanside when I saw the big black warning sign "no crossing" because the white chicken was sleeping in my way. I was seriously late for fishing with my close old friend because I was eating a big white plate of stunning Alfredo pasta and a sweet, hot, round, rainbow donut.
You can download these pre-made Emoji Story prompts and use in your class.
In Eric Curt's post on his Control Alt Achieve blog on Emoji Writing Prompt Generator, he shares a Google Sheet that can similarly be used for writing.
5 - Create motivating classroom posters giving advice or encouragement and documenting goals.
Teachers or students can make posters like these I made with BigHugeLabs, using the billboard and movie poster tools, along with Emojipedia: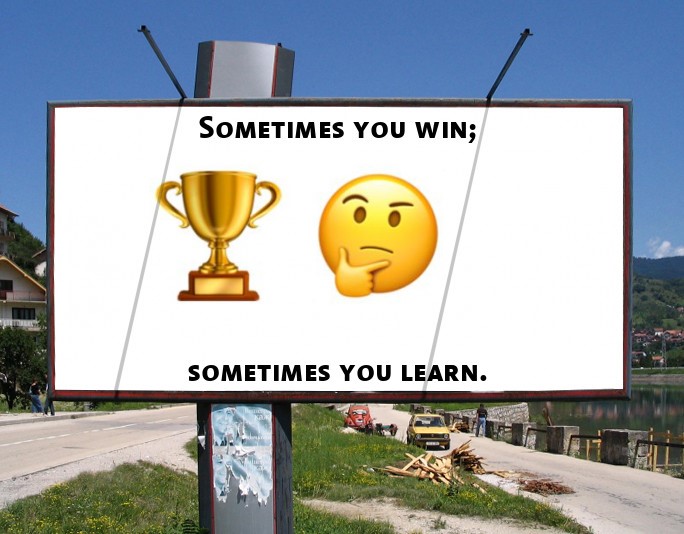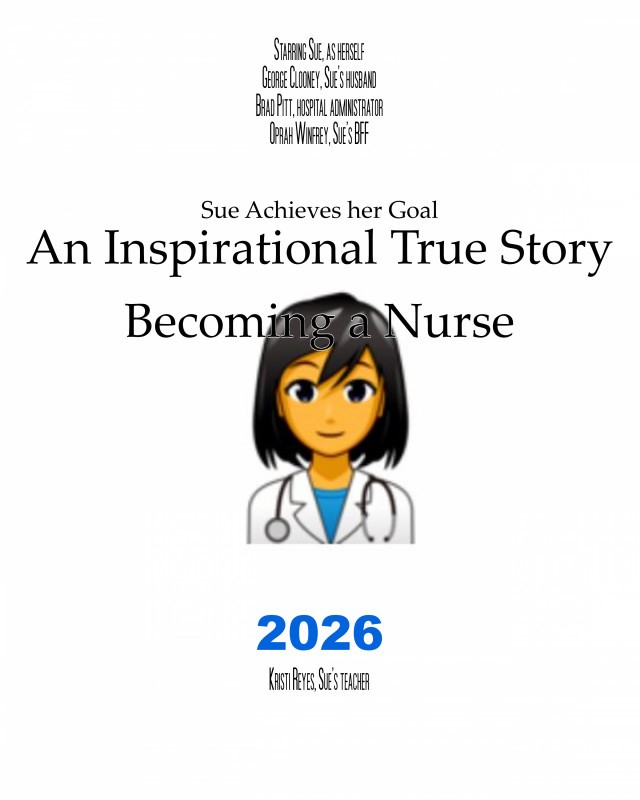 6 - Use emojis for formative assessment (polls and exit tickets).
Teachers can ask, project, write, or use Remind to pose questions about the day's lesson, and students can demonstrate their understanding by replying with an emoji.
Online Emoji Projects and Lesson Plans
Other Emoji Tools and Resources
Avatars
Perhaps you or your students don't feel very photogenic and prefer not to create online profiles or class projects with a photo. Another option is a cartoon-like image of yourself, an avatar. Here are some tools for creating an avatar:
Extremely easy to use. I made this avatar of myself in less than a minute: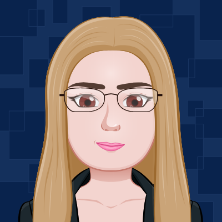 This is an extension for Google Chrome, an app on the App Store (for Apple products), and an app for Android devices on Google Play.
This is my Bitmoji avatar: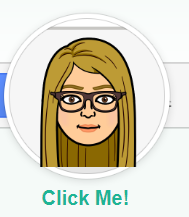 When you install Bitmoji, it can be used in Gmail and as a keyboard for text messaging. With your avatar, you can select different categories to create "stickers."
What is a sticker?
A sticker is a "detailed illustration of a character that represents an emotion or action that is a mix of cartoons and Japanese smiley-like "emoji". They have more variety than emoticons and have a basis from internet "reaction face" culture due to their ability to portray body language with a facial reaction. Stickers are elaborate, character-driven emoticons and give people a lightweight means to communicate through kooky animations."
-- Van, Jennifer (2013-07-02). "Facebook affixes stickers to messages on Web | Internet & Media - CNET News". News.cnet.com.
Here is an example of my Bitmoji avatar in stickers within one of the categories: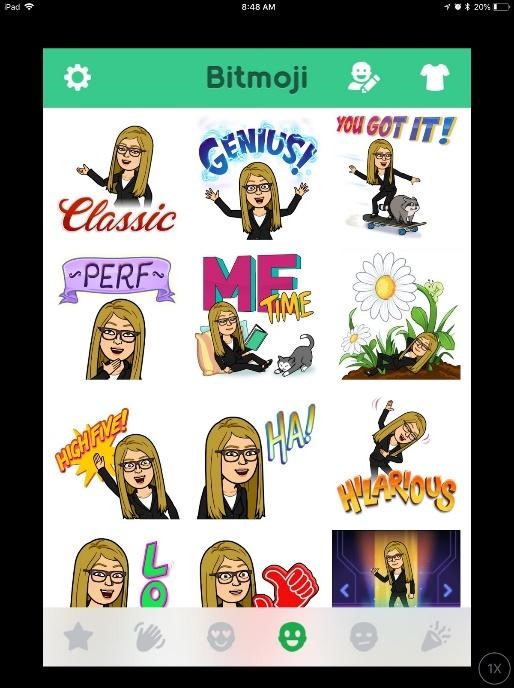 See the Ditch that Textbook's "Bitmojis for your students: How to create and share" video tutorial
Other sites for creating avatars are the following:
Kartunix

Bill Nye the Science Guy Science Emoji Videos – the Mashable "Special Guests" playlist has videos that explain science (evolution, space, climate change, and more) with emoji.
Emoji Charades – teams provide clues in emoji in more than 25 different popular culture trivia categories (free iOS app).
Emoji Scavenger Hunt – Locate the emoji we show you in the real world with your phone's camera. A neural network will try to guess what it's seeing.
Guess the Emoji – players see a combination of emoji that they need to decipher into a common phrase.
Solvemoji – Online math problems and word puzzles. Adults should choose "Standard" to view more complex, level- appropriate puzzles.
Zmoji – create personal emoji and GIFs with avatars that look just like you. Free – available on Apple products only.
For further reading: