Newspapers in Our Classrooms
by Debbie Jensen
by Debbie Jensen, Baldwin Park Adult & Community Education, Baldwin Park, CA
Posted April 2017
Why should you use a newspaper? Lots of reasons but one great one is you can teach your students critical reading skills including evaluating the source. But sometimes newspapers are too difficult. Let's look at some sources and lessons you can use with each program.
Breaking News English – ESL
Web site: http://www.breakingnewsenglish.com
Articles are written at levels 0 through 6. There are a lot of different activities you can do with the articles. You can have them read out loud, play online reinforcement activities as well as print the article with the different activities. You can increase or decrease the audio reading speed.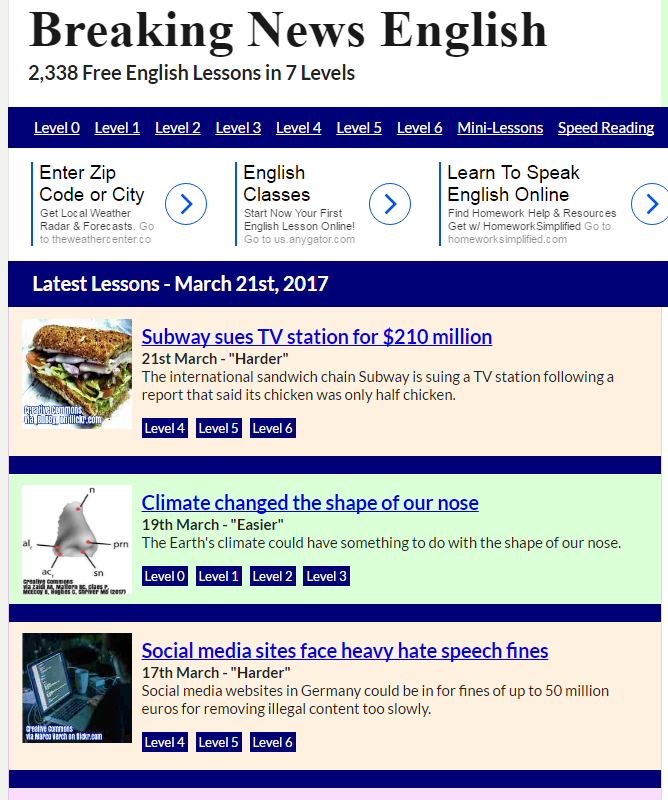 Two examples of activities: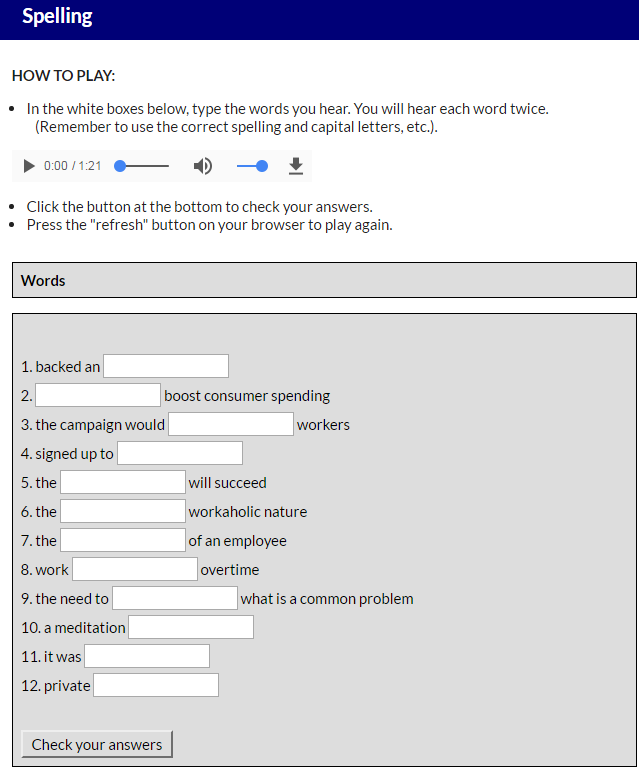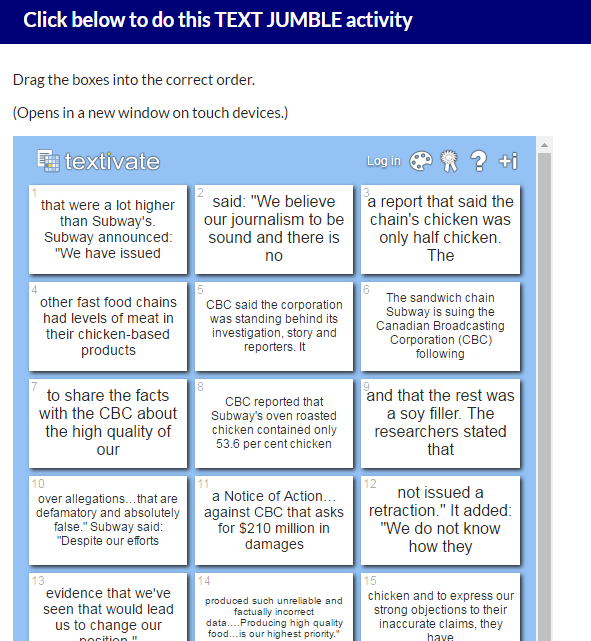 CNN Student News – ABE, ASE, ESL
Web site: http://edition.cnn.com/cnn10
This site is aimed at intermediate and advanced English speakers. Articles are short with a written transcript of the video. Following the video your students can take the Newsquiz. The video is ten minutes long and covers breaking stories in the news.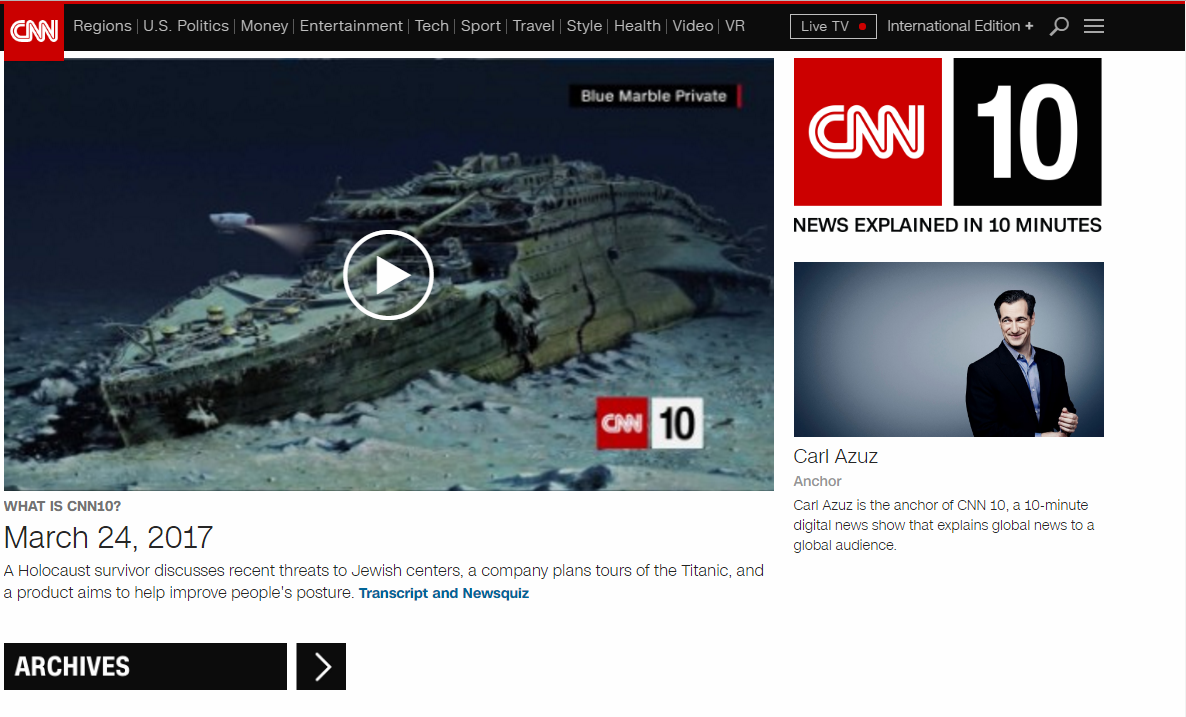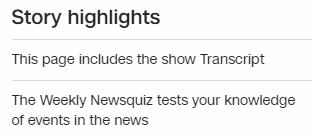 ReadWorks - ABE, ASE
Web site: http://digital.readworks.org/find-articles?s0=0
ReadWorks is a site of articles on science, social studies, and literature. You set up an account as a teacher then assign articles to your students. You can select articles that can be read to the student. You can print the articles. There are vocabulary lessons to use with the students including word forms and various uses of the word. Question sets are an online activity. StepReads present the article at a lower reading level. Paired Texts have students read two related passages and draw connections between the two.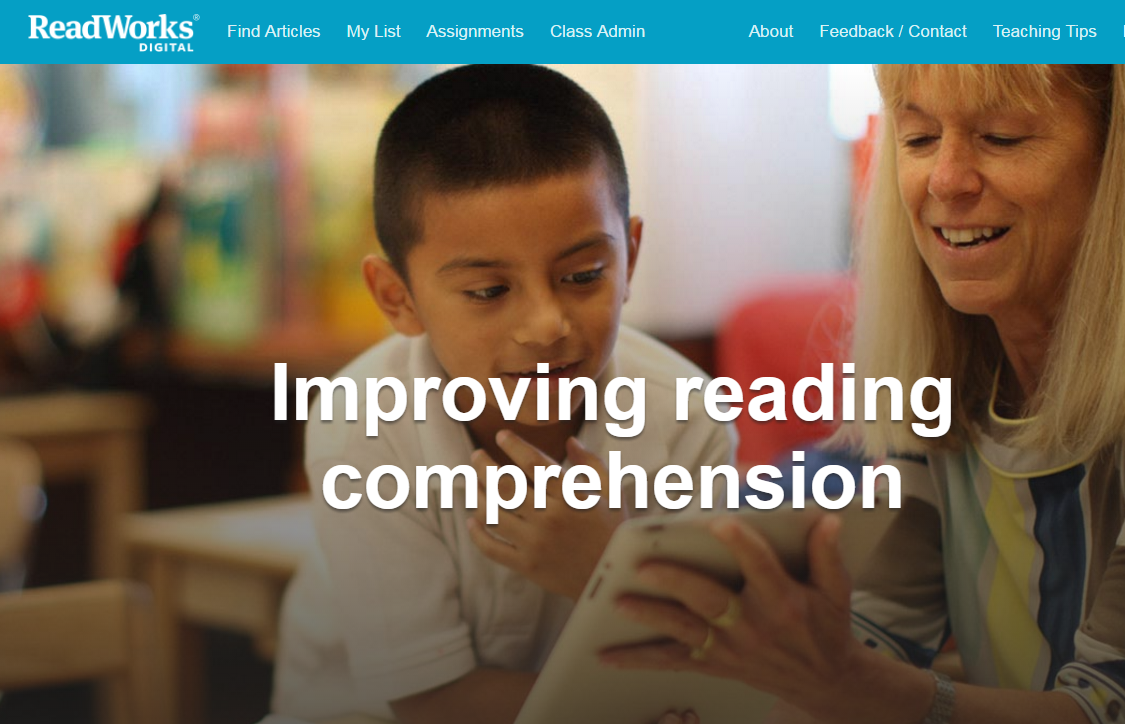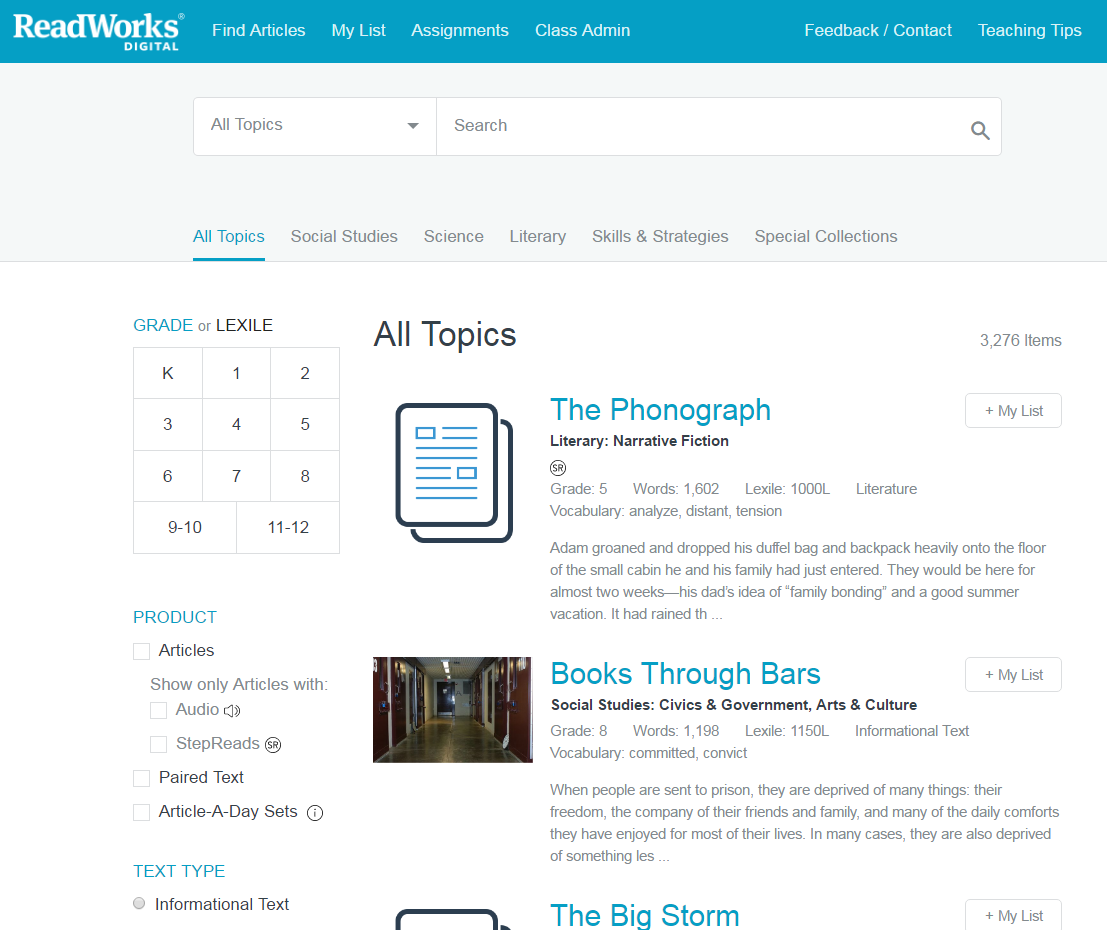 Example of one of the stories: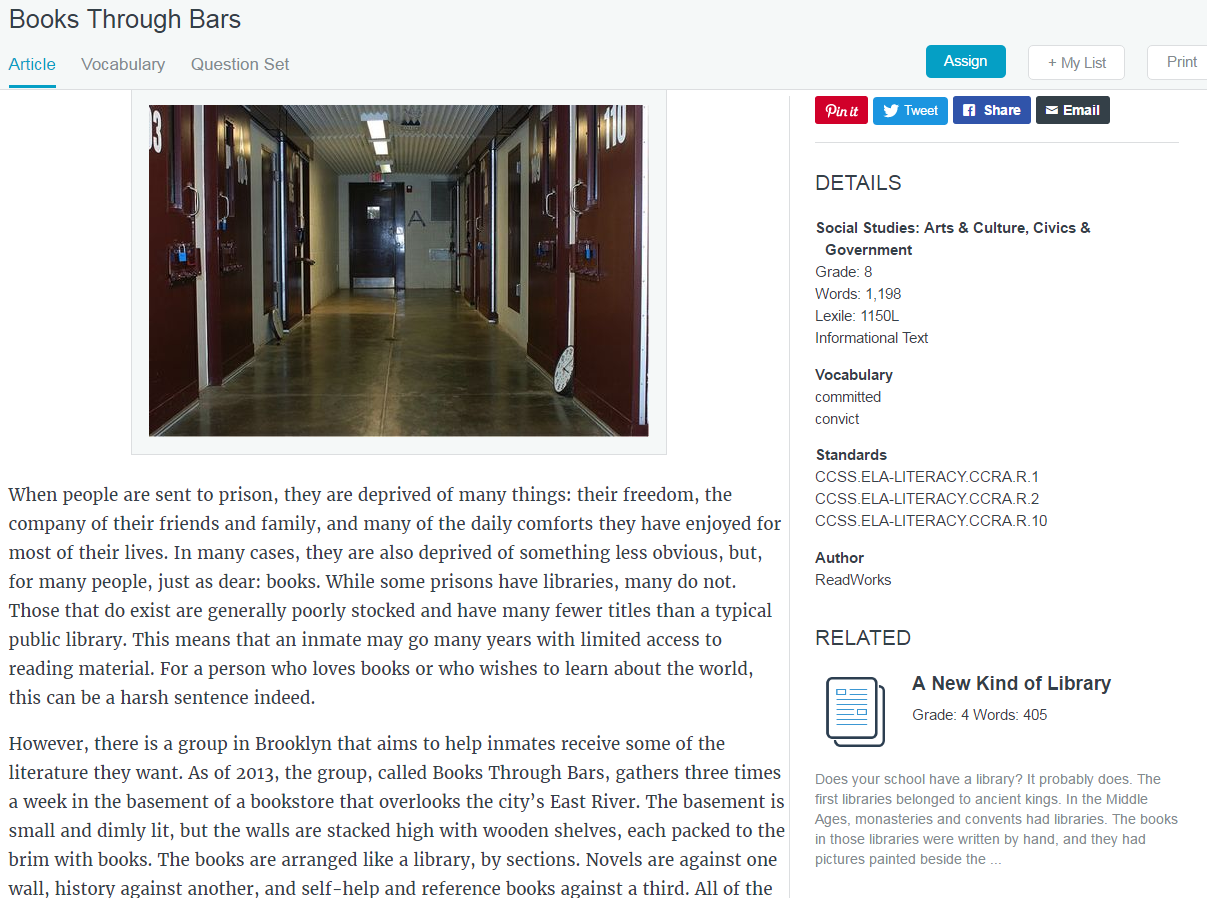 Online Quiz: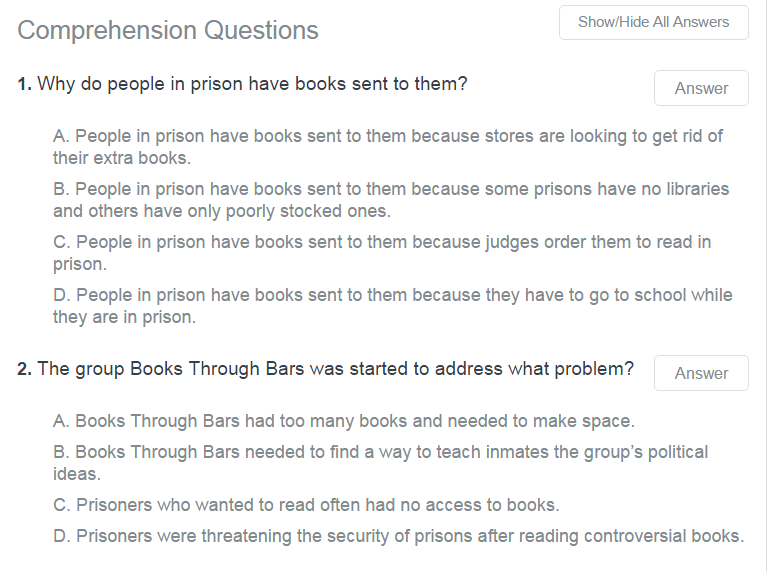 Newsela - ESL
Web site: https://newsela.com/
Newsela takes current news articles from around the country and rewrites them at multiple reading levels. Some stories are rewritten at levels as low as grade 2. Students love the articles and you will love them as a teacher. You can have your students work online or print the article with the quiz and answer key.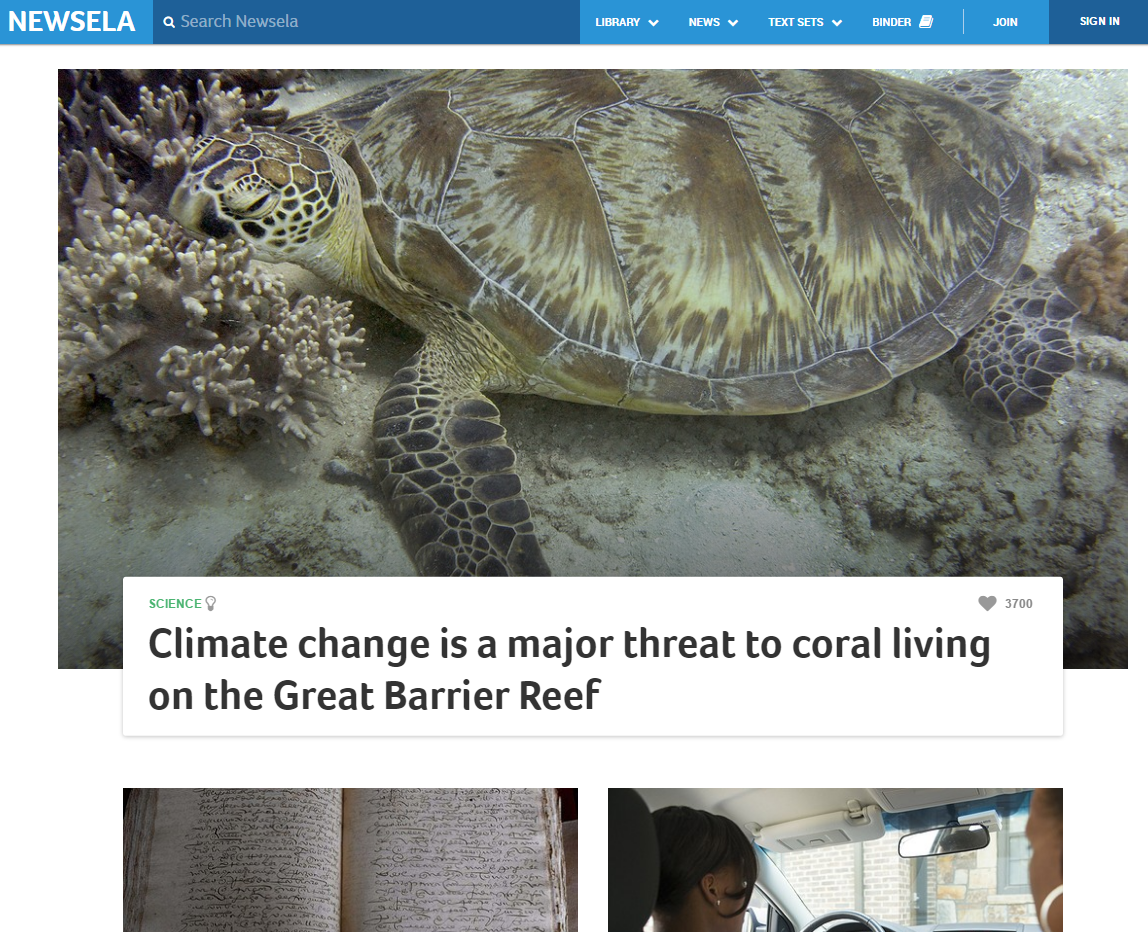 Sign in as an educator. Set up your class. Under the Binder you can assign articles. Articles are organized under Library, News, and Text Sets where multiple articles on the same theme offer compare and contrast possibilities.
Under the news tab are the latest articles.Topics include: War & Peace, Money, Kids, Science, Law, Health, Arts, Sports and Opinion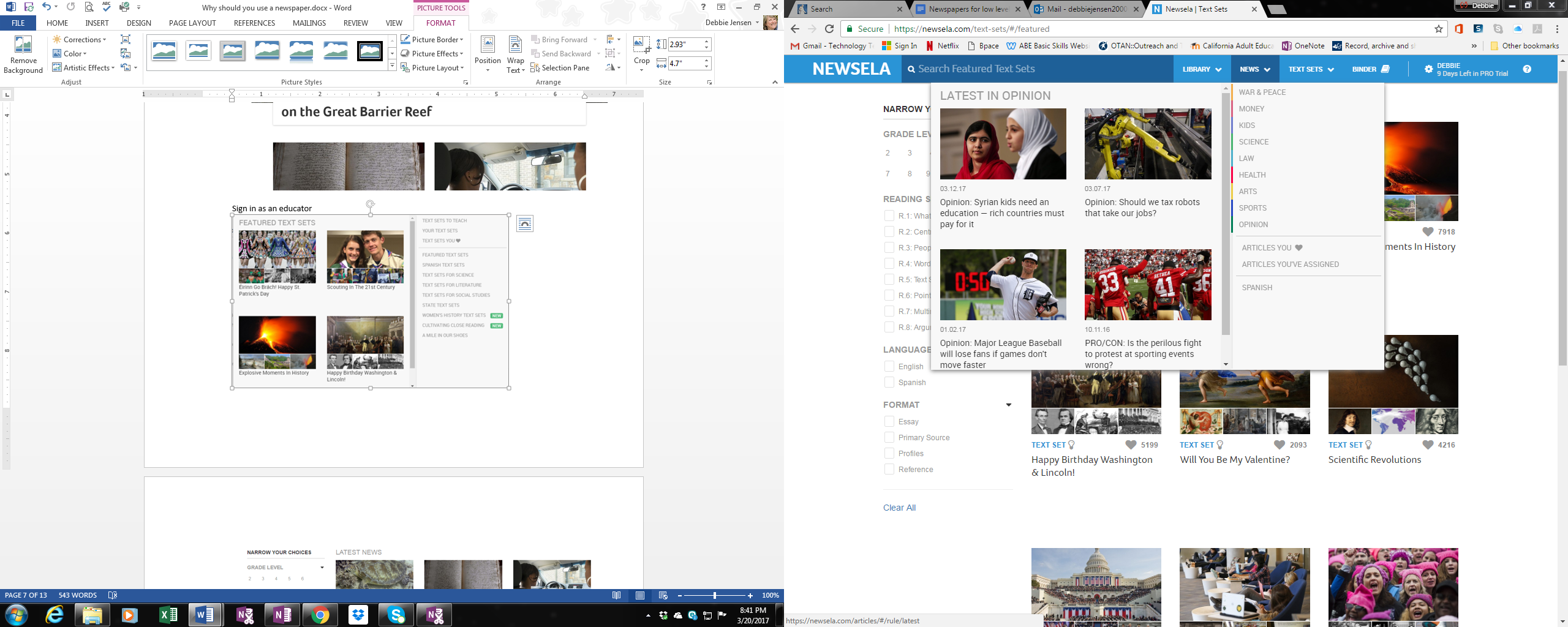 Set up your class with the reading level you desire. Students can still change the level, and read each article at other levels. A favorite feature is the quiz. Each article has an online quiz of four questions. Questions are challenging and encourage class discussion. The free account allows students access to all the reading materials. You are allowed to assign articles to your students. The diagnostics are included in the Pro Account. In the Pro Account you can read your students writing, tailor your own prompts to the articles, and share annotations with your students.
Here are examples of diagnostic information available in the Pro Account: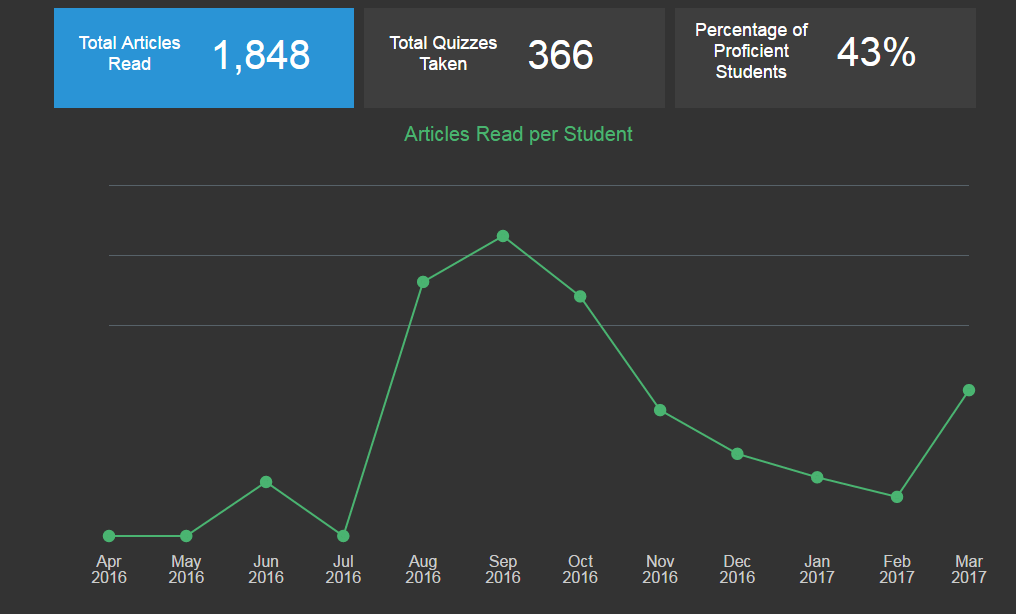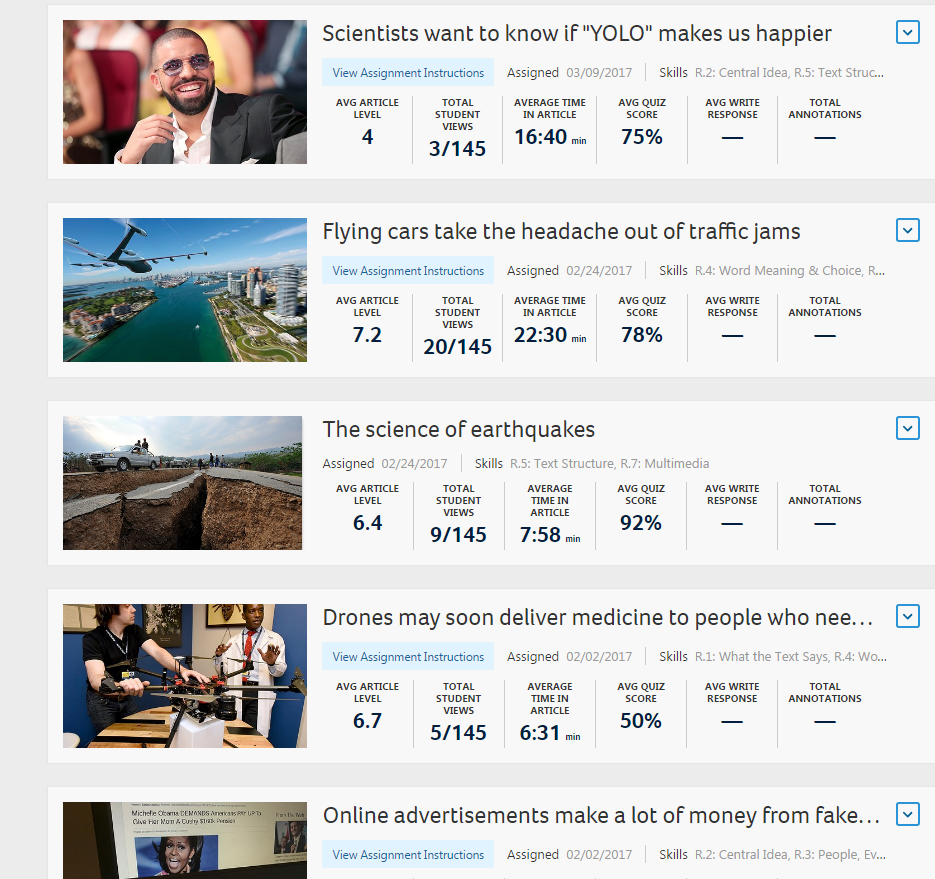 The small question mark at the top right opens up many teacher resources as well as "Message Newsela" where you can chat directly with the company.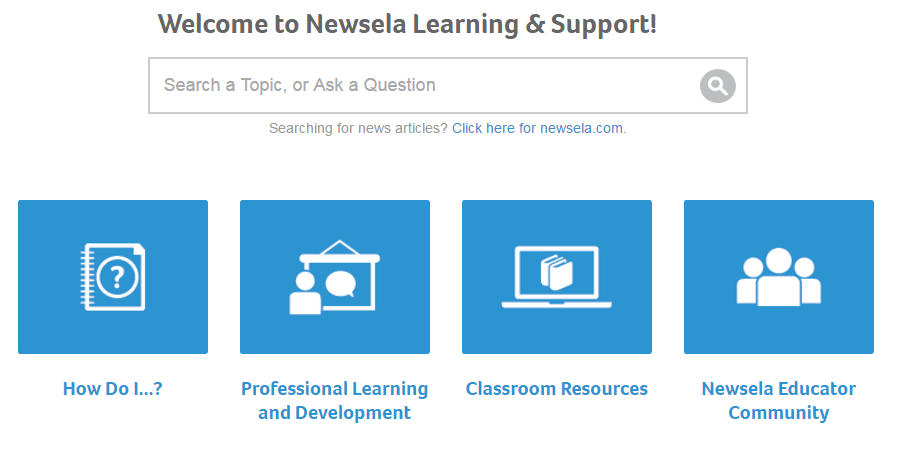 The New York Times in School – ASE
Web site: http://nytimesinschool.com/
Teachers enroll their classes by school year. The subscription is free. There are many teacher resources including games, curriculum guides and multimedia.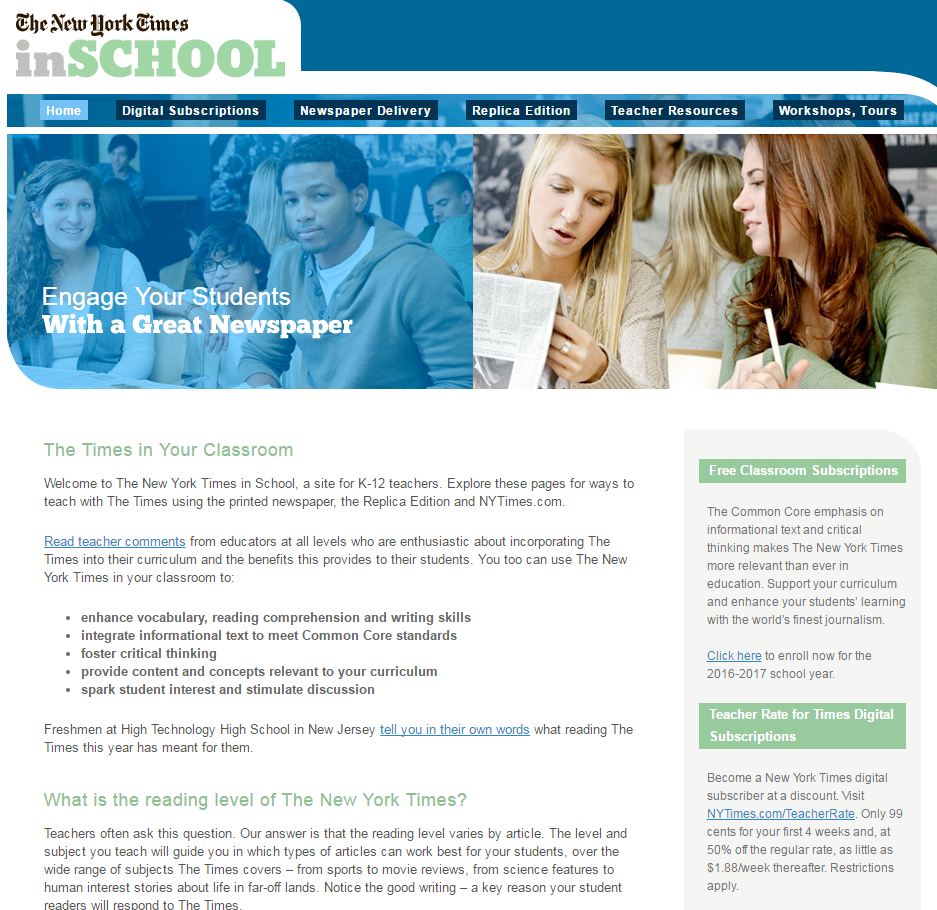 I particularly appreciated the Infographic that explains the different sections of the first page of The New York Times http://nytimesinschool.com/wp-content/uploads/NYT_Guide_to_Page1_2012.pdf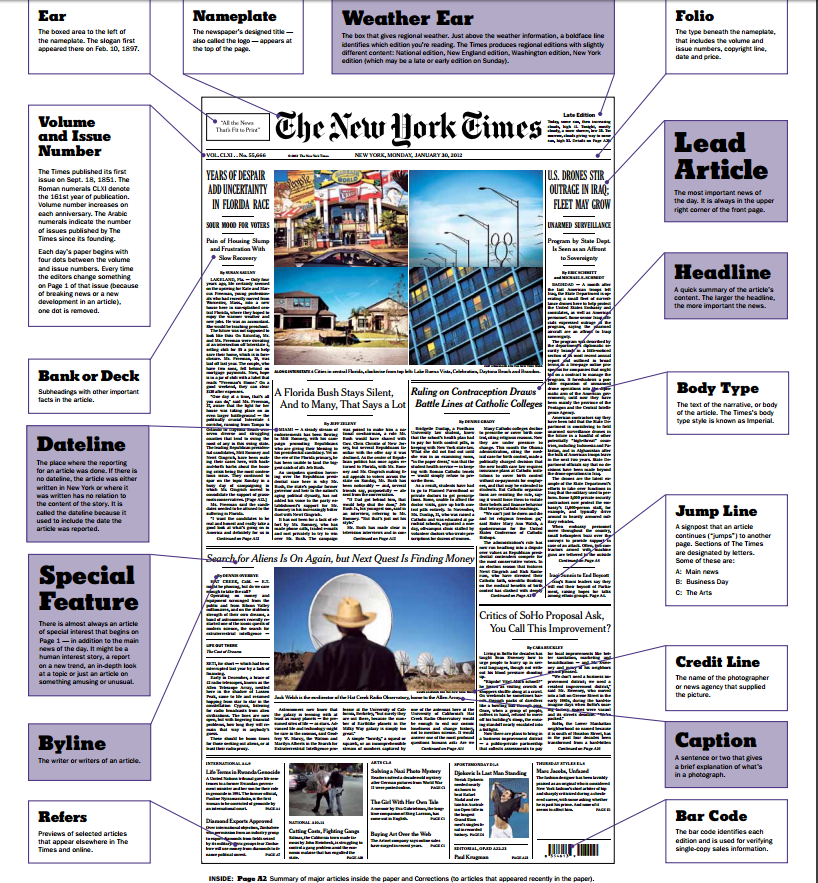 Los Angeles Times in Education - ASE
Web site: http://nieonline.com/latimes/weekly.cfm
Students read stories online. There is a wealth of resources to use with your class including news videos with transcripts, lessons and classroom activities, front page talking points to guide discussions, headline geography and cartoons for the classroom.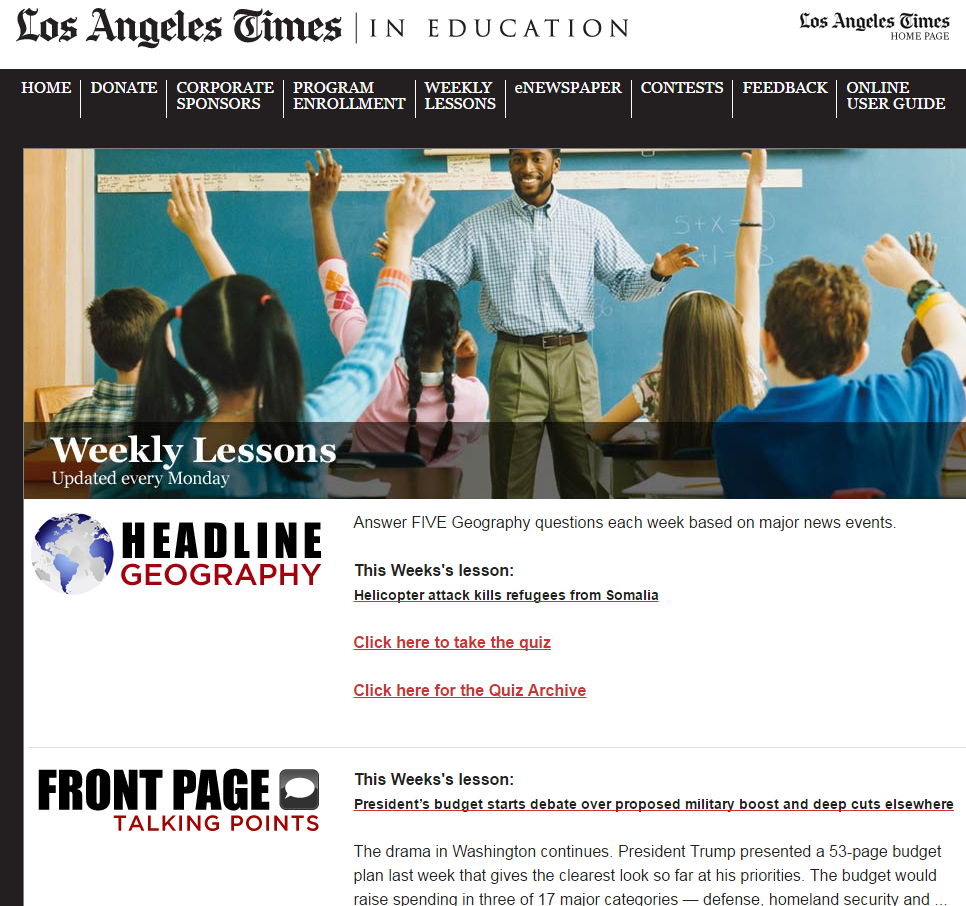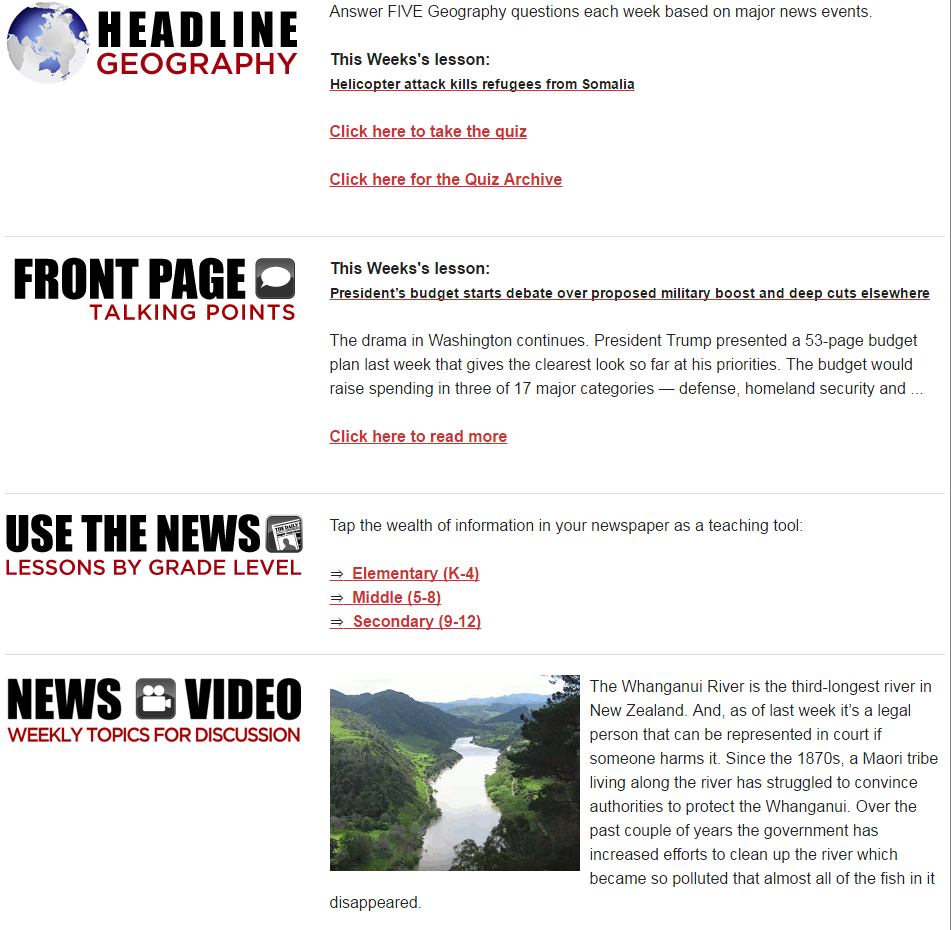 You can read aloud articles demonstrating reading strategies and opening up class discussions. As you read aloud you can model correct pronunciation, structure of the language, prediction and open questions to stop and inquire as the article progresses.
More Resources: Newspaper In Education A Guide for Weekly and Community Newspapers https://www.americanpressinstitute.org/wp-content/uploads/2013/09/Newspaper-in-Education-A-Guide-for-Weekly-and-Community-Newspapers.pdf 49 pages of suggestions for ways to use the newspaper in your classroom.
News in Levels – ESL
Web site: https://www.newsinlevels.com/#
News for Students of English stories are written at three levels and they are read aloud.
At this site articles are rewritten using a target vocabulary allowing students to read and practice the words over and over. By repeating the same words at one level over and over they will soon master them and be able to move on. Articles on level 1 are written using the 1000 most important English words, level 2 with the 2000 most important words and level 3 with the 3000 most important words. They maintain that if our students listen to two articles a day they will improve their reading quickly.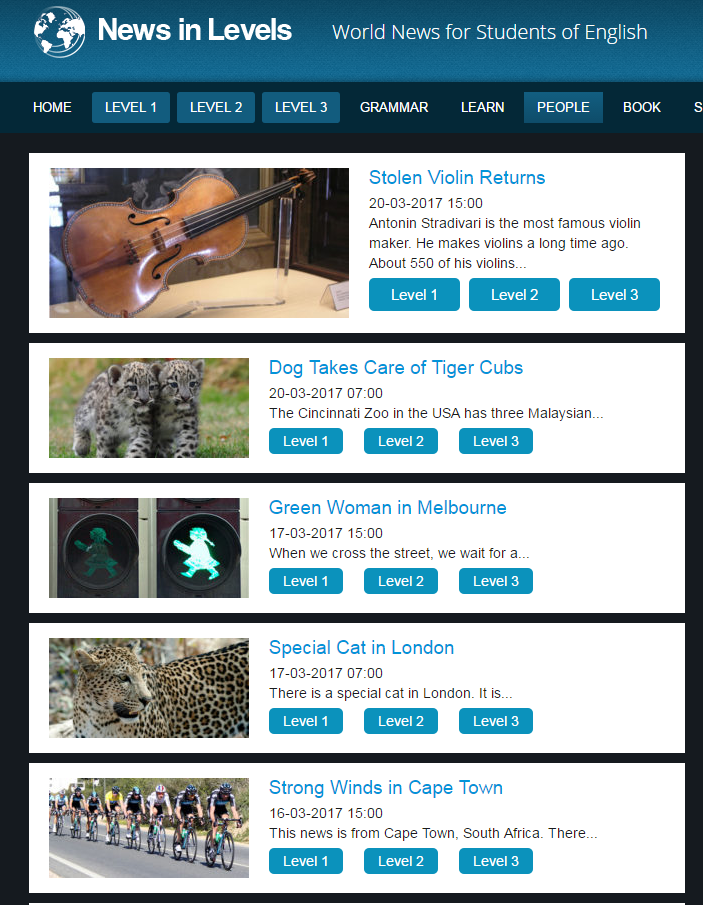 Ways you can use Newspapers in Your Classroom
Group students of multiple reading level to access and read an article together.
Low level readers can rewrite titles into full sentences and write short summaries of news stories.
Use the photographs in newspapers to start discussions and writing prompts.
Students create personal dictionaries and include words found in a newspaper article. Include the words in context. Study the words, find the definitions and use the words in new sentences.
Advice columns allow students to discuss the advice given and decide if they agree or not and why.
Use the weather map and identify regions of the country.
Sports sections offer articles about people excelling and overcoming obstacles. Students can discuss what the athletes had to overcome.