Career Exploration in Adult Education
by Yescenia Delgado Lorenzo, Adult Education Counselor, Hacienda La Puente Adult School
posted April 2022
Many students in adult education face numerous barriers when transitioning into new careers. The common career barriers can include a lack of vocationally related self-knowledge (i.e. interests, values, and skills), lack of knowledge of the work world, and lack of related transferable skills. As an instructor in adult education, you are the career guide for many of our students; they look to you not only for subject matter knowledge, but also for their career interests. Teachers are essential in helping students critically think about their future careers and find career pathways.
Career exploration has been widely recognized and endorsed as a necessary step in an individual's career development. It is a fundamental lever to help adults successfully navigate an evolving labor market and demand for changing skills. The value of exploration is instrumental for each student to emerge from experience with a clear and more accurate assessment of him or herself.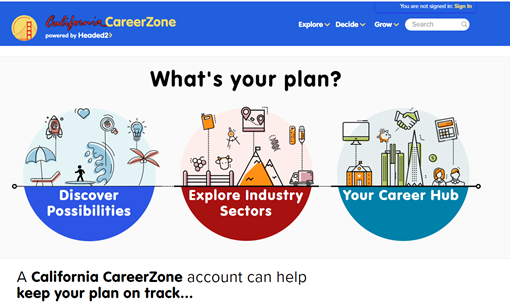 California CareerZone is a web based career exploration system that is available free of charge. It is an exploration and planning resource designed especially for students, providing students with information to explore career options that fit their skills, interests, and values. The application contains more than 900 occupational profiles, and it has an interest assessment students can use to find occupations that match their interests. Teachers can create a free account to track student progress and develop, implement, and manage a complete career and transition planning curriculum.
When you enter the CareerZone, you will be presented with three primary choices: Discover Possibilities, Explore Industry Sectors, and Your Career Hub.
Discover Possibilities contains seven different tools that include:
Make Money Choices - Developing a budget
Interest Profiler - Identifies interests and relates them to potential jobs
My College Preferences - Helps find compatible schools
Quick Assessment - Matches your personality with potential jobs
Work Importance Profiler - Gives a list of jobs that reflect your values
Skills Profiler - Explores occupations that require your acquired skills
Job Application Tools - Helps create documents needed for job applications
Explore Industry Sectors contains five different tools that include:
Explore Industry Sectors - Explore broad clusters and pathways
Explore Colleges - Explore educational institutions within the United States
Explore Occupations - Compare occupations
Explore Fields of Study - Look through programs of study
Explore Certifications - Learn about various credentials
Your Career Hub is the section where you create your account and save your work. To help you save assessment results, the website includes a free online portfolio that allows your assessments to be automatically saved.
California CareerZone uses the Holland Codes to connect students with careers. The theory behind the codes proposes that individuals who choose to work in environments that are similar to their own personality type are more likely to experience success and satisfaction. This theory proposes six personality types matched with six work environments: Realistic, Investigative, Artistic, Social, Enterprising, and Conventional. By using the CareerZone Interest Profiler, students can determine their Holland Code that utilizes the first letter from the three areas that they most closely identify with. Directions for using the Interest Profiler are as follows:
From the home page, select Discover Possibilities.

Select Interest Profiler.

Select Start a new Interest Profiler

Select the Mini version if time is a factor.

Select Next after reading the instructions.

Select Next after reading the instructions.

Select Next after reading the instructions.

Start your questionnaire.

Before you begin to use the CareerZone website, take some time to talk to the class about different occupations that they are interested in and familiarize yourself with the online application. Create a lesson plan with student objectives. Here are some example objectives for your lesson.
Students will be able to:
Understand that knowing their interests can help them make better career decisions
Complete an interest assessment
Use their assessment results to create a list of careers that matches their interest profile
Have career discussions in the classroom. As a teacher, you influence your learners and are an important role model they look up to. Bring discussions about different careers to inspire learners to study beyond the class curriculum. Bring discussions to the classroom about different jobs and talk about their relevance to the wider world of work. Respond encouragingly to questions and concerns about their future.
Discuss your own career journey, share your story, and talk about your personal work experiences that can make careers more accessible to the learners in your classroom. Discuss how you became an educator and what you like about your job.
Ask the students how they believe the world of work has changed over time. Arrange for your school counselor to talk about work, and invite guest speakers or former students to talk to the class.
Interest inventories can be a great starting point to help students in their search for a career that they will love. Interest inventories look at an individual's likes and dislikes, their favorite activities, and their personality. The knowledge gained from California CareerZone can help take students to the next step in researching career pathways. Utilize this tool to help bring conversations, discussions, and team collaboration to learn about the world of work in the classroom.
Resources for Career Exploration
Websites
CareerOneStop
https://www.careeronestop.org/toolkit/careers/occupations/occupation-profile.aspx
Occupational Outlook Handbook
https://www.bls.gov/ooh/
O*NET
https://www.onetonline.org/
Videos
CareerOneStop Videos
https://www.careeronestop.org/Videos/CareerVideos/career-videos.aspx
California CareerZone Video Library
https://www.cacareerzone.org/videos