Classroom Video on Demand and Learn360 in the Blended Classroom
by Susan Coulter
Baldwin Park Adult and Career Education
posted April 2023
Introduction
Learn360 is a great resource for blended learning. Blended learning combines traditional classroom learning with online learning. This approach allows your students to learn in a variety of ways with the flexibility to work at their own pace and convenience. This also allows teachers to personalize instruction and provide individualized support for their students. Studies show that blended learning (Rosen & Vanek, 2020) has a positive impact on learner outcomes. With Learn360, you can have your learners watch a video or complete a game or activity to support what you are teaching in the classroom.
Features for Adult Learners
A key feature of Learn360 is its multimedia library that contains over 373,000 educational videos, images, audio files, games and activities, and STEM lessons. Teachers can use these resources to supplement their instruction and provide students with additional opportunities to learn.
One of the ways that OTAN supports the field is by negotiating the best free or reduced-cost exclusive offers for online curriculum licenses as suggested by the OTAN Advisory Committee and adult educators. Learn 360 and Classroom Video on Demand are subscription-based services; however, they are free to adult school staff working in California. OTAN recently upgraded their Learn360 account to include Classroom Video on Demand, which contains over 30,000 academic resources more appropriate for our adult learners.
How to Request Your Own Account
Anyone working in any Adult Education site in California can sign up for a cost-free account from OTAN.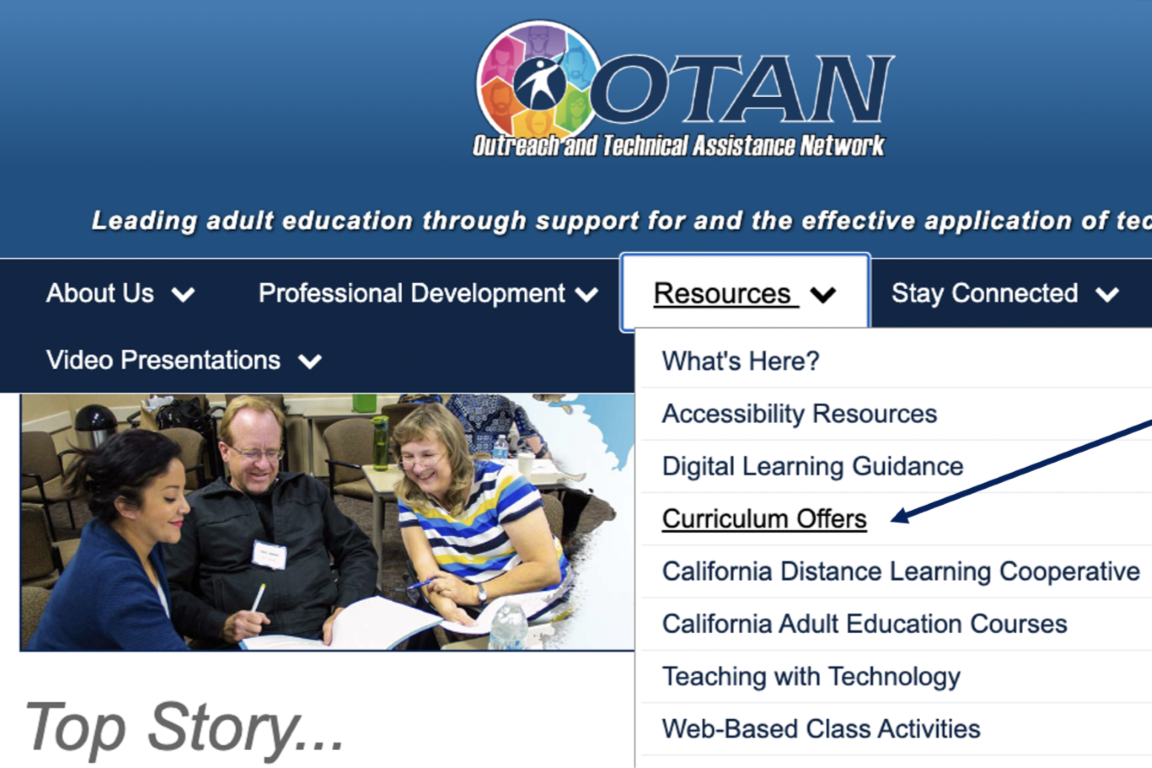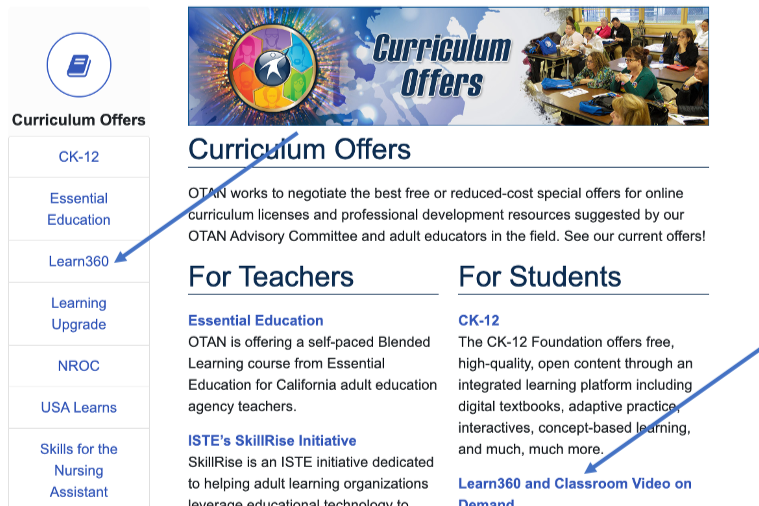 Go to OTAN's homepage
Select the Resources tab and then Curriculum Offers.
Select Learn360 in the Navigation bar on the left or Learn360 and Classroom Video on Demand on the right under For Students.
At the very bottom of the Learn360 page, you will find a link to the OTAN Learn360 + CVOD Account Form.
Once completed, you will receive a generic username and password.

How To Set Up Your Own Account in Learn360
Once you have received the username and password through OTAN then follow the following steps to set up your account in Learn 360.
Go to the Learn 360 Login Page and sign in with your generic username and password.
Select Your Profile in the upper right-hand corner.

Create your own personal account by selecting Sign Up.

Once you are logged in to your new account, you should see Hi, followed by your First Name.

If you select your account, you will see My Content listed first. This is where you can save your Learn360 videos and activities. You can also save YouTube videos here.

Search Options in Learn360
One of the easiest ways to search is to use a Keyword search; however, you may want to use Advanced Search or Browse Standards.

Learn360 is a K-12 site; however, you can filter by grade level or type of resource by selecting the menu to the left of the logo. To search the Classroom Video On Demand, you will need to select Premium Content.

Search Results
Each entry will show a thumbnail with the length of the video in the bottom right-hand corner. Entries are segments, full videos, or series. If you have too many results, you can refine your search by using the filters just above your results.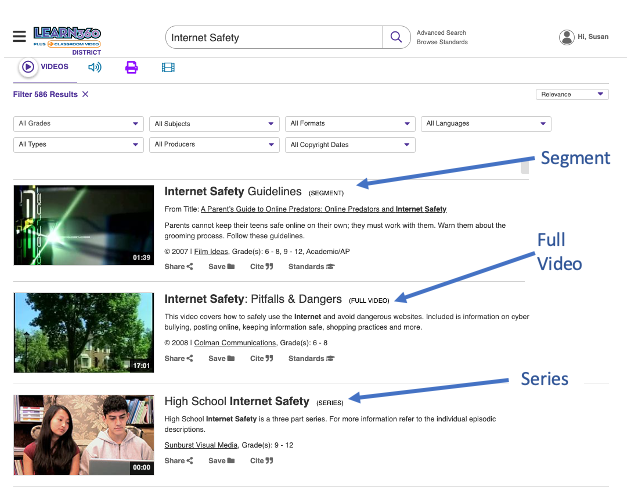 The Learn360 Interface
Select the entry you want to preview. In this example there are several different segments. Select the segment you want. The default is the full video.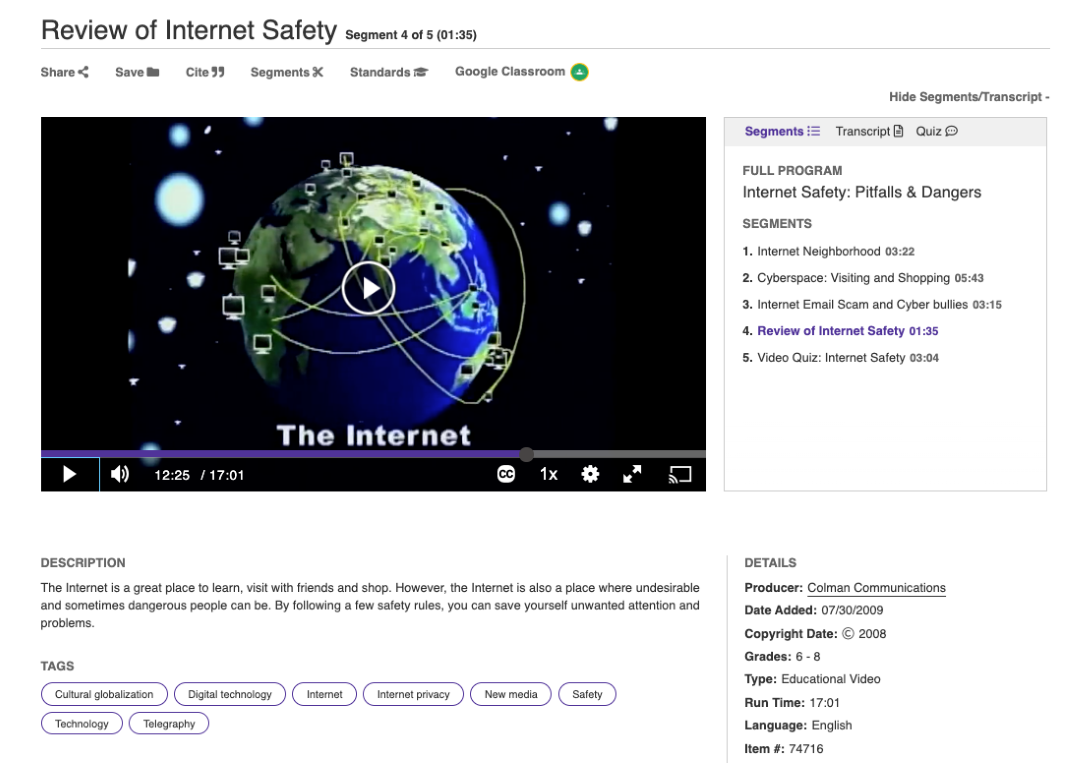 Initially, you will see the Segments listed. You can also view a video Transcript or create your own Quiz. The Transcript can be viewed in over a hundred other languages by selecting Google Translate at the bottom of the page.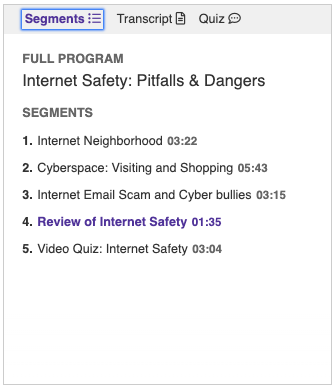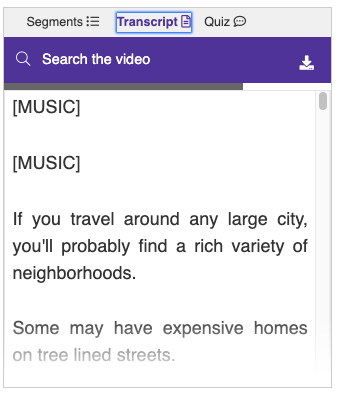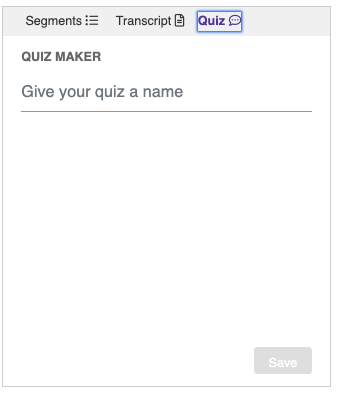 Share Video
The toolbar allows an educator to do several things. From left to right a teacher can share, save, cite, cut segments, show standards, or post to a Google Classroom. This section focuses on a few of these tools.
By selecting the share button, an educator can email, copy, or embed a link.

The Save icon allows you to save the video to a folder or as part of a playlist in your personal My Content. You can set up folders for different classes, subjects or even chapters. If you have accounts for all your students, and created a class, you can save to your class. The last option is to download the video to your laptop so you can show the video without worrying about your Internet connection.

With the segments button in the toolbar, an educator can create their own video. Segments allows you to create your own video. You just need to give it a start time, end time, and a title. You can also set the Thumbnail. Your new segment is saved in your personal My Content in an existing folder or you can create a new folder.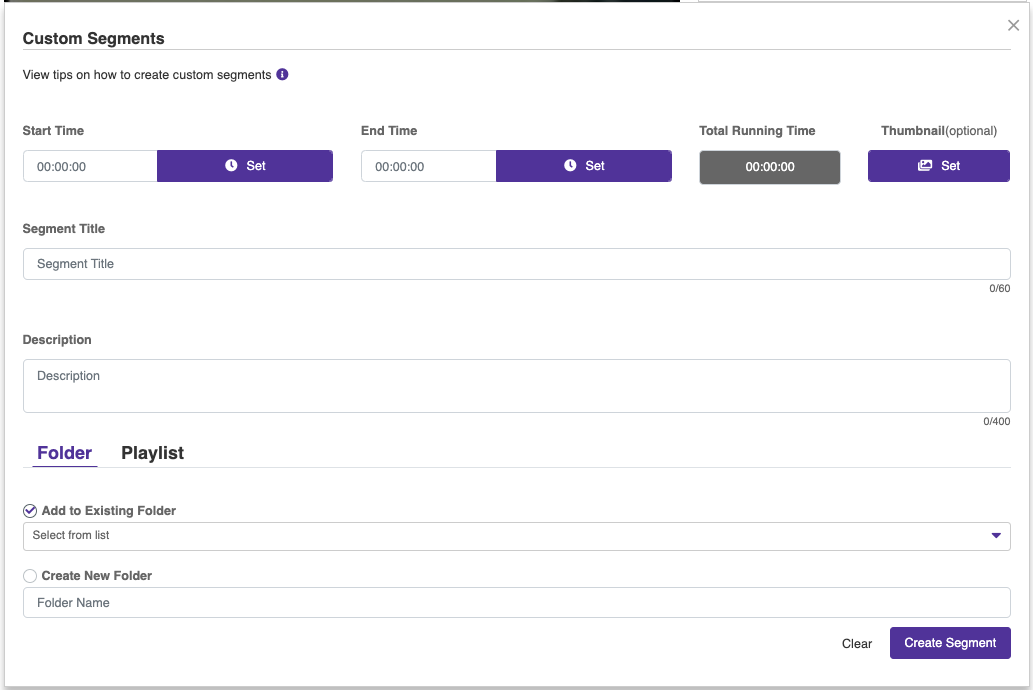 Google Classroom and Learn 360 have a wonderful partnership creating easy pathways to share content. To use Learn 360 with Google classroom, follow these steps. Learn360 has made it very easy to share content with Google Classroom.
You will first need to be signed into your Google account.
Select the Google Classroom icon above the video or activity.
Select the class and then the action.

Instructions are optional but helpful for students to know what is expected of them.
Be sure to select the blue Assign in the upper right-hand corner of your screen.

You can then view your assignment in Google Classroom. Be sure to select Instructions at the top of the page to see the assignment.

Learn360 Videos and Activities of Interest
Learn 360 works for every program in Adult Education. The instructor can modify for certain class groups and their needs. Listed below are activities of interest to English as a Second Language (ESL), Adult Basic Education (ABE), Adult Secondary Education (ASE) and Career Technical Education (CTE).
ESL
ESL instructors might be interested in Can Do English. It is a series of ten videos. Topics include Navigating passport control, Buying items at a register, Describing where you're from, Buying tickets for public transportation, Greeting an old acquaintance, Exchanging contact information, Explaining detail about an appointment, Introducing Yourself, Checking in at a hotel, and Discussing future plans. A scene is played, then played again with captions. They go over vocabulary words, phrases, and then practice in different situations.
There are numerous videos on grammar, punctuation, and capitalization which are appropriate for our adult students.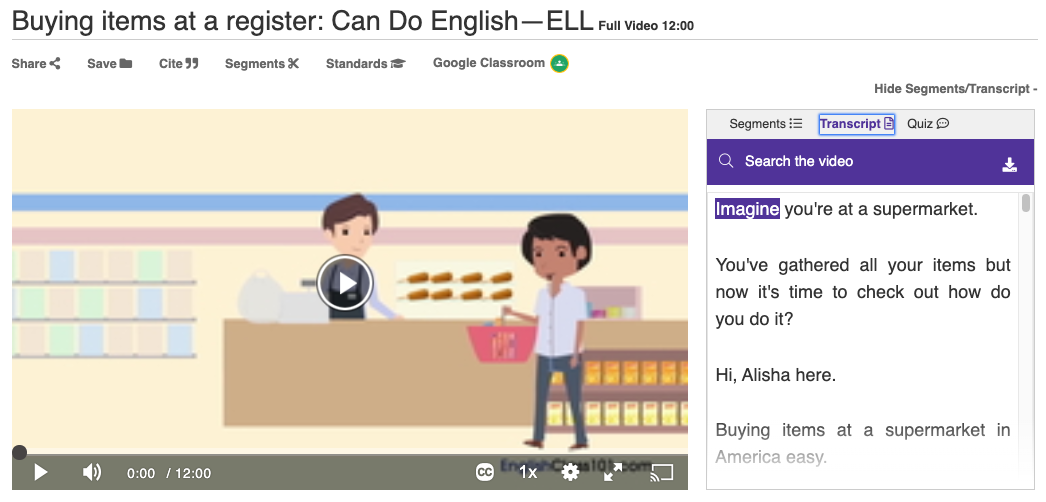 ABE
Adult Basic Education (ABE) instructors might be interested in Reading Comprehension Activities. Students read a passage and then answer five to ten comprehension questions.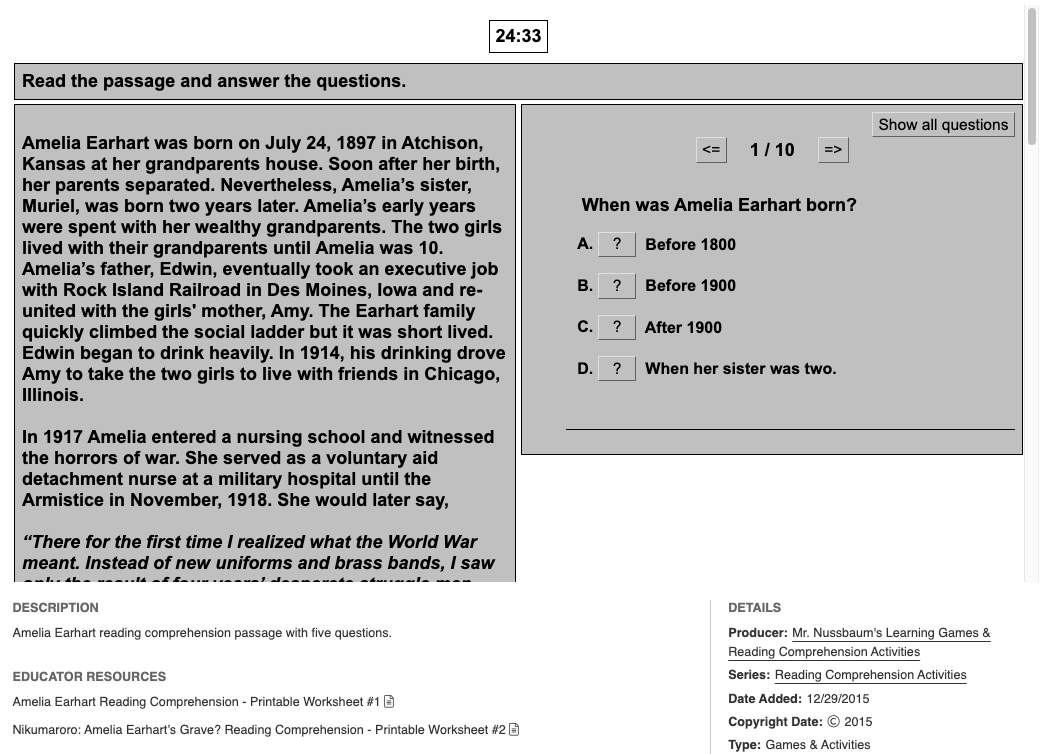 ASE
Adult Secondary Education (ASE) instructors will want to look at Classroom Video On Demand subjects. You can find videos on most academic subjects.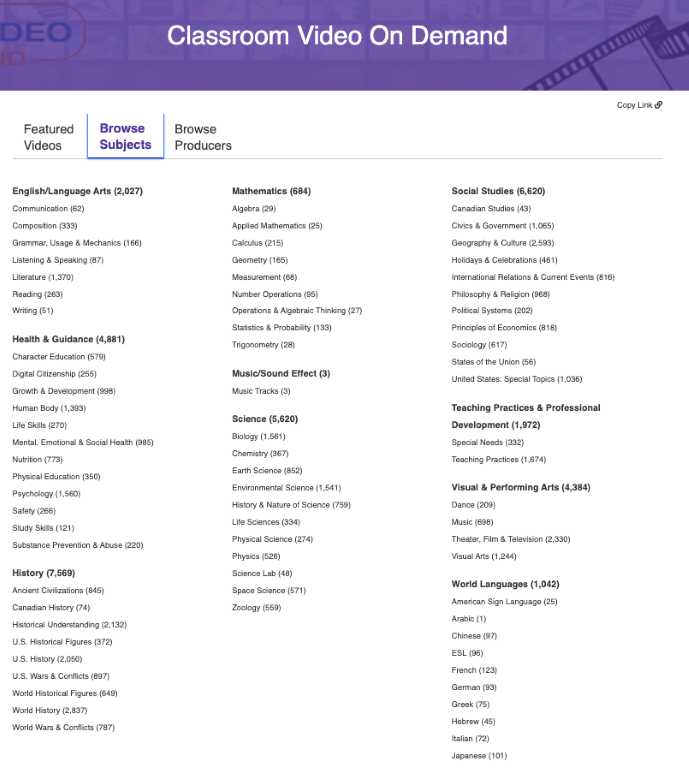 CTE
Career and Technical Education (CTE) instructors are not left out. For Automotive, there are several videos to help students study for the ASE Certifications. There are also numerous videos on cosmetology. Be sure to check out your program area.
Teaching with Technology Lesson Plan
Teaching with Technology is an online database maintained by OTAN. There is a detailed lesson plan on Learn360 that you can use to plan your lesson. OTAN is currently updating Teaching with Technology to include elements of the Triple E Framework: Engage, Enhance, and Extend.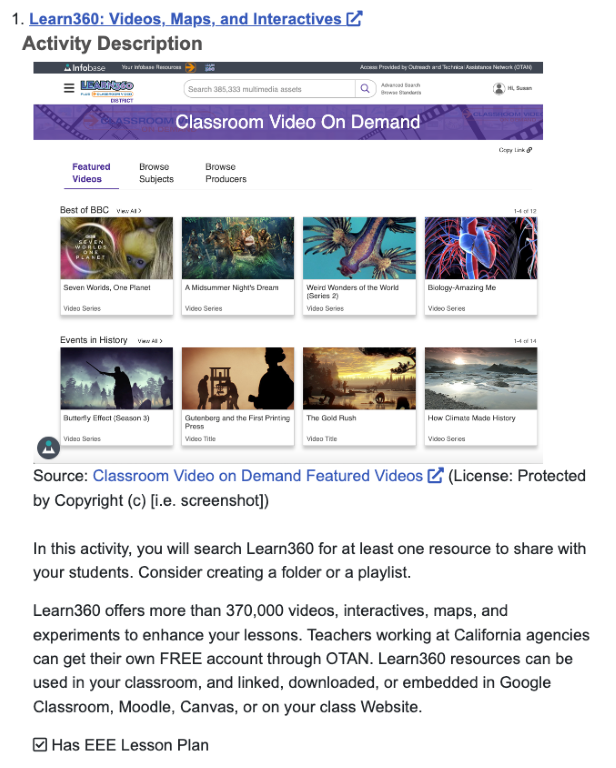 Learn360 has a lot to offer your students and staff and we have just touched the surface. If you would OTAN to come to your agency and set your teachers up with their own accounts and how they can share resources with their students, please contact OTAN. OTAN supports Learn 360 with cost free professional development. For a subject matter expert to come to your agency, then contact OTAN at support@scoe.net.