Guidance From the Guidance: An Agency's Approach to the California Adult Education Digital Learning Guidance
by
by Francisco X. Pinedo Jr
Soledad Adult School and OTAN Subject Matter Expert
posted March 2023
It has been almost three years since our world changed along with most aspects of education. COVID 19 became a worldwide pandemic and our way of teaching and delivering instruction changed 180 degrees in a matter of days.
At that time, back in March 2020, we Adult Educators took matters into our own hands and continued teaching with hiccups along the way, but I feel we were better prepared than our K-12 colleagues. Why, might you ask? Well, plain and simple, Distance Learning. Prior to March 2020, many agencies up and down California began implementing Distance Learning programs in their agency. Not to the extent that it is today post-March 2020, but teachers and students had a basic understanding of navigating various LMS (Learning Management Systems) like Moodle, Canvas, and Blackboard as well as Google Classroom.
Today, we can learn from best practices acquired in the last few years and beef up our prior knowledge of Distance Learning, as well as embrace new styles of teaching and learning, by reading the California Adult Education Digital Learning Guidance. The Guidance is designed to serve as a practical resource for administrators, teachers, support staff, counselors, and transition specialists to enable adult educators to design and implement effective digital learning experiences. One thing to be very clear about is that the Guidance is not a new set of standards or curriculum to be used in Adult Education, even though it does touch on standards related to Adult Education – for example, CASAS, CCRS, and ISTE – and how we can use these standards in our programs. The Guidance covers best practices across a variety of topics that are foundational to effective digital learning.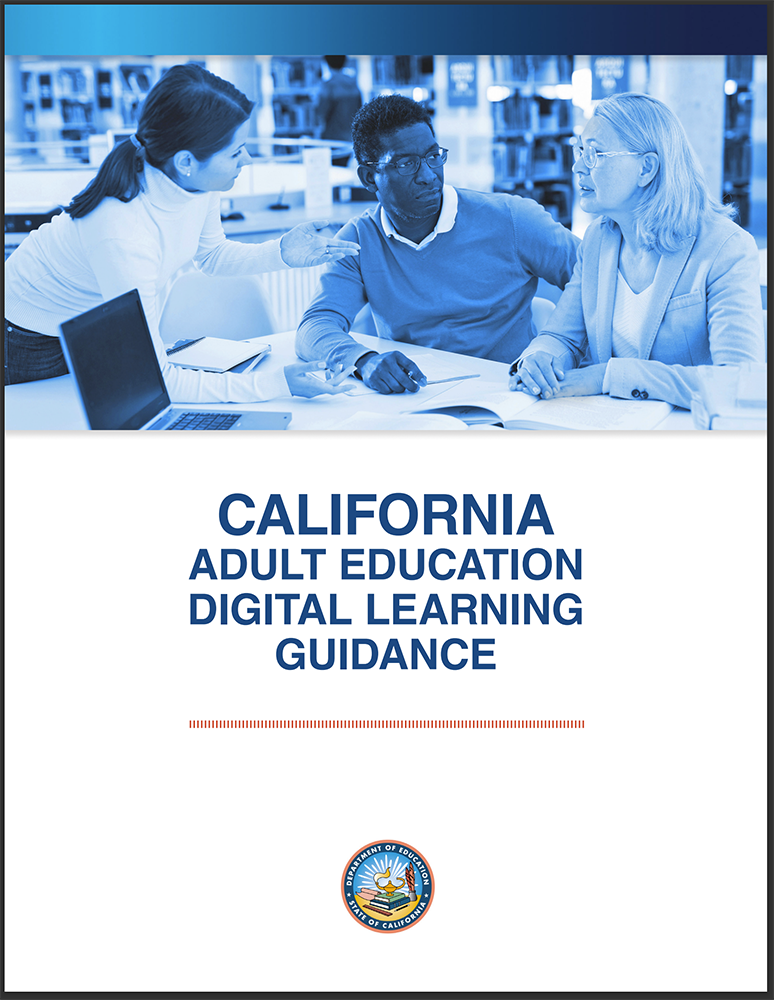 Now, the big question is, how do I use the Guidance in my classroom or at my school? Throughout the document, there are various examples and recommendations on how to use the Guidance. First, one of the underlying messages that is conveyed is to respect adult learners and their experiences they bring in the classroom. Chapter 3 discusses adult learning theories which view learning as a collaborative process, where educators and learners are co-creators of the learning experience. Due to the nature of the adult learner, the learning process is often more self-directed, with a greater deal of choice, control, or input from the learner. Each learner brings experiences and those include technology skills and using technology in a variety of situations. Using students with tech skills as a resource to help onboard new students is a great benefit for teachers as well as affirming for the students. One of the strategies that many agencies use is having students peer coach new students in using technology that is used in the classroom. Having these "Tech Monitors" identified in class and in the school is a great asset. It also makes students feel empowered when they are asked to take up such responsibility. The Tech Monitor helps new students get familiar with online programs used in the classroom. Also, by having Tech Monitors, students are learning transferable skills that they can use at work. Additionally, we are creating a stronger community for learning that is referred to in Chapter 7.
Another important take away from the Guidance is having teachers and staff act as facilitators to guide students in the digital realm. At Soledad Adult School, we have had Friday Open Office Day since the start of the pandemic. These are days when we orient new students to the programs we use online. Even before the start of the pandemic, staff at Soledad Adult School would onboard students with the technology used in class. It can be a tedious and trying task that requires 1-2 hours initially and ongoing support for a few days. However, this initial onboarding does save a lot of hours of reminding students of what to do. Also, in addition to the teacher or support staff onboarding, having students be Tech Monitors as mentioned previously will provide continuous support some students need to succeed in class or remote settings.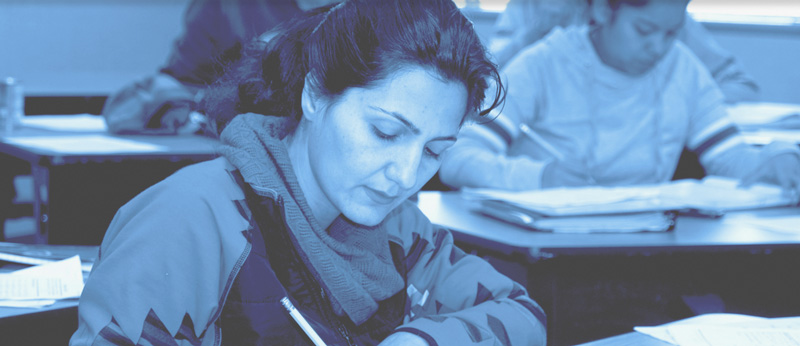 One of the underlying messages that is reinforced in this document and especially in Chapter 2 on digital equity and access is that not all students have access to technology and basic digital literacy skills. One of our tasks is to direct our students to local agencies that can help students get the technology needed for them to succeed in class or at home. For example, in the Salinas Valley, most adult schools direct our learners to a local non-profit organization, Loaves, Fishes & Computers, located in Salinas. Loaves, Fishes & Computers provides residents in Monterey County with low cost or free Chromebooks, laptops, or desktop computers along with weekly Basic Computer Literacy classes online. Most schools in our consortium have a Basic Computer Literacy class, but also many programs incorporate basic literacy skills in our classrooms. We teach students how to use and navigate a laptop, track pad, iPads, and Chromebooks. At Soledad Adult School, we also teach students how to do mouse exercises (for example, the Palm Beach County Mousercise program). Teaching students how to use a mouse or track pad is usually the hardest thing for an adult learner to master. At SAS, we spend a few minutes a day in each class for students to do typing practice and mouse exercises.
We also help students apply for the Affordable Connectivity Program. We constantly remind students, new and former, to take advantage of this program. Many of our students who we serve have applied for and gotten up to a $30.00 credit on their monthly Internet bill. Each new student who registers in our program also gets the Affordable Connectivity Program information with the link to apply. Additionally, students get information for Loaves, Fishes & Computers in case they need a laptop.
The bottom line is, the way we teach in education has changed, and this change will only lean more towards online, blended, hybrid, and HyFlex instruction, all explained in Chapter 5. Many agencies have capitalized on this because instead of previously serving only 15-20 students in an in-person class, now there is a possibility to serve more students with more options. Yes, that does entail more teacher preparation and work to deliver instruction, but also administration must change in order to compensate teachers for the extra work that they will have to put to deliver instruction.
To reiterate, the Digital Learning Guidance is a document that guides programs on how to use technology in your program, and how to support students in your program. The Guidance also has a wealth of resources on topics such as accessibility, staff well-being, equity, OERs, and digital tools. We invite you to explore the Guidance on the OTAN website and consider how you might implement pieces of the Guidance at your agency.