OTAN News
OTAN Tech Talk on Internet Safety and Learn360 Webinar Coming Up!
Posted on 2/7/2020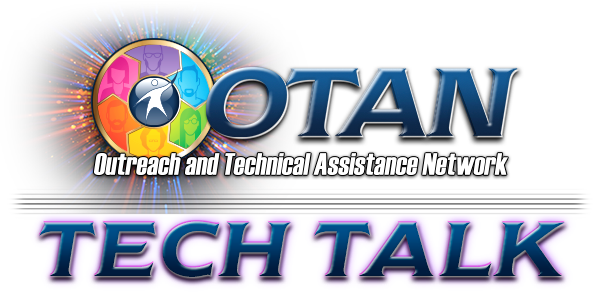 Please join us for OTAN's next Tech Talk on Friday, February 14 from 1:00pm to 2:00pm PST. This month's Tech Talk is on Internet Safety for Students and Teachers by Susan Gaer, OTAN Subject Matter Expert.
Ever wonder how you can keep yourself and your learners safe when online - is that even possible? It is possible and you can use mobile devices, apps, and online tools effectively and safely. During this Tech Talk, the presenter will explain what a web presence is, show how to design and maintain a presence online that suits the individual personally and professionally, explain detection techniques to avoid scams such as pharming, phishing, and smashing, have participants become more aware of phone settings to increase mobile safety, and show how to use the Internet safely. You can sign up for this OTAN event at the California Adult Education Training Calendar
You can listen to previous OTAN Tech Talks on our YouTube channel. The recordings are here: OTAN Tech Talks YouTube playlist (And make sure to subscribe to our YouTube channel while you're there!)
If you're interested in sharing a tech tool or tip with your colleagues in the field, submit your presentation idea using this OTAN Tech Talk Presentations Google Form. We are always interested in learning about the latest tech tip or idea that can be shared among adult educators.
Also join us for an OTAN webinar on Learn360: Resources for Adult Education on Friday, February 21 from 1:00pm to 2:30pm PST, presented by Susan Coulter from Baldwin Park Adult and Community Education. Learn360 is a vetted, safe library that is correlated to standards, organized for schools, easy to use, and full of appropriate videos, clips, and more from the industry's top producers. With Learn360, teachers and students can stream and/or download from a premium library of over 130,000+ hand-picked videos, short videos, video clips, interactives, teacher guides, math activities, science diagrams, timelines, and more. You will see content from 160+ producers including the History Channel, National Geographic, HBO, BBC, Shopware, Sunburst, and more.
Learn360 resources can be added to your Google Classroom or your OTAN hosted Moodle course easily so your students can log in to one site and seamlessly access Learn360 resources within one interface. If you do not have a Moodle course or Google classroom, not to worry - you can share the links with your students in emails. Learn how to locate and share these resources today! You can sign up for this OTAN webinar on the California Adult Education Training Calendar
We look forward to seeing you online!