Curriculum Offers: i-Pathways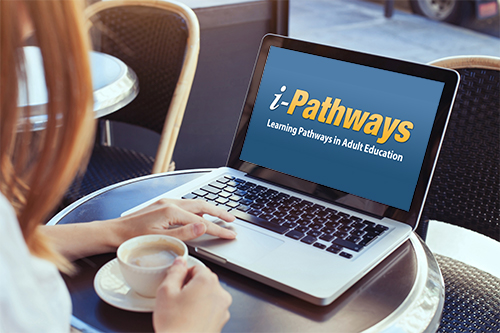 The i-Pathways project (a web based high school equivalency prep curriculum) is pleased to partner with OTAN to provide California adult education agencies receiving WIOA Title II: Adult Education and Family Literacy Act supplemental funds access to this online curriculum. The modules include Basic Writing, Basic Math, Math, Language Arts, Science, Social Studies, and Consumer Education. Programs will be able to use the i-Pathways project with students in a variety of ways: classroom supplement, hybrid, or at a distance. Users will have access to the i-Pathways technical support desk and professional development at no cost to the programs.
i-Pathways has a 20+ year history of delivering high quality content, a reliable and secure system, and ongoing support for users, ensuring programs and students have the support necessary to be successful. Join our demonstration webinar January 31, 2019 at 2:00 pm PDT to explore the curriculum and ask questions to see if i-Pathways is a fit for your program needs. This pilot offer will continue through the rest of this academic year and through June 30, 2020. This long term pilot should provide enough time to allow learners to complete their high school equivalency goals. More information about signing up for the pilot will be shared at the demonstration webinar.
If you are interested in signing up for an account to access the i-Pathways content, please fill out the sign-up form. i-Pathways will help you create an account once the form is complete. There is no cost to create this account.
Contact OTAN by email: support@otan.us or phone at 916-228-2580 for more information.