OTAN Digest #98
January 2018
News
How to Use Universal Design to Create Inclusive Classrooms
Universal Design for Learning (UDL) is a set of principals for curriculum development that aims to provide all students an equal opportunity to learn. It can be used by educators at any grade level or subject area. According to the National Center on Universal Design for Learning External link opens in new window or tab, "UDL provides a blueprint for creating instructional goals, methods, materials, and assessments that work for everyone—not a single, one-size-fits-all solution, but rather flexible approaches that can be customized and adjusted for individual needs."
Report: Internet of Things (IoT) to Tip 41 Trillion by 2020
The "Internet of Things" refers to the increasing number of Internet-connected devices with Wi-Fi capabilities and built-in sensors. Connected items can include anything that has an on and off switch: cellphones, coffee makers, headphones, lighting fixtures, washing machines, personal wearable devices and machine components. The IoT is a giant network of connected "things" than communicate with each other.
Getting Started with Video Coaching
Video coaching is no longer a professional development buzzword or novelty, in part because of the accessibility of devices in today's world makes it a convenient choice for educators looking to improve their practice. Today all it takes is a smartphone with a high-quality camera to get started.
Jobs of the Future will Focus on Intellectual Capitalism
This was the big reveal to the thousands of EDUCAUSE attendees ranging from college and university faculty to CIOs, and from some of the world's leading tech companies to some of the country's most prominent higher ed provosts and presidents—all anxiously awaiting what the crystal ball of the postsecondary future had to say through Kaku's educated guess.
January's New Web-based Class Activity!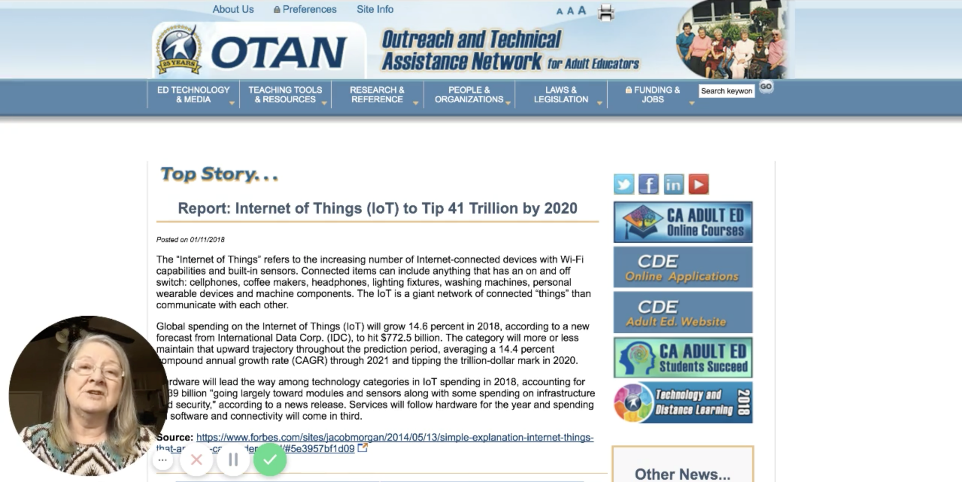 In the January's 2018 Web-based activity article, Susan Coulter posits that "Loom is a new free Chrome Extension that allows you to quickly record a video message and/or screencast and then share it immediately with students and colleagues."
Professional Development
OTAN offers short, online workshops to meet the demands of busy adult educators. We are currently working on our line up for this year, so stay tuned and check the California Adult Education Professional Development calendar so you won't miss any!
Contact us at 916-228-2580 or e-mail support@otan.us to schedule one of our workshops at your school this year! We will do most of the work for you. We just need your available computer lab.
OTAN offers a wide variety of no-cost, hands-on, three-hour workshops. We will come to your school if you have at least 10 interested participants and an approved lab. If you have a smaller school and need more participants, consider coordinating with other small schools in your area to fill your workshop. If there is a technology topic not listed that your staff needs assistance with, let us know and we will discuss creating a new workshop to meet that need. Here are some of our workshop titles:
Visit our Web site to see the complete list including descriptions and prerequisites for each.
Teaching Resources
Web "Sitings":
Registration for OTAN's Technology and Distance Learning Symposium 2018 is now open!

This yearly event shows how to enhance technology integration in the classroom and how to start or grow your blended/distance learning programs through dynamic presentations and hands-on technology skill development. Topics include: Open Educational Resources, Digital Badges and Micro-credentialing, Mobile Devices, Online and Blended Instruction Delivery Models, Presentation Tools in the Classroom, Web-based Activities, and Online Resources for Adult Education.
Virtual Reality for Education

Virtual reality is a fun alternative way to engage students in the classroom by simulating real-world environments. This website has links to some research articles which explain the advantages of VR in the classroom, how to get started, and also lists some useful apps and other content for you and your students to experiment with.
https://goo.gl/XkoGj1

Do you use a website, tool, or other resource that others might benefit from? If so, fill out this form, and your suggestion may be used in a future Web Siting!