OTAN Digest #95
October 2017
News
The Learning Innovation Cycle: How Disruption Creates Lasting Change
Disruption is an interesting topic for the same reason that cowboys, gangsters, and villains are interesting. It's unpredictable. Problematic. Against the grain.
It's kind of aging as a buzzword in the "education space," but it's other-worldly powerful, and there are few things education needs more. How exactly it produces change is less clear, but I thought I'd create a model to think about. First, a quick preface. The iconic vision of disruptive innovation comes from Clayton Christensen, who uses the term to "describe a process by which a product or service takes root initially in simple applications at the bottom of a market and then relentlessly moves up market, eventually displacing established competitors."
10 Current and Emerging Trends in Adult Learning
What Do Harvey and Irma have to do with learning?
When (what we thought were) once in five hundred year storms hit every other week, it suggests there is something new going on--and another sign that we live in a world where the unexpected is the norm.
As more of us move into cities, connect and trade with people around the world, and take advantage of automation, the result is the clash of natural and man-made systems in ways that we don't understand.
Why California is Investing Over $200 Million in Vocational Education
More Americans are going to college than ever before. The most recent census
found that 33.4 percent of adults over the age of 24 have earned a bachelor's degree or more. Kurt Bauman, Chief of the Education and Social Stratification Branch for the U.S. Census describes this as, "a significant milestone" for the country.
For many, however, higher education remains a privilege that is financially inaccessible. One way students can invest in their futures without investing in a bachelor's degree is through vocational education. By enrolling in vocational education programs, students can earn degrees in high-demand fields like nursing, business and engineering which can lead to high-paying jobs. Still, many students believe that a bachelor's degree is the only path to success.
EdTech Pilot Framework
It's the beginning of the year, there are new classes, new projects, new students and maybe even new equipment! It's an exciting (and exhausting) time of year. If you are looking for ways to successfully integrate and manage an edtech pilot, check out the "Edtech Pilot Framework" offered from Digital Promise. There are eight guided sections to help you and your agency implement and review a plan to integrate technology. These sections include: Identify Need, Discover and Select, Plan, Train and Implement, Collect Data, Analyze and Decide, Negotiate and purchase and then Summarize and Share.
How Teachers and Schools Can Help When Bad Stuff Happens
The following is an excerpt from the article. The full version can be accessed here
.
Joy Osofsky, professor of pediatrics and psychiatry at Louisiana State University
: "I would recommend that they address issues from the beginning. Talk to the students about: You know, we've all been through a difficult experience. I know that some of you may have lost your home. Some of you been in a shelter and been in very unusual circumstances.
October's New Web-based Class Activity!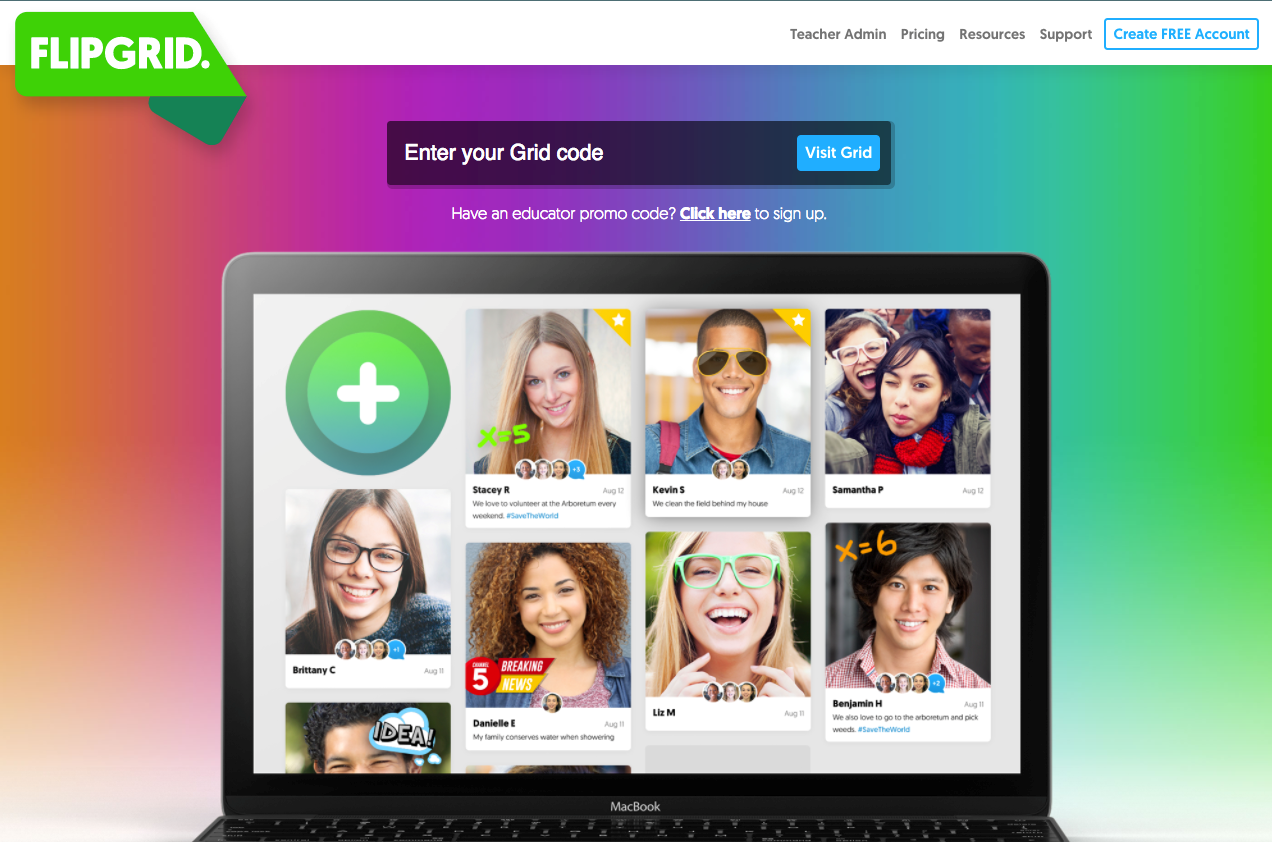 In the October's 2017 Web-based activity article, Susan Coulter posits that "Flipgrid works well with any browser, Chromebook, tablet or mobile device; and integrates well with Google Classroom, Canvas, Blackboard, Moodle, Edmodo, Schoology and more. Students only need access to a device with a camera and microphone. The Flipgrid app makes it super easy for students to access."
Professional Development
OTAN offers short, online workshops to meet the demands of busy adult educators. We are currently working on our line up for this year, so stay tuned and check the California Adult Education Professional Development calendar so you won't miss any!
Contact us at 916-228-2580 or e-mail support@otan.us to schedule one of our workshops at your school this year! We will do most of the work for you. We just need your available computer lab.
OTAN offers a wide variety of no-cost, hands-on, three-hour workshops. We will come to your school if you have at least 10 interested participants and an approved lab. If you have a smaller school and need more participants, consider coordinating with other small schools in your area to fill your workshop. If there is a technology topic not listed that your staff needs assistance with, let us know and we will discuss creating a new workshop to meet that need. Here are some of our workshop titles:
Visit our Web site to see the complete list including descriptions and prerequisites for each.
Teaching Resources
Web "Sitings":
Technology & Distance Learning Symposium 2018

TDLS is coming! If you are interested in being a presenter, please submit a proposal on our website, www.otan.us/tdlsymposium/
. The deadline for submissions is November 15, 2017. TDLS will be taking place March 9 and 10, 2018, at Napa Valley Adult Education. If you're simply looking to attend, registration opens December 11, 2017. You MUST register online to attend.
USA Learns has a New Course for Adults: U.S. Citizenship Class!

USA Learns, www.usalearns.org
, is a free site that houses two comprehensive English courses, a Practice English course and now a Citizenship course. All courses assist adult learners to improve their English Language skills. The course, jointly funded by the California State Library, the Immigrant Legal Resource Center and the Sacramento County Office of Education is an addition to the current three English courses. As with the other three courses, adult learners will get in-depth practice with vocabulary, grammar, reading, writing, listening, and speaking needed to feel confident during a naturalization interview.
The new Citizenship course will help immigrants prepare for all parts of the naturalization interview, including:
the steps to becoming a U.S. citizen,
who needs legal help and where to get it,
how to avoid immigration fraud,
preparation for the oral review of the N-400 application, section by section,
U.S. history and government for the civics test
what to expect at the interview, including making small talk and following instructions,
vocabulary and grammar for answering interview questions,
what to do after becoming a U.S. citizen.
As with the other courses, teachers can monitor students' progress through all the courses by creating a teacher account at www.usalearns.org/teacher
and giving their students a Class key to enroll.
In memoriam: Sharon Ram
May 31, 1973 – September 2, 2017
Adult education lost a very special colleague, mentor, friend, and teacher on September 2, 2017, when Sharon Ram passed away.
She earned her Master's Degree in Education and Counseling at San Jose State and started teaching in 1999, while continuing her graduate studies. Sharon was a perpetual learner and quintessential computer nerd! She loved learning, always wanting to learn more. Sharon loved to find new ways to incorporate technology into the classroom for her learners.
Sharon worked at Fremont Adult School for 15 years. Through grants written by Sharon, the school was able to purchase computers, projectors, iPads, and screens for learners. She became the technical support person for the school and she introduced and taught learners and colleagues how to use technology, from hardware to software to educational apps.
Those of us at OTAN knew Sharon as a shining star. She was accepted into Cohort 7 of OTAN's Technology Integration Mentor ACademy (TIMAC) in 2010. There she learned to design technology curriculum and also mentored her TIMAC colleagues to do the same. She was insightful, strove for perfection, a constant multi-tasker, problem solver, and a "thinker outside of the box" - words she used to describe herself. If there was a solution, Sharon was apt to find it and when explaining it to others it was "So simple!"
All who knew her experienced her excitement when learning new things. She believed everyone should believe in their abilities, as she did. We all appreciated her infinite patience, wisdom, and humor.
"Sharon loved people! Her love shone through, and it was impossible to be negative in her presence. She countered negativity with a smile, pointing to the bright side, finding something good in everyone." - Yelena Zimon
Sharon Ram is survived by her son, husband, parents, brother, friends, colleagues, and students. She will be missed.