OTAN Digest #92
April 2017
News
Adult Education Block Grant (AEBG) Technical Assistance Project and New AEBG Website Keyword Search Feature
The AEBG Office is in the process of launching the new Technical Assistance Project (AEBG TAP). This new Project will provide Technical Assistance, Professional Development and Capacity Building to adult education agencies throughout California. While the AEBG TAP is in the process of ramping up to provide these much needed services, they have begun working on adding features and enhancements to the existing AEBG website.
OTAN Spring 2017 Newsletter: Online Connection: Winning Together
Every year OTAN produces three issues of OTAN Online Connection, the OTAN newsletter, to print and mail to members, disseminate electronically, and distribute at conferences and workshops.
LAO Provides Overview of Adult Education
The Legislative Analyst's Office (LAO), the Legislature's nonpartisan fiscal advisor, issued a report to the Senate Budget and Fiscal Review Subcommittee No. 1 on Education, which provided an overview of adult education in California. The report provided background and an assessment of the adult education program including key policy issues that remain unresolved.
Skills of U.S. Incarcerated Adults: PIAAC Study
This webinar will provide an overview of results from a recently released study called the Program for International Assessment of Adult Competencies (PIAAC) Prison Study. This study provides information on skills and competencies of incarcerated adults, and compares them to those of adults in U.S. households. The study also includes information on the extent of inmates' participation in formal education and job training programs.
Adult Learner: Patty Lopez
Originally from Michoacán, Mexico, Assemblywoman Patty López came to the U.S. at 12 and grew up in Pacoima. While raising her own family, she started studying at the North Valley Occupational Center. As a mother of four, she knew educating herself was the best way to provide a better future for her daughters. She took basic ESL and high school classes, GED preparation, vocational and college courses.
Adult Learner: Jeffrey George
Jeffrey George came into the Sonoma County Library's Adult Literacy Program in August 2014 to sign up for weekly tutoring and to work on literacy and life goals. He was assessed at a beginning to beginning intermediate literacy level at that time, and his primary motivation was to be able to help his three young children with their reading, writing, and school work. At that time, Jeffrey was a full-time stay at home dad who knew he wanted to be of more help to his wife and children. His recorded goals were: learn the alphabet, reading, writing, and spelling in order to help his children and interact with their teachers at school. However, Jeffrey also set a goal to obtain a driver's license and a business license on that same assessment date.
April's New Web-based Class Activity!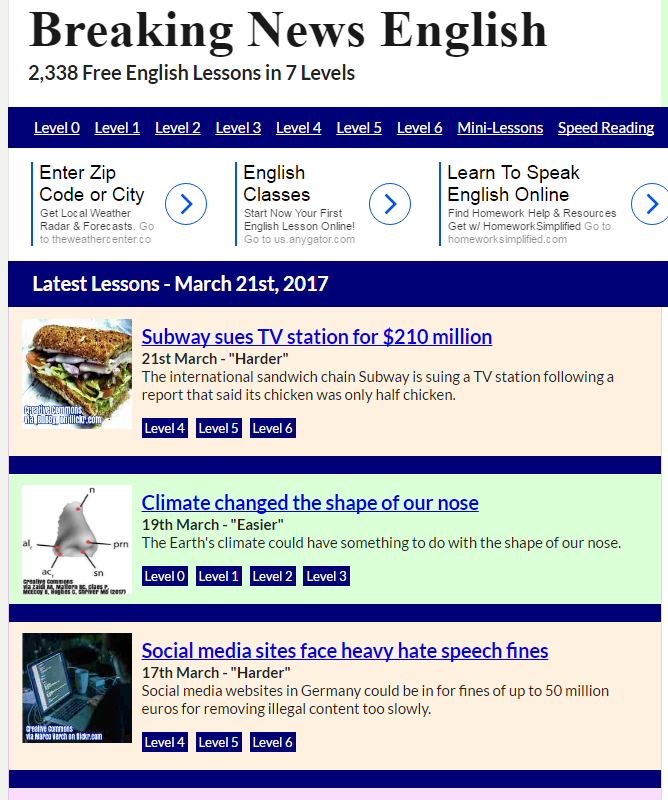 In the April 2017 Web-based activity article, Debbie Jensen posits that there are lots of reasons why we should use a newspaper in adult education, but one great one is that we can teach our students critical reading skills including evaluation the source. But sometimes the newspapers are too difficult to read. That is why she lists some sources and lessons appropriate for our ESL, ABE and ASE programs.
Debbie goes on to describe useful sites such as: Breaking News English, CNN Student News, ReadWorks, Newsela, The New York Times in School, Los Angeles Times in Education, and News in Levels.
Professional Development
OTAN offers short, online workshops to meet the demands of busy adult educators. We are currently working on our line up for this year, so stay tuned and check the California Adult Education Professional Development calendar so you won't miss any!
Contact us at 916-228-2580 or e-mail support@otan.us to schedule one of our workshops at your school this year! We will do most of the work for you. We just need your available computer lab.
The deadline to register for many Face-to-Face workshops is two weeks before the workshop, so register early to ensure that OTAN can send the trainer to your agency.

Custom Google
May 01, 2017 1:00 PM to 4:00 PM
Folsom-Cordova Adult School
10850 Gadsten Way
Rancho Corodva, CA 95670

Social Media for Adult Education
May 12, 2017 2:00 PM to 5:00 PM
Elk Grove Adult and Community Education
8401-B Gerber Road
Sacramento, CA 95828

Chromebooks for Adult Education
May 26, 2017 4:00 PM to 7:00 PM
Santa Barbara Adult Education - City College Wake Campus
300 N. Turnpike Rd.
Santa Barbara, CA 93111

OTAN offers a wide variety of no-cost, hands-on, three-hour workshops. We will come to your school if you have at least 10 interested participants and an approved lab. If you have a smaller school and need more participants, consider coordinating with other small schools in your area to fill your workshop. If there is a technology topic not listed that your staff needs assistance with, let us know and we will discuss creating a new workshop to meet that need. Here are some of our workshop titles:
Visit our Web site to see the complete list including descriptions and prerequisites for each.
Teaching Resources
Web "Sitings":
New Google Earth

Today we're introducing a brand-new version of Google Earth—on the web and Android—two years in the making. With the new Earth, we want to open up different lenses for you to see the world and learn a bit about how it all fits together; to open your mind with new stories while giving you a new perspective on the locations and experiences you cherish. It's everything you love about Google Earth, plus new ways for you to explore, learn and share. Zoom in and see what adventures await you in the new Google Earth.
Google Classroom for More Learners

We see value in bringing technology to people who want to learn, no matter the setting. That's why we're opening up Google Classroom to users without G Suite for Education accounts. Now, teachers and students in many different environments can teach or attend classes, manage assignments and instantly collaborate—all with their personal Google accounts. Starting today, these new Classroom users will be able to join existing classes and over the coming weeks, they'll have the ability to create their own classes as well. Schools interested in using Google Classroom should still sign up for G Suite for Education.